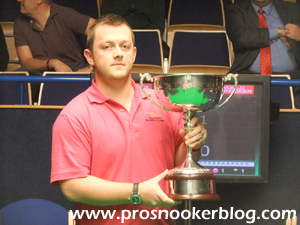 Congratulations to Mark Allen, who has today defeated Joel Walker, Neil Robertson, Graeme Dott and Judd Trump to win the 2013 Kay Suzanne Memorial Cup, at the South West Snooker Academy in Gloucester.
Click below for more, including quotes from Mark following his victory…
Having already seen off two former world champions earlier in the day, world number 11 Mark Allen tonight ran out a 4-1 winner against Judd Trump to win the sixth event of the 2013/14 European Tour in Gloucester.
Starting at 8pm local time, Allen made the perfect start, clearing with 62 to snatch the opening frame, before Judd immediately responded with a break of 128 to draw level.
The third frame was a more scrappy affair which was won by Allen, before he added the next two to clinch what was a popular victory here at the South West Snooker Academy.
As some of you may be aware, this year's tournament was the third staging of an event held in the memory of Kay Suzanne, Paul Mount's late sister who sadly passed away following a battle with breast cancer previously. For Paul therefore, it will no doubt have been extra special for him to see one of his On Q Promotions players capture this title for the first time, something acknowledged by Allen in the arena, moments after his victory.
A short time afterwards, I spoke to Mark who said:
"I played alright, I potted some good balls. I missed one or two that I shouldn't have, but all in all I think I played better snooker. Judd made a good break in the frame he won but other than that I dominated most of the frames."
"A little bit of fortune here and there with a few bad safeties that I played and got away with, but that's part and parcel. Nobody wins a tournament and says that they were unlucky and I'm not going to be the first!"
"I am very happy [with my form over the weekend], I started slowly in my first match with the amateur qualifier [Tomasz Skalski] it wasn't pretty to say the least! I think I play my best when I am tested the most, I seemed to play better as the tournament went on against the players that were playing the best, that were in form."
"That's when I seemed to raise my game so I'm pretty happy with where my game is at the minute. hopefully I can turn that into a big victory, not just a PTC. As much as this tournament means to Paul, it would still be nice to get my name on one of the big trophies."
"It does mean a lot, with all of his family here, it means so much to all of them. It's good to get an On Q player's name on the trophy."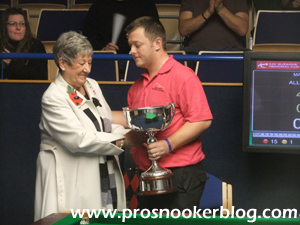 "The PTC events are like mini-tournaments I think. If you get through that first day, you feel like you are in the tournament, if you get beat on the Friday or Saturday it doesn't feel like you have been in an event."
"When you get down to the last 16 and onwards you feel part of a tournament then and there is a bit of pressure on. I'm not the biggest fan of the PTCs, but it is good to get the adrenalin pumping in the semi-finals and final against the best players in the world and come out on top."
"If you look at the PTCs I have won, I haven't had easy draws, I've beaten Trump, Ding [Junhui] and [Mark] Selby in the three finals I've won so I must be doing something right."
"All the talk is about Ding and rightfully so, he was won three of the major events, but you know people forget that he isn't quite unbeaten in those events, there was a tournament in between and it was nice for me to carry my form in."

"I've won two tournaments now in the last four, it's not too bad. Obviously me and Ding seem to be sharing them about, but hopefully I can get my name on the UK Championship, that would be the big one."
"I'm very confident [ahead of the UK Championship], he's relatively unknown who I play in the first round Jak Jones, but I've heard a lot about him, a good junior and Terry [Griffiths] says that he has got a lot of talent."
"Hopefully I can get through the earlier rounds, because again it doesn't feel like you are quite in the event when you are playing in the 128. Touch wood, I haven't lost any first round matches yet in the qualifiers and if I can keep doing that I'm sure I'll be knocking on the door of the big one soon."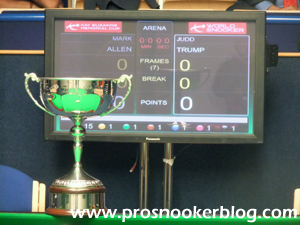 I watched a lot of Mark this week and after a slow start to the season, he looked to be reasonably sharp, in particular reminding everyone just how good a potter he is when close to his best.
Having taken this title, Mark becomes the first player to win two consecutive European Tour events in the same season, moving to the head of the European Tour Order of Merit, as well as earning a further 2,000 ranking points to all bit secure his place at the Masters next January.
As he says, along with Ding Junhui, he is very much one of the form players at the moment and certainly among the best of his age group, with more titles soon to come I am sure. A runner-up at the UK Championship in York a couple of seasons ago, he has every chance of going one step further in 2013.
As for Judd Trump, it was a welcome return to form for the world number four, who impressed me with his play on Friday to reach the last 16 and continued his form through to the final today. While he is not quite at his best just yet, as Mark Allen said to the crowd after the match today, he is too good a player not to start winning again soon in the bigger tournaments and it will be interesting to see how he gets on in York.
Overall, it has, as ever, been a thoroughly enjoyable weekend at what is one of my favourite places to watch snooker. We have had plenty of turning points, talking points and other memorable moments and once back home tomorrow, I will post in more depth about my weekend as a whole, including some of the things I didn't have time to put on Twitter.
In the meantime though, well done again to Mark Allen and thanks to everybody involved behind the scenes for staging another great event.
Next stop, Antwerp later in the week…