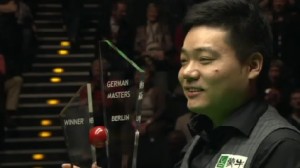 Ding Junhui has today underlined his status in the game as one of the men to beat at the moment with a superb 9-5 victory against Judd Trump to capture the 2014 German Masters this evening.
Click here to view the latest results and draw
Click here to view the updated rankings following the German Masters
Click here to view the latest provisional money list
A final which saw clearly the strongest two performers of the week clash at the Tempodrom began in fine style today, as Ding Junhui and Judd Trump split the opening two frames with breaks of 80 or above in less than 10 minutes.
From there the session became more scrappy and it had looked to be Trump who would gain the upper hand as he led 3-1 and 4-2, only for Ding to take the last two to level the match at 4-2.
Following a tremendous introduction for both players (and referee Jan Verhaas), however, the evening session was to prove a different story, Ding taking all four frames before the interval to make it six in a row overall and most importantly, leave himself just one frame from the title at 8-4.
Though Ding was to be noticeably more nervous following the break, a missed blue from Judd in frame 14 proved to be decisive, Ding clearing to the pink to seal a 9-5 victory and a remarkable fourth ranking event success of the season.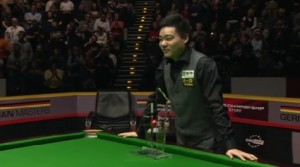 As well as earning Ding another winner's cheque this season, this time for €80,000, the triumph represents his fourth of the season, becoming the first player to win that amount in a single campaign since Stephen Hendry at his peak, while it also takes his career tally into double digits at 10, equalling the record of Jimmy White.
Similarly incredible is the fact that we are now into February and are yet to see a British winner of a full-ranking event so far this season, Neil Robertson and Marco Fu accounting for the few trophies not won by Ding so far this term.
For Judd, no doubt there will be disappointment at having only taken one more frame having led 4-2 in the opening session, but overall the week has been one that has seen him make significant progress, having previously failed to make it to a quarter-final this season. Against Rod Lawler in particular yesterday, he reminded everyone of his class and will be hoping to remain a threat during the run up to the World Championship.
Ding though was a deserved winner of another successful German Masters tournament, despite the issues of the opening three days and the unusually large amount of kicks that we have seen so far this week. As I said yesterday, once the set-up was reduced to just one table, we were all reminded of what an incredible arena the Tempodrom is for snooker and why the tournament is held here.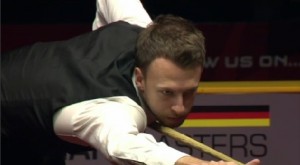 I am not a fan of the format by any means, but hopefully some sort of compromise can be found for next season which will mean that the tournament can stay at the venue, but either be extended, or perhaps have fewer players at the venue.
A special mention also for semi-finalist Rod Lawler, who reached his first semi-final since his final run at the International Open back in 1996 and in doing so moved himself up into the top 32 on the latest provisional money list. I know that I say that about everybody, but Rod really is a genuine, likeable guy and it was noticeable just how popular his unlikely run to the one table set-up was among his peers.
And so on we go to Poland this weekend, for the final event of the European Tour season, a tournament significantly more important than it might first appear.
More on that tomorrow…