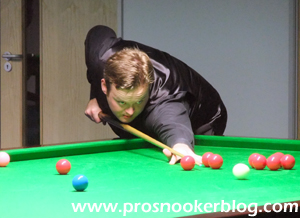 There were some 13 years between his first two competitive maximum breaks, but hot on the heels of his second effort at the Championship League last month, Shaun Murphy has today made his third career 147 break in the final frame of his 4-2 win against Jamie Jones at the Gdynia Open event in Poland.
Click here to view the updated 147's list.
Although not on the televised table this morning, viewers of the match between Stephen Maguire and John Higgins were able to see glimpses of the closing stages of Shaun's break, before the cameras switched to that table for the final pink and black of the break.
Assuming that the break is not equalled, Shaun will take the £500 rolling prize pot, as the previous prize was won by Judd Trump at the previous ET7 event last year.
The break was officiated by referee Monika Sulkowska and was the 104th maximum in professional competition.
Shaun's quarter-final match against Stephen Maguire will be next up on the televised table.