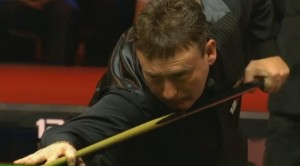 While there were not quite as many surprises as during the opening day of this week's China Open qualifiers, play during the last couple of days has thrown up a few stories and in particular today, a potentially huge win for fan favourite Jimmy White…
Click here to view all of the results from the China Open qualifiers
Click here to view the latest provisional money list
Following wins during the previous days for the likes of Sam Baird, Gary Wilson and David Morris, six time world finalist Jimmy White began the day in 64th position on the latest provisional money list, which is of course the final qualifying tour spot for him if he is to remain on the main tour next season.
His opponent today was Northern Ireland's Joe Swail, himself a two-time Crucible semi-finalist and one of the toughest draws that Jimmy could have had, regardless of his current ranking.
All the more impressive then was to be Jimmy's performance under pressure, breaks of 99, 64, 61 and a third frame run of 135 enough to help him on his way to a 5-2 victory. As Joe has since tweeted, it was one of Jimmy's best performances in recent years and for the Whirlwind a timely one, which moves him up five places to 59th on the latest provisional money list.
Of course there are still a number of events to come and money to be won between now and the end of the season, but it is a win that keeps him right in the mix for a top 64 place come May.
Elsewhere around what is an incredibly tight section of the money list around that crucial 64 mark, there was also a similarly important win for Leeds' Peter Lines, who saw off fellow Yorkshireman Joel Walker this afternoon, while Ireland's David Morris hit a top break of 118 on his way to an impressive 5-1 victory against Mark Davis.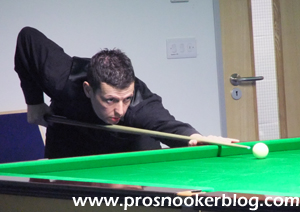 Dave Harold was another who took another step to securing a top 64 place with victory against Zhang Anda, while outside of that bracket, Mike Dunn, James Wattana, and Thepchaiya Un-Nooh were among those to secure important victories to keep their hopes of tour survival alive.
Higher up the rankings, Mark Davis aside, following the opening day exits of Joe Perry, Matthew Stevens and Robert Milkins, the 'top players' were all able to make it safely to Beijing. Coming closest to a shock exit was recent Gdynia Open champion Shaun Murphy, who cleared the colours to the pink to edge out Sheffield's Joel Walker in a deciding frame.
A word also to Jamie O'Neill and Martin O'Donnell today, who defeated formidable opposition in Alan McManus and David Gilbert respectively to progress to the last 64. Kyren Wilson too was able to cause a surprise on paper with his deciding frame victory against Scotland's Marcus Campbell, although followers of Kyren will perhaps not be all that surprised by his win, which sees him through to his third Chinese venue of the season to date.
Stuart Carrington was another able to pull off something of an upset today, defeating recent German Masters semi-finalist Rod Lawler to book his flight to Beijing.
Finishing the three day event with the highest two breaks of the round however, it is the performance of Welsh amateur Duane Jones on Sunday that remains the most eye-catching and worthy of another mention today.
The venue stages of the event will now be played just prior to the World Championship, between 31st March 2014 and 6th April 2014.