Day one at the Welsh Open in Newport and it has been a case of so far, so good for the top players in action, with former champions Stephen Maguire, Ding Junhui, Ali Carter and Ronnie O'Sullivan among the winners today.
Click below for a round-up of Wednesday's action at the Newport Centre…
Click here to view all of the results from the Welsh Open
Click here to view the latest projected seedings list
Click here to view the latest provisional money list
Defending champion Stephen Maguire got his title defence off to a solid start with a 4-1 victory against Elliot Slessor this morning, recovering from the loss of the opening frame with top breaks of 98 and 79.
Next up for the Scot will be a second round match with Sam Baird, who followed up his recent semi-final run in Gdynia with a 4-2 victory against Robbie Williams today.
It has been a strange season for Sam, who has excelled in European Tour events, but struggled for wins in the full-ranking events. With this win and victory against Liu Chuang in the China Open qualifiers recently however, he is now up into the top 64 on the latest provisional money list and should prove strong opposition for Maguire.
Also through to the second round today was Ding Junhui, who got his bid for a fifth ranking event title of the season off to an impressive start today with a 4-2 victory against the dangerous Gary Wilson. With breaks of 121, 82, 77 and 57, Ding has already shown that it will take a strong performance to beat him in Newport, even at this early stage.
Next up for the Chinese number one will be Jamie Cope, who defeated Ryan Clark 4-1 as he looks to climb back up the world rankings from his current position of 46.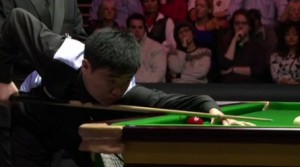 Though he was not quite as impressive as Ding, two-time former Welsh Open champion Ronnie O'Sullivan was also able to book his place in the last 64, defeating amateur Mitchell Travis 4-1 with a top run of 81. From what I saw of the match, I was relatively impressed with Travis, who certainly merited the frame that he won and showed glimpses of the form that saw him defeat Marco Fu at least year's UK Championship.
Awaiting Ronnie in the second round will be Barry Pinches, who continued his recent upturn in form with a 4-1 victory against Nigel Bond.
In terms of the tour survival battle, there were impressive and potentially important victories for Scott Donaldson and Mike Dunn in particular, against Robert Milkins and Aditya Mehta respectively.
For Donaldson, he is of course already certain to be on the tour next season one way or the other, courtesy of his strong form in the European Tour events which has seen him earn a qualifying place on that Order of Merit. As he explained in his post-match press conference however (when not being prompted into sending praise the way of this blog by regular snooker photographer Monique Limbos), he is very much aware of the advantages of staying on the tour by finishing in the top 64 of the end of season money list and not having to start again next season from the bottom.
While on the face of it, a guaranteed two-year tour card sounds better than just a single year, the fact that he would have to start again from scratch with no money to his name on the order of merit, would in reality be a block to him progressing his career and moving up into a more favourable seeding bracket. With his win today, Scott moves up to 70th place and little over £3,000 from a place in the all-important top 64.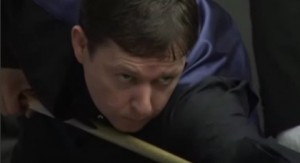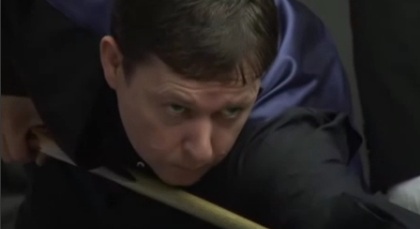 For Milkins meanwhile, the result is a blow to his chances of remaining inside the top 15 on the latest projected seedings list (the points list), which would assure him of a place at the Crucible for this season's World Championship. Currently standing 14th, he can only watch now, as those immediately below him such as Mark Allen and Joe Perry get underway tomorrow and Friday.
Also in the race for Crucible spots, 2009 Welsh Open champion recorded a 4-1 victory against Andrew Norman to extend his lead over Milkins in particular, while home favourite Matthew Stevens recovered from 2-0 down to defeat former professional Adam Wicheard and move into the last 64.
Matthew was not the only Welsh player to win today, as Andrew Pagett quickly defeated Marcus Campbell 4-0 to set up a second round match Gerard Greene, no doubt being relieved to have avoided Xiao Guodong in the draw, having lost to the Shanghai Masters runner-up three times at this stage of full-ranking events in recent months.
The action continues tomorrow, as the likes of Mark Allen, Mark Selby and John Higgins get underway…