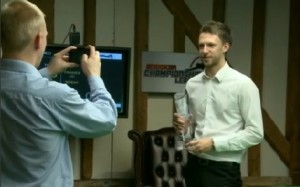 Congratulations to Judd Trump, who has this evening defeated defending champion Martin Gould 3-1 to win the 2014 Championship League, becoming the first player to win the event more than once in its seven year history…
Having finished as runner-up in each of the first two regular groups of this year's tournament, Judd qualified for the winner's group by winning the third event back in January.
As he told Phil Yates following his victory a short time ago, Judd has been struggling with his tip during the past couple of days, narrowly making it through the to overall semi-finals, but from there was able to defeat both Shaun Murphy and 2013 winner Martin Gould, to capture his first professional title since the 2012 International Championship.
In the final, Judd started strongly with breaks of 119 and 64 putting him within a pot of victory in frame three, before Martin produced a brilliant clearance of 59 to snatch the frame by a point and keep himself in the match. The reprieve was to be short-lived however, a missed black early in the next frame would be Gould's last shot as Trump rounded off victory with another century break.
Though a non-televised invitational event, the Championship League offers both good match practice and a notable financial incentive to those who enter, as evidenced by the fact that Judd has earned almost £31,000 from this year's tournament alone.
Judd's victory also means that he becomes the latest player to confirm his place in the 2014 Champion of Champions tournament, which will be staged later this year at the Ricoh Arena in Coventry.