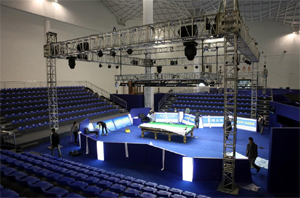 Day three at the Haikou World Open saw the last 32 played out to a conclusion, including victories for big hitters such as Neil Robertson (who took his centuries tally to 91), Mark Selby, Ding Junhui, Judd Trump and John Higgins.
As ever here at PSB though, in the early stages of events such as this, my attention has been on those around the various seedings brackets ahead of World Championship cut-off and today saw a number of important results for the top 15 in particular…
Click here to view the results so far
Click here to view the latest projected seedings
Click here to view the latest provisional money list
Two-time defending champion Mark Allen continued his reign at the Haikou World Open with a 5-3 victory against Mark Williams today to boost his hopes of an automatic seeding at the World Championship next month.
Restricting the Welshman to just 25 points in winning the final three frames having previously not led during the match, Allen now moves on to a last 16 tie with Ricky Walden, knowing that a win will see him move up into the provisional top 15 on the points list, where he will remain unless Graeme Dott goes on to win the title this week.
Graeme remains in the hunt following a 5-2 victory against Ryan Day today, but a number of other players around this section of the rankings lost out today, including Mark Williams as referred to above. As a result, Williams will now definitely have to qualify for the Crucible, victory at the Players Championship Finals now not enough to see him move up into the all-important top 15.
The man currently holding on to that 15th place is Robert Milkins, who lost out today 5-3 to the ever-consistent Scot Alan McManus, who is continuing his strong form of the last couple of years on Hainan Island this week.
For Robert, the result means that because he has not qualified for the Players Championship Grand Finals in Preston, he must now hope that Mark Allen fails to make it to the quarter-finals of either event, or that Graeme Dott fails to reach the final this week in China.
There were also defeats for Mark Davis and Ali Carter, but with those defeats for Perry, Milkins and Williams, both are now safe for the Crucible, even though in Ali's case he has not qualified for Preston.
Elsewhere, defeat today for Andrew Higginson means that he will not be inside the top 32 for the World Championship draw, currently sitting just five points behind Fergal O'Brien on the projected list, while Alan McManus, Mark Joyce and Kurt Maflin are the only players capable of denying the Irishman now. Closest is McManus, who would need to make the semi-finals if he is to leave himself needing just one win to make it back to the Crucible for a second successive year.
Away from the various rankings battles, Neil Robertson made another two centuries on his way to a comfortable victory against Rory McLeod, while Ding Junhui and Judd Trump came through deciding frames against Pankaj Advani and Matthew Stevens respectively to remain in the tournament.
The action continues…