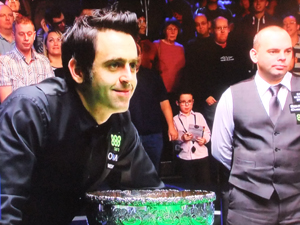 Amongst the other announcements today, it has also been confirmed that the Champion of Champions tournament will return this November, the official press release for which you can find below.
Interestingly however, the qualification process for the tournament has also been confirmed, click below for more details…
Earlier this season at the inaugural Champion of Champions event in Coventry, there was some debate as to the qualification criteria, which saw the final field topped up with Shaun Murphy and Mark Davis, who qualified via ranking due to repeat winners of previous events.
While this was ultimately a fair and easy way to determine how the extra places should be made up, there was dissatisfaction that this led to players being involved at the tournament who were not 'champions' during the relevant period and that by inviting players on ranking, this would effectively lead to the field being very similar to that at the Masters.
So this year it is all change and although not included within the official press release, the criteria for qualification has now been confirmed at the official tournament website as follows:
The 16 players to make up the field for the 2014 Champion of Champions will be the first 16 different winners from the list of events below. The list is in order of precedence. After the first 15 events have concluded, the remaining spots will be filled in the order listed below, until the point that 16 different players have qualified and accepted their invitation.
1. 2013 Champion of Champions – Ronnie O'Sullivan
2. 2013 UK Championship (Dec) – Neil Robertson
3. 2014 Masters (Jan) – Ronnie O'Sullivan
4. 2014 German Masters (Feb) – Ding Junhui
5. 2014 Welsh Open (Mar) – Ronnie O'Sullivan
6. 2014 Championship League Snooker (Mar) – Judd Trump
7. 2014 World Open (Mar) – Shaun Murphy
8. 2014 PTC Grand Final (Mar) – Barry Hawkins
9. 2014 China Open (Apr) – Ding Junhui
10. 2014 World Championship (May) – TBC
11. 2014 Wuxi Classic (June) – TBC
12. 2014 Australian Open (July) – TBC
13. 2014 Shanghai Masters (Sept) – TBC
14. 2014 Indian Open (Oct) – TBC
15. 2014 International Open (Oct) – TBC
16. EPTC 8 (Feb) Shaun Murphy
17. EPTC 1 (June) TBC
18. EPTC 2 (July) TBC
19. EPTC 3 (Aug) TBC
20. EPTC 4 (Aug) TBC
21. Asian Tour 4 (Mar) Stuart Bingham
22. Asian Tour 1 (Jun) TBC
23. Asian Tour 2 (Aug) TBC
24. Asian Tour 3 (Oct) TBC
25. Six Reds World Championship (Sept) TBC
26. The Shoot Out (Jan) Dominic Dale
27. The World Seniors Championship (Oct) TBC  
It is good to see World Snooker publicly confirm the qualification criteria at such an early stage, rather than further down the line, after events have been played which they have been guilty of previously and always carries the danger of the perception that the criteria have been designed to see particular players qualify.
There can be no danger of that now however and it will be interesting to see just how far down the list World Snooker will have to go to find 16 different players, given the possibility of duplicate winners in upcoming tournaments.
What strikes me immediately is that it will certainly give players more of an incentive to make the trip to China to participate in Asian tour events during next season, while it is more than conceivable that even the Six Reds World Champion and even the Seniors champion may receive an invite.
What do you think?
Interesting, another point that you may have spotted is that there will be no play on the Thursday – this is due to the fact that ITV4 are contracted to show Europa League football this week, for those of you wondering.
Official press release below…
Matchroom Sport are delighted to announce that snooker's Champion of Champions will return to the Ricoh Arena in Coventry, November 3-9, live on ITV4, with tickets on sale on April 25.
Ronnie O'Sullivan will be among the names invited to compete in this year's event, having won the inaugural tournament in Coventry last year.
The Champion of Champions boasts a prize fund of £270,000 with £100,000 going to the winner, and the 16 competing players will be reigning champions on the World Snooker tour.
Ticket prices have been frozen from 2013 and early bookers can benefit from a half-price discount available on group stage tickets, meaning fans can see some of the world's greatest players from as little as £5. Tickets go on sale on Friday, April 25 via TheTicketFactory.com (search 'snooker').
As well as reigning champion O'Sullivan, players who have already earned an invite for this year's tournament include UK Championship winner and world number one Neil Robertson, Ding Junhui, whose five ranking titles in the 2013-14 season included success at the German Masters and China Open, and Championship League victor Judd Trump.
Matchroom Sport Chairman Barry Hearn said: "The first year of the Champion of Champions was an unqualified success, and we are thrilled to be bringing the tournament back to ITV4 and the people of Coventry this year.
"ITV produced a fantastic show in 2013, and I am very pleased they will once again bring this top new tournament to free-to-air television in November."
A full list of tournaments used to determine qualification for the Champion of Champions can be found at www.ChampionOfChampionsSnooker.com.