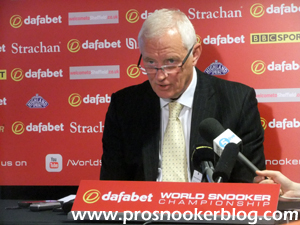 Ever since he teased the possibility of awarding a wildcard to Steve Davis on the eve of the tournament, as well as format changes to the 2014 World Championship on its opening day, fans and players alike have been looking forward to the scheduled press conference from Barry Hearn, which took place at 2pm today.
Click below then for a transcript of what the World Snooker chairman had to say…
In short
In a hurry? The summary of the press conference below is effectively as follows:
A format change to the 2015 World Championship, increasing the field to 144 players, with invitations being awarded to all living former world champions and other global players at the discretion of the WPBSA.
In events where there are fewer than 128 professional entries, up to four invitations to be given to players who have made a 'significant contribution' to snooker, on order of lifetime career prize money. Any remaining places will be awarded as per the Q School order of merit.
The top 16 players after the 2015 China Open to remain seeded for the Crucible, the remaining players (17-144), to play a 128 flat draw qualifying event to make it to the venue stages.
Negotiations ongoing to introduce the flat draw format to the Shanghai Masters by 2015 and Australian Goldfields Open by 2016.
Invited 'top up' players will be entitled to earn money to contribute to a world ranking.
World Championship matches to remain a minimum length of 19 frames.
Barry's initial statement
"Today I have the pleasure of announcing a few changes that I'd like to share with you, other steps to strengthen our tour by moving closer to a completely level playing field with a 128 flat draw, are always on my mind. I want a system in snooker that is totally open, totally transparent and totally available to every professional player who picks up a cue based on fairness and quality of play.
"We are currently negotiating with Shanghai and Australia to fall into line with 128 players in round one, from 2015 for Shanghai and from 2016 for Australia.
"Until a flat draw system is introduced, the top 16 players seeded through who do not win a match will receive their prize money, but none of it will count towards their world ranking, with effect from the 2014/15 season. I can't entertain a system any longer that rewards players with ranking prize money when in fact they haven't actually won a game on a snooker table.
"Despite thousands of tweets over the last few days, which is my own fault for saying that there is going to be something big to be announced, I can confirm that the World Championship will remain a minimum best of 19 frames for every round for 2015 and onwards.
"However, in 2015, the World Championship will be expanded to 144 players, with the top 16 still seeded through to the Crucible, as their reward for the success that they have enjoyed, earning them a top 16 place. The cut-off for the 2015 World Championship will quite rightly be after the China Open.
"Other changes to the World Championship in 2015. All previous world champions will be invited to play in the World Championship in round one, which will have the top 64 seeded and a random draw for the remaining 64 players.
"Remaining spaces making up the field of 144 players will be used by the WPBSA to encourage further global participation. We are spreading this game at breakneck speed around the world. Already we know that the first European Tour event will be held in Latvia for the first time in Riga, 7th-10th August 2014 and we intend to continue making our push to all parts of the world with even more enthusiasm over the next few months.
"So round one of the World Championship will be seeds 17-144, playing a flat draw 128 players. The loser will receive no prize money, they haven't made the cut.
"Round two will be the 64 winners with the losers prize money increasing from £1,000 to £6,000.
"Round three will be the 32 winners, with the losers receiving prize money up from £5,000 to £9,000. the 16 winners will play at the Crucible against the top 16 seeds, as this year. Losers will receive £12,000, but if a top 16 player loses his first game, none of that money will count towards his world ranking.
"Prize money for the 2015 World Championship will increase to £1,350,000, an increase of £134,000. We appreciate the costs of being a professional snooker player and this increase will be predominantly spread amongst the lower ranked players in the earlier round matches.
"The winners prize therefore will stay at £300,000, the runner-up at £125,000, the losing semis £60,000, quarters £30,000, last 16 at £20,000 and as I said the last 32 at £12,000, the last qualifying round at £10,000 and the last 64 losers at £6,000. High break prizes stay the same, plus the rolling 147 prize.
"World Snooker is also pleased to announce that they will allocate a certain number of World Snooker invitations to players who have won multi-ranking titles in their career and selected in favour of those who have made a significant contribution to the sport of snooker. They will be in order of lifetime tour earnings to participate on the pro tour for the next two seasons based on the following terms.
"Invitations will be offered to all World Snooker ranking events where pro tour entries are less than 128 players. As you know there are 132 players on the tour in major ranking events and 120 players in Players Tour events to allow us the opportunity to give eight local amateurs an opportunity via qualifying competitions.
"Should additional players be required to complete the 128 or the 120 player fields, they will be selected from Q School rankings, derived from 2014 Q School events. All World Snooker invitational players will be required to conform to the standard players contract in operation for the relevant season and these names, we've said today at a board meeting, will be announced following the conclusion of the 2014 World Championship. It doesn't take a genius to say that two of the names are shoo-ins, with Stephen Hendry and Steve Davis receiving invitations and we have the opportunity should we feel it necessary to invite other players up to a maximum of four.
"Gentleman, we are moving in the right direction, we are a long way from where I think we can get in terms of global participation in snooker and globalisation of our events. Our total prize money for this forthcoming season will be a little over £8,500,000. Frankly, with one or two other deals in the pipeline, it may get £9,000,000 if we achieve what we are setting out to achieve.
"We're in a good place, but there is no room for complacency and we have to illustrate at every level that our game is fair, transparent and open just to players of ability, with no protection, just built on reputation.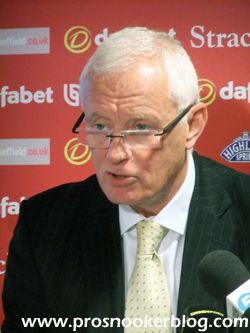 Questions
Hector Nunns: Barry, has Stephen Hendry communicated to you that he would take up that offer?
BH: "I have discussed it with Stephen Hendry and Steve Davis, both of them said they will be delighted to receive an invitation. That invitation will be sent after the World Championship alongside a players contract which has to be signed to bring them in line with every other player on the tour and the choice is then theirs.
"Without being disrespectful to the great Hendry and Davis, as they are making up the numbers, the significance of that is that no-one is losing an opportunity that wouldn't otherwise be able to play because of their inclusion.
John Skilbeck: Barry, was the board unanimous on giving these players…
BH: "By the time I had finished with them, totally unanimous! No, no, everyone was unanimous because I think this represents a significant u-turn in my approach as you know. But I have to admit that thinking about it, exceptional circumstance requires exceptional decisions and I thought long and hard about it for a week or so. I think the game owes Davis, Hendry and possibly Jimmy White, but that result is not necessarily known yet.
"These players have been a significant contributory factor to the success of snooker and I think that the least we can offer them is a two-year invitation to participate provided that it doesn't act to the detriment of existing players.
HN: How difficult was that Barry, because I think when Steve made the decision to go to the jungle, you did say that there would be no more wildcards. 
BH: "That was my feeling at the time and my feeling now is that we shouldn't be making exceptions, but exceptional circumstances make exceptional decisions.
"It's not an easy one Hector because it goes a lot against what I have always thought about a level playing field, earning the right to play and mediocrity not to be subsidised, but taking into account the flat draw 128 and the fact there is no prize money for first round losers, if they are not good enough on the table then I can live with it.
"But I do think that the game owes them and I think we have an opportunity to illustrate that debt and I think this will be well-received commercially and well-received by most snooker fans. I did a little add up while I was fishing the other day on my Twitter, 77% were in favour – not that I would necessarily take any notice, but I think more importantly it's something for the sport in general, that both these guys, and I don't anticipate them playing tremendously.
"Steve's attitude was that I don't want to go to Q School because I don't want to take away the opportunity of any young player in Q School, which I think is commendable, but at the same time it's a loss and I think we owed him the chance to utilise him in this fashion. So yeah, it was a split decision in my head but I went probably…friendship as well? Loyalty? I don't know whether I am guilty of that, but if I am I'll plead guilty as well.
Mark Rawlinson: Will the invited players mentioned be inducted into the rankings?
BH: "Yes of course. It's not necessarily four, it's a maximum of four. We have got to make sure that we don't create a precedent for anyone who has lost a tour card to make a case for their contribution, so that contribution to snooker has got to be set at a very, very high level. Because every player who has played at any time has made some type of contribution, but there is a difference which is why the order of selection of those…
"Put it this way, if there are 128 players in the UK Championship for example, the invitation doesn't apply, the field is full. If there is 127 and there is one, then we will issue the invitations in order of lifetime career earnings, which we think is probably the fairest way of distinguishing between a series of great players.
PSB: Did you give consideration to giving these players a full two-year tour card?
BH: "We thought about it but to be honest with you I don't think, I came to terms with it a little bit more, I think this is a sort of halfway house. I was just concerned that having spent three or four years in this game trying to make sure that everybody has got equal opportunity, this was a sort of 180 degree turn really, which I'm quite good at! I do a good u-turn, it's a wheelie, a Barry Hearn wheelie.
"This seemed to be the halfway house, to say that if we are short of entrants, yes we can go further down the Q School rankings but when you look at the numbers that actually play, we're always short of entrants. So how far do you go down? Well if it's a question of going down, way down the Q School ranking list or putting in a legend commercially, the legend wins it for me and I think most people would agree with that.
Clive Everton: Are Steve and Jimmy's ranking points going to be carried over?
BH: "No, they will be down to zero.
PSB: So to confirm, any money earned in the future will give them a ranking?
BH: "It's something we will talk about. I believe that everybody that plays should have a pound down to their name. If you are good enough to be invited into a tournament, then the money you win must be good enough to count because you are playing in a proper tournament.
"The fact you are not a tour card holder, and you can follow this example in golf for example, the PGA has ten invitations per tournament, but if that invitation wins money, it counts on the ranking list because it has been won in an open field tournament so I would be in favour of that and it is something that Jason Ferguson and I will discuss.
"But as far as the reality is concerned, probably we are making a situation that won't happen. I don't think that either of those two greats are going to play consistently on the tour. I think Steve has gone public in saying that after so many years of playing he looks at it almost as a hobby and that's great, if he enjoys it then I think the game owes him enough to give him that enjoyment.
"Stephen Hendry I understand is getting quite serious about playing so we will have to see what sort of form he brings to the table and how many times he wants to play.
"The interesting one for me is the World Championship. The fact that we are going back to almost the US Masters model, because I would like Ray Reardon to play, I'd like him to turn up, he is invited, he is a past world champion, he is a living world champion and I'm not saying that he is going to win a game but then again most of the old participants in the golf weren't expected to win either, but they added something and it was a way of still respecting the lifetime achievement that they have made.
"So whether Cliff Thorburn, Terry Griffiths, Dennis Taylor, Joe Johnson, they have now got their chance to live again the World Championship and who should deny them, as long as it is not coming at the expense of somebody else.
Neil Goulding: You mentioned Riga, are there any other tournaments, Qatar has been mooted?
BH: "We are looking very strongly at the moment, obviously the Middle East is a big hunting ground, I am determined to get one in the Middle East quite soon, we are also talking to people in Singapore, Hong Kong.
"I like the fact that I'd quite like to redress the balance of snooker in Asia a little tiny bit. I don't ever like to be reliant on a certain factor, as much as I appreciate the support we have had from the Chinese authorities, sponsors and television companies, I think that as the game becomes bigger, it is important that it is equally spread across more nations and more participations.
"It is why Jason Ferguson was so happy when I said that once we had invited the world champions, go out with the other cards, because Jason Ferguson is going to retire on his air miles, the guy is never around, he's everywhere. Now he has got a little something, he has got the Willy Wonka envelope in his pocket, he can go into an emerging nation and say just come and try the World Championship.
"Discussions are underway, optimism, I think one of them by the end of this season hopefully, which would be nice. But the diary, in case you haven't noticed is quite full. As the game evolves, top players will pick and choose, which is exactly the same as in other successful sports and so they should. It gives more credibility to where they play in and encourages people to put more money into other events to entice them to play in them, so to my mind it's a win-win situation.
MR: Have you thought about the European Tour beyond the end of this season?
BH: "The European Tour for me is a very good flag waver for me to take professional snooker to areas that haven't perhaps seen that much professional snooker and we've enjoyed it, obviously Germany and places like that, it has been a big success, Austria a big success, I think Riga is going to look great, other eastern European countries are showing a lot of interest.
"The difference for me now is that I have got to spend more time making it commercialised better, because obviously it's a huge cost to World Snooker all of these events, that's fine, we are maximising to some extent on our streaming relationships and our Eurosport relationship, we need to maximise a little bit more on the sponsorship and some other key site fees and other earning potential to make sure that it makes money.
"Because whilst it's nice to make a profit, it's not essential, but what we are trying to do is run an efficient business alongside an increasing profile of prize money and I think so far we have got the balance about right, but you mustn't be complacent, there is always a disaster round the road.
"We've got negotiations going on with Sheffield and they've got one more year, 2015, I've made it quite clear I would like to stay here for the rest of my life, but I have always put that caveat that it does depend on the support that I receive from the my partners here. My partners are twofold, the BBC is one and Sheffield City Council is the other. If everybody has the willingness then we will stay here forever and if we don't, the Chinese are building a Crucible lookalike just outside of Beijing, I think it's wonderful, you can still play Crucible – but it's south of Beijing!
2I read a couple of players comments about the crowds and the opportunity and they are quite right, if this was staged in a much bigger venue we'd sell much more tickets. In the commercial world however, the history of the Crucible adds more broadcast value than any number of tickets.Ticket income is just not significant in the bigger picture.
"Unless I am missing the point after 40 years of promoting, this is my anniversary by the way, but it's not lost on anyone who comes here, the significance of this venue, the specialness of the venue, both to players and fans and sponsors and TV, there's a magic associated with this place, I can't say any more than that. But, everyone has to be reasonable, which I am sure they will be."
Please feel free to leave your comments below…