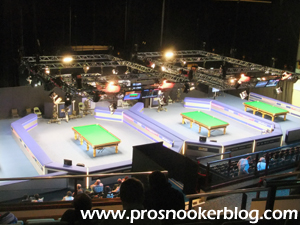 An interesting change was pointed out to me a few days ago in the Crucible press room in respect of this year's UK Championship in York, the format for which is available here. For the first time, this season will see the semi-finals reduced in length from 17 to just 11 frames, with the final to remain as the best of 19…
It is always disappointing for me to see a reduction in frame duration of matches at the big tournaments, particularly at the UK Championship which for many has not been quite the same since the reduction of the 'old' format of best of 17's from the early rounds some three years ago.
That being said, it is arguable that it will be fairer on the semi-finalists to see both play on the Saturday, rather than one match take place on the Friday, giving the winner an extra day to recover for the final as in previous seasons.
Comparing the format to that for the 2013 event, there are a number of other subtle changes, for example the main arena will be used from the opening day this time, compared to from only day three last year, while there will now be a rest day on Friday 28th November 2014, when presumably the tables will be re-covered.
Tickets are available by calling 0844 854 2757 or at yorkbarbican.co.uk.