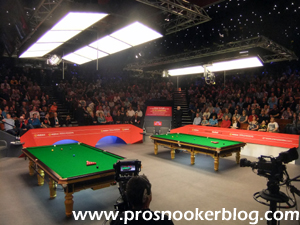 This year's World Championship may still have a week to run, but for those of you looking to book a trip to snooker's most iconic venue, the tickets for the 2015 event will go on sale at 10:00am on Tuesday 6th May 2015.
As usual during the last few seasons, tickets are available from sheffieldtheatres.co.uk or by calling 0844 65 65 147.
Interestingly, the format and ticket prices are also available here, which show that the provisional format appears to be unchanged from this year.
Clearly however, the final paragraph looks now to be set to change, following Barry Hearn's recent press conference, during which he stated that the final seedings revision for the tournament will come after next season's China Open, not before as is provisionally stated on the format.