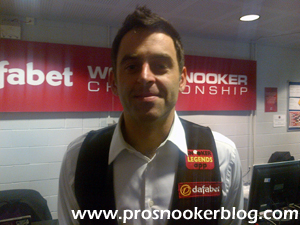 The semi-final match between Ronnie O'Sullivan and Barry Hawkins was scheduled to take place across four sessions, but the defending champion O'Sullivan needed just the three as he completed a 17-7 victory this evening to book his place in a sixth World Championship final.
Click below for reaction from both players, as O'Sullivan moved one step closer to defending his crown and winning three titles on the spin here in Sheffield…
Having struggled at times against Joe Perry and early on against Shaun Murphy, expectations were that this could be a tight contest between O'Sullivan and the man that he defeated here in the final to win his fifth world title 12 months ago.
Although O'Sullivan fell behind early on, as he recovered to take a 6-2 lead out of the morning session, the outcome of the match already looked to be inevitable as with the help of four century breaks in total, he was able to secure a 17-7 victory this evening, meaning that he will not have to return to play the afternoon session tomorrow.
As he came into his press conference, conducted primarily by the BBC's George Riley, Ronnie was keen to put on record how highly he regards Hawkins as an opponent and therefore how happy he was to win so comfortably in the end:
"I just want to say again, Barry has had a great tournament and a great season. He won the Players Championship, [made the] final here last year, I played a great match with him in the Welsh this season, probably one of the best games I have played. He's a tough, tough player, I just want to say well done to him for another brilliant tournament.
"I did pick him out at the start of the tournament, everyone was going Ding, der, der, der and all the names that you can think of. Yeah Ding is a class act and if he didn't win this tournament one day then it would be a tragedy, I'm sure he will, but for me Hawkins has got the game, the mentality, the attitude, the rhythm, to just go through ball after ball. He's got such an economical style and that counts for a lot here. I knew he was my danger man and to have got such a comfortable victory against him, it really is a good result for me.
"You just naturally get tighter and become a little bit more match sharp. I hadn't played for two months coming into this tournament so I was a little bit getting bored of practising and just watching people away playing. But that's because I didn't enter and my own fault. Just as each match has gone on you do feel like you get into it. Yeah it's probably as sharp as I have been, I played good in the first session against Robin Hull so it ebbs and flows here.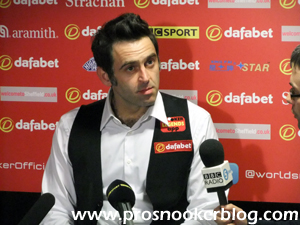 "I've still got a match to play, I can't afford to start getting excited now, it's all about the final for me on Sunday and Monday now, I just want to enjoy my day off tomorrow and just get ready to play in what is our biggest tournament and now again to be competing in the final. It's just a dream really.
"For me I'm just buzzing just to be playing and enjoying it and to get three finals in a row, having already won two and with the opportunity to win three. If you had told me that three years ago, it would just never have entered my brain or thoughts that I could do it, so it's a special achievement really, but there is still a match to play and I'll be up for that.
"They are both top class players, Neil is number one in the world, scoring heavily. Mark's the toughest competitor on tour and I have got the utmost respect for both of them. I just have to prepare and just go out there and do my job and hopefully give them something to think about, that's the nature of the game. If I can play my game and play strong and score and be on my game then I'm sure I'll have a good chance."
As he has all week, Ronnie seemed to be in good spirits and there was an entertaining exchange as he entered the press area, as he reprimanded MC Rob Walker for the strength of his handshake as he was introduced to the arena. Though Ronnie suggested that a tap of the knuckles might be a better idea on Sunday, I believe that a very gentle handshake was ultimately agreed on, so keep an eye out for that!
While I am sure that his form is something that he would wish to play down, clearly today's performance from him was the strongest that we have seen during the tournament so far and it doesn't bode well for either Mark Selby or Neil Robertson who will tomorrow battle it out to join him in the final.
Again, Ronnie was keen to downplay the advantage of having earned himself a day off tomorrow, but having also won his quarter-final against Shaun Murphy with a session to spare, he will clearly go into the final fresher than his opponent, with the second semi-final looking set to go all the way.
For the statisticians out there, his victory marks the second time that Ronnie has won both his quarter-final and semi-final matches with a session to spare (2004), while his four century breaks made against Hawkins take his total for the tournament up to ten. If he can match his tally from last season's final of six tons, then he will not only equal the record set by Stephen Hendry back in 2002, but also take his career Crucible centuries to 147. An omen perhaps.
As for Hawkins, he was clearly drained following the match and in truth, looked relieved that the match was over, following a gruelling tournament for him:
"I feel like I have been absolutely, mentally bashed to pieces to be honest with you. After the first session I knew it was important to get off to a good start against him and I had a couple of horrendous kicks that cost me a couple of frames.
"I don't know if the match before took it out of me a bit, I just weren't mentally strong enough, I just feel like I was being battered to be fair and I didn't have much left in the tank to give. I tried my best obviously at the end and Ronnie just kept potting silly balls at the end and cueing unbelievable and I just wished it was all over at the end there. I couldn't wait to get out of there to be honest with you. I've had a good tournament but I'm pleased that's over.
"I know last year was tough but this year, a couple of matches that I had, especially the one against Dominic. I think it just absolutely ruined me and you have got to be mentally strong to play Ronnie and I didn't have anything left in the tank to give.
"Especially today after the second session I was completely gone and I just thought try your best, I always try my best, I never give up. I missed a couple of balls, I felt a bit better tonight going out there and then I think I could have got out of that first session 3-1. In the first frame I got a massive kick on the black and then I went into the reds and knocked another red in so I think it just weren't meant to be and I feel like I am absolutely mentally battered. I am so glad I can put my cue away for a little while now, I've had enough to be honest with you.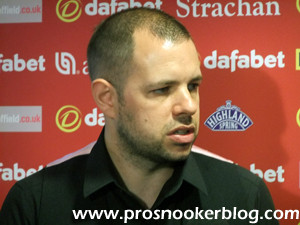 "Obviously you have got to play really well and Ronnie won with a session to spare and you can't do that unless you are a great player obviously. The easier you can win the better it is and he has done it twice on the trot now and he is going to be a lot fresher going into the final. Someone is going to have to play, they are capable obviously but they are going to have to play unbelievable to beat him I think because by the time he gets to the final he is near enough unstoppable.
"Towards the end there I just felt like smashing the reds everywhere, when it went 16-7, I just wanted to get out of there, I was glad he finished me off. I didn't want to come back tomorrow, just want to go out and have a beer now, that's all I want to do!
"They are both great players Neil and Mark and they are both capable of doing the same to him as he does to them but when he gets to the final here he is so sharp, he is so tough, his all-round game, his safety, everything is different class so they are going to have to play at their absolute best to beat him unless he has a really bad few sessions and I can't see it really. They are more than capable of winning obviously, but you would have to say that Ronnie is favourite definitely yeah.
What the result does mean is that there will now be no afternoon session between the two tomorrow, meaning that an exhibition will be arranged instead, players still to be confirmed. A number of people have enquired on Twitter as to whether or not a refund will be available – I am told that this is not the case, players appear circumstances permitting, so hopefully the exhibition will be a good one.
The second semi-final between Mark Selby and Neil Robertson will also be played to a conclusion, Selby leading 9-7 overnight after two sessions of play.