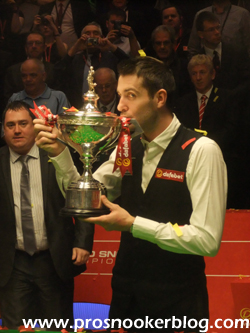 Congratulations to Mark Selby, who has tonight defeated Ronnie O'Sullivan 18-14 to win the 2014 World Championship here at the Crucible Theatre in Sheffield.
Click below for my immediate reaction to Mark's success, (a more detailed report will follow), as well as all the key facts and figures that you need to know…
Click here to view the final results from the 2014 World Championship (snookerorg)
Click here to view the updated provisional money list
Trailing 8-3 and 10-5 yesterday, Leicester's Mark Selby looked to have a mountain to climb if he was to defeat two-time defending champion and five-time champion overall Ronnie O'Sullivan to claim his first world title here at the Crucible.
By claiming the last two frames yesterday to trail 10-7 overnight however, Mark ensured that he was still within striking distance of his illustrious opponent and given how he played, with a high break of just 62 in the day's final frame, must have been delighted to be so close.
Those at the venue were in agreement that he had a chance, so long as he could win today's third session, however few could have expected that Selby would turn a 10-7 deficit into a 12-11 lead by the end of the six frames played.
Though O'Sullivan was notably far from his best today, Selby was a much-improved player and dominated the safety exchanges for long periods, to put himself right back into contention for victory.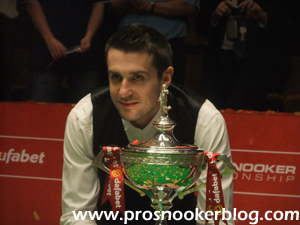 Despite a strong start from Ronnie tonight, who drew level with a seven minute century break in what felt like no time at all, Mark continued to dominate the scrappy frames and it was the Jester from Leicester who claimed six of the next eight frames to complete an emotional victory.
Again, more analysis will follow in the coming days, but for Mark the victory earns him capture the top prize of £300,000, which sees him climb back to top spot in the world rankings ahead of China's Ding Junhui.
Far more importantly than that however, he completes a lifelong dream and a promise to his late father, becoming our first, first-time winner here at the Crucible since Neil Robertson back in 2010. It is a phenomenal achievement for Mark, made all the sweeter by the fact that in Robertson and O'Sullivan he defeated arguably the two strongest players in the world at the moment to do it.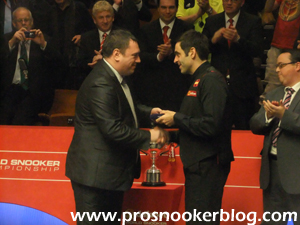 As for O'Sullivan, he was not at his best today, but as he reflected in what was a very gracious press conference, winning and losing is part of sport and he likened Selby to a modern-day Cliff Thorburn, who just keeps on fighting.
No doubt he will be back next year as he will go again to draw level with Steve Davis on six world titles, but tonight belongs to Selby, who is a popular and thoroughly deserving addition to the Crucible roll of honour.