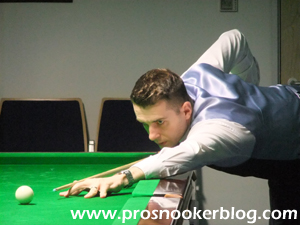 Yesterday saw the conclusion of five days of qualifying matches in Gloucester for the 2014 Wuxi Classic and there was a mix of strong wins for the established names, as well as shocks at the South West Snooker Academy.
Click below for a round-up of the main stories from the event…
Click here to view all of the results from the Wuxi Classic qualifiers
Click here to view the latest projected seedings
Newly crowned world champion Mark Selby took to the baize for the first time since his defeat of Ronnie O'Sullivan at the Crucible earlier this month and was to pick up right where he left off with a 5-0 victory against second-season professional John Astley (who incidentally gave a good interview ahead of the match here).
It was to be a similar story for the man that Selby beat in the semi-finals in Sheffield, as defending champion Neil Robertson got his title defence underway with a 5-1 victory against Lincoln's Steven Hallworth. Perhaps ominously, during the match Robertson was to make his first century break of the new season, an event high total clearance of 137.
While those two were able to avoid an early exit, the same could not be said for Ding Junhui, who suffered a shock 5-0 defeat at the hands of amateur Oliver Brown, who today spoke about his brilliant victory to World Snooker here.
Since the introduction of flat draw tournament structures last season, World Snooker have until now generally managed to avoid a situation where a really big name has crashed out of a tournament prior to the venue stages, but with Wuxi-born Ding Junhui exiting the tournament in Gloucester, it will be very interesting to see how the sponsors and tournament organisers react. Take nothing away from Brown though, who was a deserving winner against the man who last season won five ranking titles and won't care one bit about that!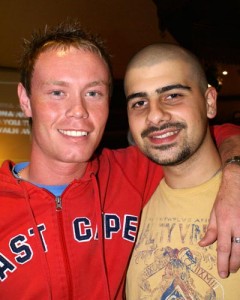 Gary Wilson and Michael Georgiou, both winners in Gloucester
As well as Brown, fellow amateurs Joe O'Connor and Michael Tomlinson were also able to book their places at the venue stages of the tournament with victories against Andrew Higginson and Nigel Bond respectively.
O'Connor's victory in particular was an unusual one in that he was given a three-frame start by his opponent, who travelling down to the SWSA on the day had found himself stuck in traffic, meaning that he arrived late for the start of the match and presumably not in the right frame of mind once he did.
Elsewhere, of the many players starting the season on zero points, or pounds as they now are on the prize-money based ranking list, there were victories for 11 of them, including five players not on the tour last season. Among them, 16-year-old Chinese prodigy Zhou Yuelong, now the youngest player on tour, recorded a 5-3 win against Alfie Burden, while countryman Lyu Chenwei saw off Crucible quarter-finalist Dominic Dale with a 5-2 victory.
There was also a welcome victory for Michael Georgiou, who in defeating Aditya Mehta 5-0 has already surpassed the achievements of his first spell on tour back in 2008/9, while pool star Chris Melling produced some excellent long potting to defeat two-time world finalist Matthew Stevens in a deciding frame.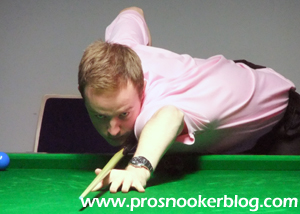 Other good wins came the way of Lee Page, Fraser Patrick and Alexander Ursenbacher, who in May have already roughly doubled the amount of prize money that they earned during the whole of last season. Chris Wakelin too was to continue where he left off last season with a good 5-2 victory against Tom Ford, while David Morris and Gary Wilson both won to continue to apply pressure to those in the lower reaches of the top 64, who will surely find themselves under increased pressure to retain their main tour places as the season progresses.
It was to be a good day for the Lines family, Peter coming through a comfortable 5-0 winner against Liu Chuang, while son Oliver won his first professional match earlier in the day, 5-4 against the hugely experienced Dave Harold.
The venue stages of the tournament will be played between 23-29 June 2014 in Wuxi, China.