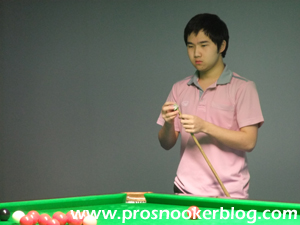 A couple of lines of important news today from World Snooker, who have confirmed that last week's Asian U-21 champion Thanawat Tirapongpaiboon will be awarded a two-year tour card from the 2014/15 season following his victory, while Iran's Hossein Vafaei Ayouri will also be awarded an extended tour card for the season.
Click below for more, or here to view my updated look at who will make up the main tour field for this season…
As I mentioned within my previous article on Saturday, following Thanawat Tirapongpaiboon's victory at the 2014 Asian Under-21 Championship, there was some uncertainty as to whether he would be nominated for an immediate return to the main tour, due to the following clause within the tour qualifying criteria:
"Players may not re-qualify onto the Tour via an amateur event which carries a guaranteed Tour place for the following season."
In the circumstances, World Snooker have moved swiftly to confirm that this rule does not apply to Thanwat, on the basis that at the time he competed in the Asian U-21 Championship, he had already reverted to amateur status, specifically following the conclusion of the World Championship last month.
The rule is intended only to apply to players competing in amateur events whilst still being a professional, which in this case Thanawat clearly was not.
On a separate note, World Snooker have also revealed that Hossein Vafaei Ayouri, who technically dropped off tour at the end of last season, has been given 'special dispensation' to remain on tour for the remainder of the 2014/15 campaign, due to the visa difficulties that have plagued his time as a professional to date.
It has been stressed that he will in effect replace the intended Americas nomination, due to the fact that the All Americas Championship will not be held this year and therefore his inclusion does not come to the detriment of any other amateur player.
Following the end of this season, Hossein will then be awarded a fresh two-year tour card, earned as a result of his recent victory at the 2014 IBSF World U-21 Championship.
In the circumstances, I think that this is a very good decision from World Snooker and one that hopefully will enable Hossein to secure that elusive visa in order to allow him to properly compete on the main tour.
Given his pedigree at amateur level, he is clearly a player of some potential and you can catch a glimpse of that talent here, as he made a 147 break on his way to victory at the World U-21 Championship.