A few days ago, fellow blogger Snookerbacker flagged up his 'ten to follow' across the course of the ongoing 2014/15 season, which you can read here.
In the interests of bloggers solidarity…or something, I decided to chip in with my ten to keep an eye on next season and today ahead of the start of the Wuxi Classic tomorrow (usual links on the right), I thought I would expand upon that and detail my choices here…
Click here to view my themes to follow across the 2014/15 season
1-16
Using the same criteria as Snookerbacker and selecting two from the current top 16, I found it hard to look beyond the top four of Mark Selby, Ding Junhui, Neil Robertson and Ronnie O'Sullivan, who I would once again expect to share the majority of the major titles over the coming year.
In particular, I opted for Selby and Robertson, who between them I would expect to enter all of the major ranking events and be consistent enough to reach the latter stages more often than not.
It will be interesting of course to see how Selby responds to having now finally won the World Championship for the first time. We have seen it go either way in the past, but in his case I would expect him to maintain his usual level of professionalism and continue to add to the four ranking events that he has won to date.
For Robertson meanwhile, he spoke in Sheffield of the fact that he thought he could have won even more last season and given his mental strength and solid all-round game, he is bound to be there or thereabouts for the forseeable future.
A word also though for Joe Perry and Marco Fu, who as I explained within my previous article here, are two players who following strong seasons last time out, are well placed to climb further up the ranking list in the coming months.
17-32
The 17-32 bracket is an interesting one, with a lot of players who are closer to the end of their careers than they are the start.
One exception however is China's Xiao Guodong, a player who regular readers will know that I have long since tipped to make a breakthrough, which finally came when he made the finals of the Shanghai Masters last season. A strong break-builder in particular, his performance against Ali Carter at the Crucible in April showed how far he has come and I fully expect him to break into the world's top 16 during the 2014/15 season.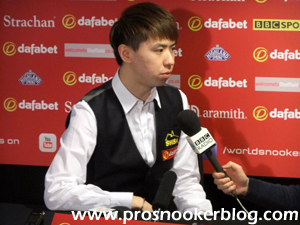 For my second choice I went with former world number six Ryan Day, who for me looked as good as he has for 4-5 years at times towards the end of last season. As strange as it might seem, I first took notice of him when he looked to be cueing nicely at the Shoot Out in January and he duly backed that up with his run to the last four of the German Masters in Berlin.
Elsewhere, Michael White and Martin Gould would be the other two players in this bracket who I will be keeping an eye on, both capable of moving well up the ranking list.
33-64
As is the case with the above bracket, there are a number of players here who I think may have already peaked at career-high rankings, but on the other hand there are also many whose rankings are very much on the rise, far more so than within this bracket a few seasons ago.
While Jack Lisowski and Anthony McGill are two obvious names for this section, I have opted to go for Kurt Maflin and David Gilbert, two players who few would argue have the talent to be ranked well inside the top 32.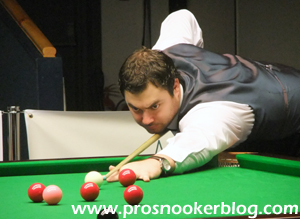 In Maflin's case, while he has not quite broken into that bracket to date, his rise up the ranking list in recent years has been as consistent as his heavy scoring and of players who could make a breakthrough this season, he would be close to the top of my list.
Gilbert meanwhile is a strange one in that although he perhaps did not have his strongest season overall last year, no doubt in part due to off-table issues mid-season, in terms of the prize-money based ranking list, it was actually fairly positive.
Others who I would keep an eye on from this group are the likes of Yu Delu, Robbie Williams and Luca Brecel, while I have a feeling that Jamie Jones might just have come through the worst of his dip in form since 2012 and be ready to start climbing back up the ranking list. Peter Lines too is another who should climb from his current position of 62.
The Rest
Despite the numbers, with four names to pick from this mix of second year professionals and tour newcomers, this was perhaps the easiest section for me to select from, with Scott Donaldson, Joel Walker and Kyren Wilson standing out as automatic choices.
In Donaldson's case, it is well-documented as to just how unfortunate he was to miss out upon a top 64 spot at the end of last season and judging by his nine victories already in 2014/15, he is wasting little time in climbing back up the rankings to a more representative position.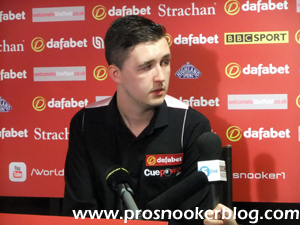 For Joel Walker, after serving his apprenticeship during his maiden season in 2012/13, he raised his game significantly in 2013/14, securing his tour card via the European Tour events, as well as reaching the quarter-finals of the Welsh Open in February. With that experience under his belt and a new two-year tour card, like Donaldson I expect him to make fairly rapid strides up the ranking list during the next couple of years.
Kyren Wilson meanwhile is currently on the second year of his two-year tour card, but roughly £4,000 from the top 64 and with nothing to defend, it would take something inexplicable for the youngster to not remain on tour for next season. Perhaps the most impressive player of last season's World Championship qualifiers, as well as having shone by qualifying for other venues, he remains very much one to watch during the coming months.
My last selection was a little more open, but after some thought I went with Li Hang, who having first turned professional back in 2008, showed further evidence of his ability last season with his results. How high he can climb remains to be seen, but I feel that he is one of the better Chinese players currently on tour and I expect him to go well.
Honourable mentions of Chris Wakelin and Stuart Carrington, while David Morris and Gary Wilson are also obvious, more experienced choices given their brilliant 2013/14 performances.