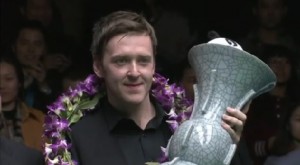 Ricky Walden has today defeated Mark Allen 10-7 to win the 2014 International Championship event in Chengdu. The triumph earns him the top prize of £125,000 and represents his third career ranking event success, all having come in China.
Click below for more…
Click here for all of the results from the 2014 International Championship
Click here to view the updated seedings list after the third mid-season revision
Click here to view the latest projected seedings list
Coming into today's final, both Ricky Walden and Mark Allen had won two ranking event titles apiece, both in China and so it always had the look of being a close final.
After the opening session it was advantage Allen, the Northern Irishman having earned a slender 5-4 lead with a possible ten frames still to be played, but on their resumption it was to be Walden who would start the stronger, winning three of the first four frames to hit the front at 7-6.
Although Mark was able to draw level with a run of 74, with the match effectively reduced to a best of five, from there he was to be shut out entirely as Ricky hit breaks of 85, 103, 54 and 62 without reply, to win the next three frames and seal the biggest title of his career to date.
As well as getting his hands on the trophy, Ricky also takes home the winner's cheque of £125,000, the biggest single prize of his professional career to date, which is enough to see him climb up to eighth when the official ranking list is revised tomorrow. Always a fluent player to watch and someone who has broken new ground in recent years with semi-final runs at both the UK and World Championship events, as well as three full-ranking event titles now, it will be interesting to see whether he can go all the way in one of snooker's traditional majors back in the UK.
With victories in Wuxi, Shanghai and now Chengdu, it will also be interesting to see whether Ricky can become the first player to complete a 'China slam' with Beijing and potentially the World Open still to be won, depending on where that event is staged this season.
As for Allen, there will inevitably be disappointment as at the second ranking event in a row he has been unable to convert a dramatic semi-final victory into silverware the following day. Whether the fact that Ricky had an extra day off on the Saturday played a part, only Mark will know, but all in all it has nevertheless been a strong start to the season for Mark, who has now made it to four professional finals, including two European Tour events.
He can also take heart from the fact that he was involved in what will undoubtedly be remembered as one of the best matches of the season yesterday, his 9-8 victory against Mark Williams completed in little over three and a half hours, which tells its own story. He moves up to sixth in the latest world rankings, equalling his previous career-high spot.
As for the tournament as a whole, it is fair to say that it was not the best attended event ever staged, but it had its fair share of stories with Mark Williams rolling back the years to defeat Ronnie O'Sullivan for the first time in 12 years, good runs from the likes of Robert Milkins, Jamie Burnett, Ian Burns and Li Hang, as well as veteran duo Peter Ebdon and Joe Swail.
With Ding Junhui and Mark Selby having already failed to make it through the first qualifying round, there was also early upsets for the likes of Neil Robertson, Judd Trump and Shaun Murphy, which left people wondering as to whether anyone could stand up to Ronnie O'Sullivan, before Williams hit back from 3-0 down to end Ronnie's run at the quarter-final stages.
From here there will be no let up, as the invitational Champion of Champions event gets underway tomorrow in Coventry…