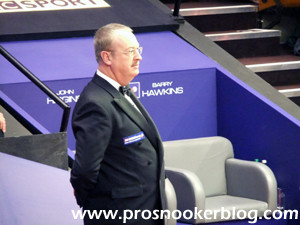 With the start of the UK Championship in York today came the shock news from World Snooker that Eirian Williams, one of the tour's most senior referees, is to retire from officiating with immediate effect.
As he explains here, Eirian now hopes to be able to spend more time with his grandchildren in the future, while he also looks back at career highlights such as the four World Championship finals that he officiated, as well as the 1998 Welsh Open won by Paul Hunter.
As authoritative a figure in the arena as he is a nice guy away from the baize, Eirian will be missed by everyone on the circuit, in particular his fellow referees.
Even as a blogger who is relatively new to the snooker circuit, I know exactly what Eirian means when he refers to the camaraderie on the circuit and hopefully we will still see him at the occasional event, such as the Welsh Open next year.
He has always been a gent whenever I have had the pleasure to meet him at tournaments (even when he did tell me to put my camera away in Gloucester once…) and I hope that he goes on to enjoy the next chapter of his life away from the baize, as much as he has his successful refereeing career.
Happy retirement Eirian!