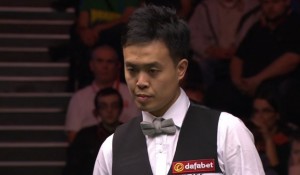 Congratulations to Marco Fu, who has this evening become only the third player to make a maximum 147 break at the Dafabet Masters, the break coming in the fourth frame of his last 16 match with Stuart Bingham.
A break that rarely looked to be in doubt from an early stage, the feat represents the third time in his career that Marco has made a maximum break in professional competition and provided that it is not equalled during the remainder of the tournament, will earn him a £10,000 bonus.
Marco follows in the footsteps of fellow overseas players Kirk Stevens and Ding Junhui as players to have made a 147 at the Masters, although Marco's is the first at the Alexandra Palace venue.
The break was also the third refereed by Sheffield's Brendan Moore, as well as the third made against Stuart Bingham during his career.
You can watch the break here at YouTube, or click here to look at the updated 147s hall of fame here at PSB.