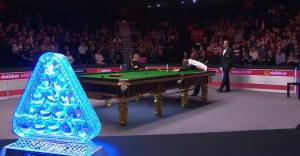 Four days into the 2015 Dafabet Masters and with Joe Perry's victory against Ding Junhui this evening, the line-up for the quarter-finals is now known. Continue reading for my round-up of the action so far and a look ahead to the last eight…
Click here to view all of the results from the Masters so far
It has so far been a week of close matches and big breaks at the Alexandra Palace, which has seen five of the top eight seeds fall at the first hurdle, although it is a measure of how finely balanced the fixtures have been that none of these results would be described as a shock.
The performance of the round arguably came from former Masters finalist Marco Fu, who hit three century breaks including a memorable maximum on his way to a 6-3 win against Stuart Bingham. It represents a fifth last 16 exit at the Masters for Stuart, a strange record given his ability and in particular his form during the past few seasons, while Fu became only the third player to make a 147 at the tournament.
Next up for Marco will be defending champion Ronnie O'Sullivan, who survived a comeback attempt from Ricky Walden and at times his own frustration, to come through a 6-4 winner and equal Stephen Hendry's record of 775 professional century breaks. Win or lose, it would seem likely that the record will be broken during his match against Fu tomorrow and if it is, he is bound to receive a terrific reception from the London crowd.
As for the match in general, it is an interesting prospect and a match-up that has seen wins for both players down the years, but perhaps surprisingly, none for Fu since his victory at the 2009 Welsh Open. Given his record at the tournament, it is hard to back against O'Sullivan, but I would not be shocked to see Fu come out on top either.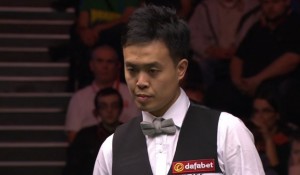 Awaiting in the semi-finals will be either Neil Robertson or Ali Carter, who like Fu and O'Sullivan, meet in a repeat of their clash at the Champion of Champions event in November.
For a while it looked as though Robertson might be another early casualty at the Alexandra Palace as he trailed Robert Milkins, but he grew in confidence as the match progressed and by its conclusion looked to be playing nicely. It has been a strange season for Robertson as despite winning one ranking event and reaching the final of another, it feels as though he has been relatively quiet in recent months.
Despite that, it would be no surprise to see him come out on top for the second time at the Alexandra Palace this week and as a player who has sometimes been guilty of peaking too early at events, perhaps a tough early match against Milkins will work in his favour in the long run.
It is fair to say though that Neil will be second favourite with the crowd when he plays next tomorrow evening, as he faces the brilliant Ali Carter, who won his biggest match yet since his return to the baize, 6-1 against Barry Hawkins.
It was the first time that I had seen Ali play since his defeat to Mark Selby at the Crucible last April and I was impressed with how sharp he looked to be, right from the opening frame. It would be easy to overplay Ali's performance for sentimental reasons, or say that he did well given the circumstances, but to do so would miss the point. He simply played extremely well full stop and certainly as well as anyone else during the last 16.
Whether it will be enough to beat Robertson remains to be seen, but make no mistake, Ali Carter is very much back at the sharp end.
Turning to the bottom half of the draw, Wednesday's winners Joe Perry and Mark Allen will face off in a match between two players who relatively speaking, haven't actually played each other too often down the years. I did not see Allen's victory today, but on paper it looked to be a strong performance from the Northern Irishman, while Joe performed strongly during his win against an out of sorts Ding Junhui this evening.
I was shocked to learn that this was Joe's first win at the Masters in seven attempts, somehow I had just assumed that a player as strong as him would have won at least one match at the tournament before, but in any event he was convincing this evening and his match with Allen is very much a coin toss in terms of predicting the outcome.
And finally at the bottom of the draw we have Stephen Maguire and Shaun Murphy, players who not all that long ago were ranked second and third in the world, but this year are unseeded winners following their victories against Judd Trump and Mark Selby respectively.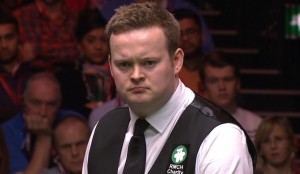 For Maguire, his victory was very much built upon a third frame turnaround against the man who I had tipped for the title this week, while Murphy became the first player to defeat Mark Selby in a deciding frame at the Masters in 12 attempts, despite a fightback from 5-1 down from the reigning world champion.
No doubt the old lines about 'chalkgate' and their differences in the past will be brought up in some quarters, but both players have moved on now and as ever, it remains very difficult to separate the two and predict a winner here, Murphy shading the head to head record 11-10.
Who is your tip for the title after the first round of action?