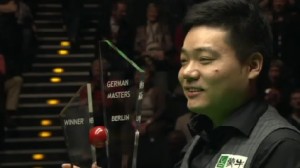 Nearly two months on since Ronnie O'Sullivan's dramatic victory at the 2014 UK Championship in York, ranking event snooker returns this Wednesday in Berlin with the venue stages of the 2015 German Masters, as Ding Junhui looks to defend the title that he won 12 months ago.
Click below for my tournament preview…
Click here to view the draw for the venue stages of the German Masters
Click here to view the latest projected seedings
Since its introduction to the calendar back in 2011, the five-day German Masters event staged at the Tempodrom venue has firmly established itself as one of the most popular events of the season and this year will be sponsored by the Kreativ Dental Clinic, an increasingly familiar brand to snooker fans through their backing of individual players and the European Tour.
Following the experimentation with taking 64 players to the venue a year ago, complete with the so-called 'room of doom' away from the busy main arena, World Snooker have this time chosen to revert to the previous format of taking just 32 to the Tempodrom, with two qualifying rounds played in Wigan just before Christmas.
Ideally, the event would be played over a longer period but with the venue in high demand, this is not yet currently possible and so for me it makes sense to take fewer players and if nothing else, helps to make the event easier to follow for those at the arena and at home.
In terms of the higher ranked players who were not able to make it to Germany, Ricky Walden and Marco Fu were perhaps the biggest casualties, while Robert Milkins, Ali Carter and Graeme Dott were also to fall at the Wigan qualifiers.
For those who are in action however, there is important prize money to be won ahead of the latest seedings revision following the event and I take a look at the draw below…
The Top Quarter
Heading up the draw is defending champion Ding Junhui, who despite an unconvincing season so far overall, perhaps played some of his best snooker in qualifying for the event to defeat Jamie Clarke and Craig Steadman.
He begins his campaign in Berlin with an eye-catching match against Ryan Day, who he edged out 6-5 at the semi-final stages on his way to the title a year ago in what was one of the matches of the season. Their head to head record overall is fairly even, Ding having won their last three meetings, but Ryan having previously got the better of the world number one at both the World and UK Championship events in 2012.
All things considered, a tough match to call, but with a lot of matches under his belt at Crondon Park this week and Ding having looked very out of sorts at the Masters recently against Joe Perry, I expect Ryan to at least push Ding hard.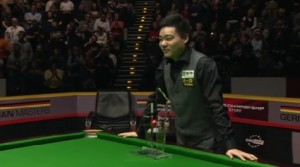 The winner will play either Alfie Burden or Michael Georgiou, two players who have struggled for victories so far this season, although Alfie did reach the last eight at the recent AT3 event in China and Georgiou was able to defeat former world champion Graeme Dott in making it to this event. Another evenly matched contest on paper, but as the higher ranked and more experienced player, Burden will rightly begin as favourite.
Elsewhere in this section, we have an all-Chinese clash between Li Hang and Liang Wenbo, with little by way of head to head record to look back to (a 4-3 win for Liang at an Asian Tour event in 2013), while the in-form Matt Selt takes on Stuart Bingham in what could be one of the matches of the round, given the form of both players of late.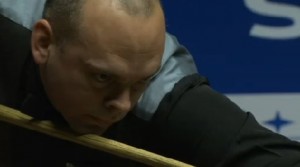 Selt of course is perhaps enjoying the most consistent run of his professional career to date so far, having reached the last 16 of the UK Championship, the final of the Lisbon Open and most recently won the second group of this season's Championship League at Crondon Park, while Bingham was a frame away from reaching the final of the UK Championship before Christmas, losing narrowly to Ronnie O'Sullivan.
At first glance, Bingham appears to have a commanding 5-1 head to head advantage since 2010 in all competitions, but of those matches the only one to be over the best of nine in a full-ranking event was the sole victory for Selt, when he ended the run of the defending champion at the 2012 Australian Goldfields Open, so I would not read a great deal into that statistic.
The Second Quarter
Down to the second quarter and we begin with a re-match between Mark Allen and Mark Williams, following their 9-8 thriller back at the International Championship semi-finals in November.
Since that last meeting, both players exited at the last 32 stage of the UK Championship, while Allen was able to reach the semi-finals of the Masters and Williams the last four at last week's Xuzhou Open. Indeed, the preparation of the two players for Germany has been somewhat different, Williams spending time at AT3 and subsequently playing pool like a number of the top players at the moment, while Allen has stayed closer to home and recently played an exhibition with his good friend Joe Swail.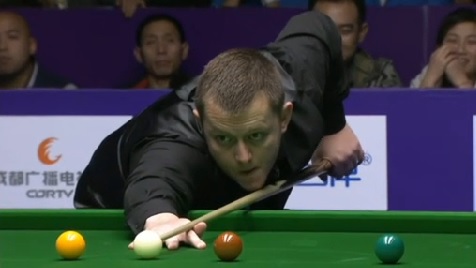 Looking at their recent head to head record, it is interesting to see that Allen has actually won their last six meetings dating back to 2012, although Williams has already overturned a far long drought against a player this season with his victory against Ronnie O'Sullivan in Chengdu. It should definitely be one to watch.
The winner will then meet either Michael Wasley or Shaun Murphy, the latter coming into the tournament as the tour's form player following his victory at the Masters a couple of weeks back and no doubt looking to further add to his trophy collection.
Another player in good form at the moment is AT3 winner Joe Perry, who takes on Jimmy Robertson (head to head 2-2) at the last 32 stage and will be looking to continue his winning run, while Mark Davis, another On Q Promotions player in this section, takes on the lurking Ronnie O'Sullivan, who makes his first appearance at the event since his claimed the Berlin title back in 2012.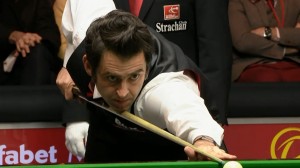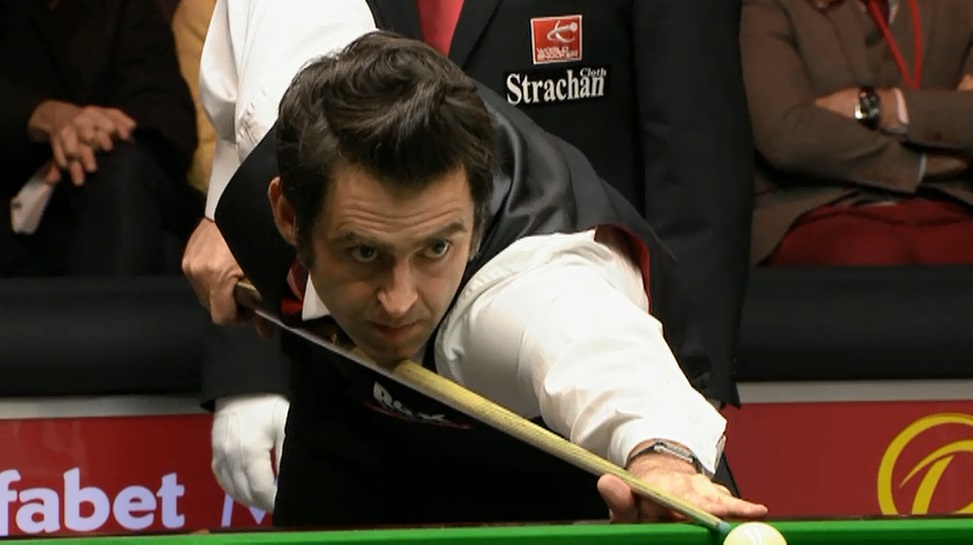 Of course, you have to go back less than a week to the last meetings between Davis and O'Sullivan, as the pair clashed twice in group five of the Championship League and coming out with one win apiece. Prior to that however, their previous meeting came at the 2013 Champion of Champions, with O'Sullivan coming out on top in Coventry and no doubt most will favour the Rocket to come through again.
The Third Quarter
Turning to the bottom half of the drawsheet we find Masters finalist and third seeded Neil Robertson, who begins his quest for his first German Masters title with a match against Ireland's Fergal O'Brien.
Upon seeing these two paired together, I could not help but think back to the year when Neil Robertson won the world title at the Crucible in 2010, where he also played Fergal at the last 32 stage of that event in what was an extremely hard fought match in Sheffield.
Perhaps surprisingly, that match stands as their last meeting in competition, so in terms of head to head encounters there is very little to go on and while you would have to favour Robertson, it will be interesting to see whether his preparation will have been affected by his involvement in the pool competition in China during the last week or so.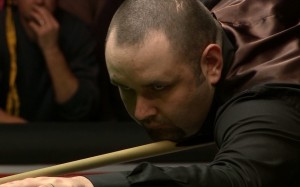 Awaiting the winner will be either Xiao Guodong or Liam Highfield, who met twice earlier on in the season at the Wuxi Classic qualifiers and Australian Goldfields Open, with Xiao coming out on top on both occasions. A quarter-finalist in Berlin last season, Xiao will be favourite to come through this one, although Liam did record an impressive victory against Marco Fu before Christmas to qualify for the event.
Another big name in this quarter of the draw is the in-form Stephen Maguire, who is set to face David Gilbert in a re-match of their meeting earlier this season at the Wuxi Classic (won by Maguire), while Mark King takes on fifth seeded Barry Hawkins in a match up that has seen relatively few meetings in recent years, King coming out on top when the pair met at Crondon Park earlier this month.
The Bottom Quarter
The bottom quarter of the draw is headed up by Judd Trump, who takes on Michael Holt in a repeat of their quarter-final last year in Berlin which was won 5-0 by Trump on his way to the final. Despite his defeat to Stephen Maguire at the Masters recently, Judd has otherwise been in good form of late and will be hoping to go one better this year at the Tempodrom.
Awaiting the winner of that match in the last 16 will be either Martin Gould or amateur Ashley Carty (conqueror of Robert Milkins in qualifying), who have only one previous meeting at the 2013 Wuxi Classic qualifiers, won 5-4 by Gould.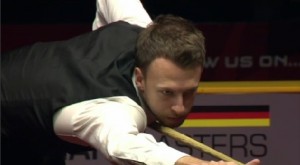 The final section of this quarter sees three world champions involved as John Higgins takes on Peter Ebdon, while 2011 German Masters runner-up Mark Selby begins his tournament with a tricky opener against Anthony McGill.
A European Tour clash back in August aside, it has been nearly three years since Higgins and Ebdon met in ranking competition, Ebdon coming out on top at the China Open, while Peter also got the better of the four-time world champion in the final of that event back in 2009.
It will though be interesting to see how Higgins fares in Germany, as there are definitely signs that he is starting to turn a corner with his form at the moment and we shall see whether he can translate that into results over the coming tournaments. Ebdon too has won a lot of matches recently, particularly at Crondon Park during recent weeks and I expect the two to give us a good match in Berlin.
As for Selby and McGill meanwhile, they have just one previous meeting between them back in 2012, but with Selby still currently playing pool in China and McGill gained a lot of experience since then, I would expect this one to be another close opening round match at the Tempodrom.
Predictions:
SF: O'Sullivan def Bingham, Maguire def Higgins

F: O'Sullivan def Maguire