48 hours after losing in the final of the Gdynia Open, Mark Williams has this evening defeated Fergal O'Brien 2-1 to win the 2015 World Seniors Championship in Blackpool.
The result earns the Welshman the top prize of £18,000, as well as presumably a place in next season's Champion of Champions event in Coventry, although the qualification criteria for that tournament has yet to be formally confirmed.
Although it is difficult to read too much into form at a tournament held over the best of three frames, both Williams and O'Brien were clearly the best two players of the week and deserved to make it through to the final.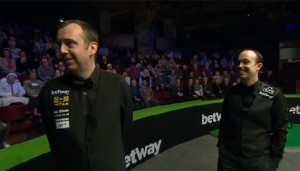 For Williams, just getting to the venue yesterday so soon after returning from Poland was something of an ordeal, but it did not show in his performance against Darryn Walker last night as he won with a fantastic total clearance of 140.
Fergal meanwhile had already made back to back centuries against Peter Ebdon in his opening match and would go on to reach the final having made at least a 50 breaks in each of the six frames that he had played up to that point.
Fittingly, the final itself was to be a quality affair, O'Brien taking the opener with a fantastic clearance of 39, before Williams hit back with a good break to force a decider, which he would eventually win to take the title.
There has been considerable debate amongst both fans and supporters as to the merits or otherwise of reducing the age limit to 40 this year and I can see both sides of the argument.
On the one hand, it was clear this week that those players not currently on the main tour were at a significant disadvantage to those such as Mark and Fergal who are both still competing at a high level. I do suspect now that the days of Tony Chappell reaching the final and Darren Morgan winning the title a few years ago are gone, particularly with the likes of John Higgins and Ronnie O'Sullivan both eligible to compete next season.
But on the other, as a spectacle the performances from the likes of Williams and O'Brien made the action far more watchable than some of that which we have seen over the last few years and more likely to sustain interest of any spectator flicking through the channels.
It is a difficult one and I am in the minority, but I personally think that it is a good move to reduce the age limit and still made for an entertaining couple of days at Blackpool.
Of course though, that is not it for the Circus Tower venue, as the action resumes tomorrow with this season's Shoot Out event from the venue.