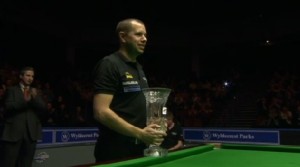 There has been a lot of speculation this week as to the draw structure for the upcoming Players Championship Grand Finals event in Thailand, but World Snooker have today ended that by publishing the draw at their website here.
As has been the case in previous seasons, the top 16 in a combined order of merit, including money earned during both European and Asian Tour events, have been drawn against the bottom 16 at random. There had been speculation that the structure would see them drawn as 1 v 32, 2 v 31 and so on, as with the World Grand Prix, but such talk has proven to be unfounded.
The penultimate event prior to the cut-off for the all-important World Championship, it will be very interesting to see how the draw unfolds and what impact this event will have upon seedings for that event.
In previous years, the impact has not been too significant, given the relatively low rankling points tariff, but following the switch to a prize money based ranking list this season, with £100,000 available to the winner, suddenly there is a lot more on the line in Thailand.
A full look at the draw will follow closer to the time…