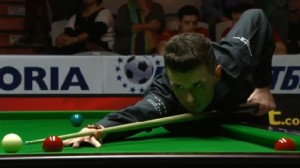 Sunday marked the 20th birthday of Luca Brecel, who for at least as long as I have written this blog, has been regarded as snooker's most promising teenage player.
Now that he is half way on to being eligible for the World Seniors Championship however, I posed the question on Twitter as to just who is snooker's most promising teenager at this time, with several talented young players having either already made a mark on the professional scene, or certainly having done so at amateur level.
I wrote a similar piece back in 2009 and finding it interesting to look back at how those players have so far gone on to progress in their professional careers, click below for my look at some of the most promising teenagers in the game, together with the best of your tweets…
Having noted Luca's birthday on Sunday, I put the question on Twitter as to just who was the most promising teenager in the game, suggesting a few of the players who have caught my eye in recent months.
That's a Sunday question, who is snooker's most promising teenager? Oliver Lines, James Cahill, Lyu Haotian, Zhou Yuelong, Zhao Xintong?

— Matt (@ProSnookerBlog) March 8, 2015
Yan Bingtao, Ross Muir, Alex Ursenbacher, Steven Hallworth, Shane Castle other teenagers who spring to mind… — Matt (@ProSnookerBlog) March 8, 2015
Without question, the player who received by far the most mentions from my followers was Oliver Lines, who having made it onto the main tour following his victory at the European U-21 Championship last year, has wasted little time in making his mark on the professional circuit.
His brilliant comeback win against Mark Selby to qualify for the International Championship last year stands as the obvious highlight, but of course he also reached his first professional final at the second Asian Tour event and most recently in Gdynia shone to make it through to the final day before losing narrowly to eventual champion Neil Robertson.    
@ProSnookerBlog Oliver Lines! — Andy Fong (@nameisAndyFong) March 8, 2015
@ProSnookerBlog Gotta be Lines I reckon but all those you've mentioned look excellent prospects. Hope Cahill does well, seems a lovely lad.

— Kellie Barker (@kellietext) March 8, 2015
@ProSnookerBlog Got to be Oli Lines. Did a great job at the Gdynia Open to come back from behind to force a decider in multiple matches — Rachel #41 (@super_ruck) March 8, 2015
@MuddPhil @ProSnookerBlog @oliverlines147 he is a class act as well. Nice boy too

— Grove Snooker (@grovesnooker) March 8, 2015
@ProSnookerBlog Oli Lines has future World champion written all over him — Daniel (@DanGib147) March 8, 2015
Oliver is not the only one though to have shone recently and one of the players who has most impressed me this season has been China's Zhou Yuelong, who despite being the youngest player on tour having only turned 17 in January, has more than held his own on the professional circuit and so far won over £18,000 this season.
With victories against established professional such as Jimmy White, Michael Holt, Barry Pinches, Liang Wenbo and Alfie Burden, he has shown that he is a player not to be taken lightly, despite his young age, and it will be interesting to see whether he will be able to gain a top 64 place by the end of next season.
@ProSnookerBlog Yuelong — roland (@snookeroland) March 8, 2015
@ProSnookerBlog Current impression: Yan, Zhou, Lines, but as they say form is temporary… and all of those you mention have potential. — Arne B (@Allineas42) March 8, 2015
As well as Zhou, his fellow Chinese players Zhao Xintong and 2014 IBSF World Champion Yan Bingtao have also shown huge promise already, Zhao having established himself as the most threatening wildcard at Chinese ranking events, while Yan Bingtao has also claimed notable scalps at full ranking events and Asian Tour level, including Marco Fu at the Shanghai Masters last year and Pankaj Advani en route to winning the world amateur title as a 14-year-old in November.
Lyu Haotian is another, as although he looks set to be relegated from the tour at the end of this season, still barely 17-years-old and with two years of experience under his belt, it is hard to imagine that we will not see him back on the circuit before too long.
@ProSnookerBlog Cearly Oliver Lines and Zhao Xintong. They were showing this this season quite clearly.

— G0ten's Blog (@BreakOff_com) March 8, 2015
@CueActionBlog @ProSnookerBlog Yan Bingtao — Saiful Amin (@Saifula147) March 8, 2015
@ProSnookerBlog he is the best I have seen from china after Ding

— Grove Snooker (@grovesnooker) March 8, 2015
@Saifula147 @ProSnookerBlog yep. He absolutely murdered Wenbo last year in Shanghai — Grove Snooker (@grovesnooker) March 8, 2015
@ProSnookerBlog Zingtong

— Matthew Selt (@MattSelt) March 8, 2015
@ProSnookerBlog xingtong very impressive but olly got to a final his first season as a pro. Only time will tell. — Craig Steadman (@stedz1) March 8, 2015
@ProSnookerBlog very impressive Matt

— barry pinches (@barrypinches) March 8, 2015
Despite the obvious talent from China, there are still players closer to home who have already laid down a marker such as James Cahill, who of course won a thrilling match against Chinese number one Ding Junhui at the UK Championship in York before Christmas and is still only 19 years old, while it is perhaps easy to forget that Ross Muir is still only the same age and already certain of a new two-year tour card from the start of next season.
@ProSnookerBlog That said Cahill has done it on the big stage! — Samuel Hinton (@SamHinton147) March 8, 2015
@ProSnookerBlog I've played James Cahill and he is quality, but @oliverlines147's results this season have been great for a debut season.

— Dong Ming Lau (@dongminglau) March 8, 2015
@ProSnookerBlog i think james cahill, theres something about him — Sean (@snookerfan97) March 8, 2015
Another player that I had initially omitted was Ashley Carty, who most notably was able to qualify for the final stages of the German Masters, as well as reach the last 32 of the recent Welsh Open. Having competed this season at the majority of events as an amateur following his results at Q School last season, hopefully he will be able to earn a main tour place as of right sooner rather than later.
@ProSnookerBlog @SeanTheStorm147 and @ashcarty Got to be in the mix as well Seen them loads live 2 to watch Matt

— Phil Mudd (@MuddPhil) March 8, 2015
One man who most of you will have heard of in recent years is Shane Castle, who you may remember led Mark Selby 3-1 at the UK Championship a couple of years, before the defending champion came back to win 6-4 at the Barbican Centre.
Interestingly however, I was informed by Leeds amateur Sanderson Lam that he has quit snooker, with another user suggesting that this is to concentrate on his studies. I last saw Shane back at the International Championship qualifiers last October, so the decision must have been taken relatively recently and we shall have to wait to see whether he does decide to give snooker another try in years to come.
@ProSnookerBlog Shane castle has quit

— Sanderson Lam (@sandi147) March 8, 2015
@snookerfan97 @sandi147 @ProSnookerBlog concentrate on his studies #ABC

— Deco800 (@Deco800_) March 8, 2015
Aside from those mentioned, there are also the likes of Alexander Ursenbacher and Steven Hallworth, who are both currently on the main tour, while Irish amateur Josh Boileau has impressed more than most at amateur level, having finished as runner-up to Oliver Lines at the European U-21 Championship last year.
Who is your tip for the top from these, or there any other teenagers rising through the ranks at the moment that have caught your eye? Let me know your thoughts below…