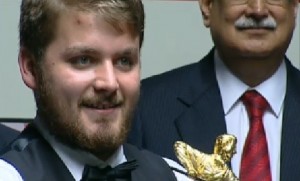 A couple of weeks on from winning his first professional title at the Shoot Out in Blackpool, 23-year-old Michael White has now followed that up with his first ranking event success in Mumbai, having whitewashed Ricky Walden 5-0 to win the 2015 Indian Open.
With the top prize of £50,000 taking him up to 17th place in the rankings and within range of an automatic place at the Crucible, it has been a fortnight to remember for the Welshman…
Click here to view all of the results from Indian Open
Click here to view the latest projected seedings list
Having previously reached four ranking event quarter-finals before this event, Michael White yesterday made it through to the semi-finals of a ranking tournament for the first time in his career with a 4-2 victory against Chris Wakelin and this afternoon defeated fellow Welshman Mark Williams 4-2 to reach his maiden final.
There he would face Ricky Walden, who having already won the International Championship in Chengdu earlier this season, was looking for his fourth career ranking title and came back from 3-0 down to defeat another unfamiliar face in the semi-finals, Thailand's Thepchaiya Un-Nooh.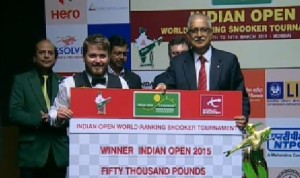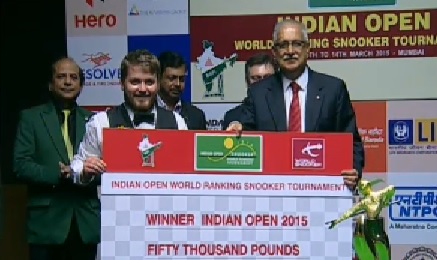 On paper, it looked as though we had a close final in prospect, but in reality the match would prove to be one-way traffic as White opened with breaks of 81 and 77, before adding further runs of 45, 41, 58 and finally 85 to clich the title in little over an hour and a half, including a 25 minute mid-session interval.
With a pot success rate of 96%, it was a devastating performance and one that has seen him deliver upon the potential evident since he first turned professional back in 2007. No doubt boosted by the confidence gained following his Shoot Out win, as well as some words of wisdom from countryman Mark Williams just before Christmas as he described post-match, he will climb to 17th place on the official world rankings on Monday, little over £1,000 from breaking into the top 16 for the first time.
I first saw White play live back at the World Championship qualifiers in 2011 and even at that stage his break-building ability was a cut above the other players around his place in the rankings. I recall that he defeated Matthew Couch heavily at that tournament with what felt like big break after big break and so it was always a matter of time before the rest of his game caught up with his scoring. Clearly now, he is a more rounded player and will be a threat going forward.
For Walden, he was completely frozen out in the final, but has the consolation that after this tournament he now tops the unofficial 'one-year' ranking list, having earned more prize money so far this season than any other player. While there are no prizes for that feat, it nevertheless is a reflection of how well he has played across the season so far and consolidates his position inside the top eight.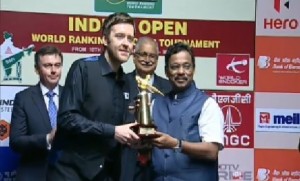 With runs for the likes of White, Un-Nooh, Wakelin and others, it has been an interesting week in India and despite the absence of a number of the higher ranked players, still proven to be an event worthy of its place on the main tour from one of the sport's most promising emerging markets.
Of course for those of us in the UK, the drawback has been the lack of TV coverage, which has served to limit the ability of fans here to follow the tournament, but watching the television coverage provided by the host broadcaster, their enthusiasm for the sport has come over very clearly and hopefully the tournament can continue to grow in the coming seasons.
Next stop for the main tour will be the new World Grand Prix from Llandno next week, before we head back to Asia for the final two ranking events prior to the crucial seedings revision ahead of the World Championship.