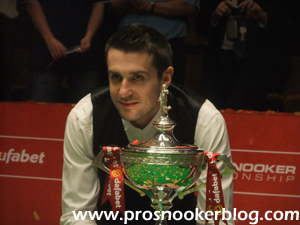 This year Mark Selby will become the first player since Neil Robertson in 2011 to try and dispel the so-called 'Crucible Curse' that no first time champion will successfully defend the World Championship title at the Crucible Theatre.
Click below for my look back through time at how previous first-time world champions have seen their defences ended…
Little did he know back in 1978 that he would be the first of 18 Crucible world champions to fall at the first hurdle in defence of their title, but John Spencer was to become the first 'curse' victim as despite a break of 138, he was to lose the last four frames of his opening round match to South Africa's Perrie Mans, who would go on to make the final.
Standing in his way however was Ray Reardon, who came out on top a 25-18 winner to win his sixth world title and first at the Crucible. Even Reardon though could not overcome the curse, although he would go one round further than Spencer before losing 13-8 to Dennis Taylor in the quarter-finals.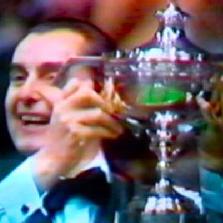 Again, Taylor would go on to make the final before losing out to Terry Griffiths and a year later the Welshman would lose his opening match to Steve Davis, which looking back seems appropriate given the head to head advantage that the Nugget would go on to establish against him over the coming years.
Winning the tournament in 1980 was another one-time winner in Cliff Thorburn and the following year he was to put up the best defence of any Crucible winner to that point, reaching the semi-finals before losing out to Davis, just as Griffiths had.
Of course that was to be the year that Steve won the first of his six titles at the Crucible and after a successful 1981/2 season, many were expecting him to be the one to break the curse. In what was to go down as one of, if not the biggest Crucible upset of all time though, the 'Nugget' was to lose 10-1 to Tony Knowles in his opening match.
Again, there was to be a new winner in 1982 with Alex Higgins winning his second world title overall with an 18-15 victory against Ray Reardon and he was to match Thorburn's run to the semi-final a year later, losing heavily to Davis who became the first multiple winner at the Crucible Theatre in 1983 before defending his title a year later in 1984.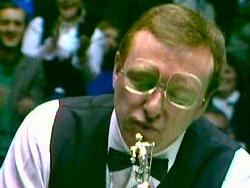 His reign was to be cut-short however, by Dennis Taylor in that match, £18.5m viewers and all. What is not mentioned quite so often however is that like Davis, he was also to fall at the first hurdle on his maiden title defence, losing 10-6 to Mike Hallett, who would himself lose out to shock champion Joe Johnson later in the tournament.
As well as his memorable triumph against Steve Davis in the final, to this day Johnson remains the most successful first-time defending champion at the Crucible, making it all the way back to the final in 1987 and taking 14 frames off Davis, before narrowly losing out. Although Ken Doherty (more later), has also since made it all the way through to the final, he did not come quite as close as as Joe had done.
With Davis winning in 1988 and 1989, we have to go to 1991 to consider the first defence of another of snooker's all-time greats, as youngest-ever world champion Stephen Hendry returned to Sheffield following his win a year earlier.
While Hendry beat most opponents during his career, even the Scot could not defeat the curse as he fell 13-11 to Steve James, who won the last four frames of their quarter-final encounter.
The winner that year would be John Parrott and despite a five-frame winning streak from 11-7 down against Alan McManus in 1992, he was also to fall at the last eight stage, McManus winning the last two frames to reach his first World Championship semi-final.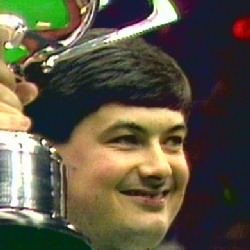 With Hendry winning for the next five years, we have to jump forward to 1998 and Ken Doherty's defence as mentioned previously, which saw the Irishman defeat the likes of Stephen Lee, Matthew Stevens and Mark Williams to reach his second final, where he lost out 18-12 to another great in John Higgins.
Many had expected Higgins to successfully defend his title a year later, but it was to be Welshman Williams who would come out on top, as he would again a year later on the way to his own first world title in Sheffield. He was not able to avoid the curse either though as he lost a deciding frame with Northern Ireland's Joe Swail, who incredibly won the final session of their match 7-2 to pull off a trademark great escape.
Next up was Ronnie O'Sullivan, who won the first of his five Crucible titles in 2001 and looked good to follow that up a year later with wins against Drew Henry, Robert Milkins and Stephen Lee, before some ill-advised pre-match comments before his semi-final inspired Stephen Hendry to a 17-13 victory, in one of the all-time great World Championship semi-final matches.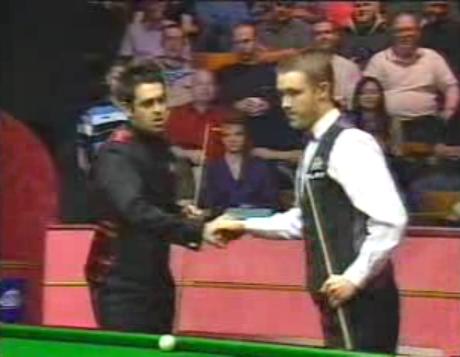 Of course though, Hendry was unable to become Hendry the eighth, losing out to Peter Ebdon and could it be that arguably snooker's most determined player could crack the curse? The answer would of course prove to be no, Ebdon losing a deciding frame to the late Paul Hunter at the quarter-final stage, the year of course that Hunter would go on to lose another thrilling semi-final with Ken Doherty, having taken a 15-9 lead into the final session.
The next first-time defending champion would be Shaun Murphy three years later and as with a few others, he was to make it to the last eight before losing out to Ebdon, who he had beaten a year earlier on the way to his maiden Crucible triumph.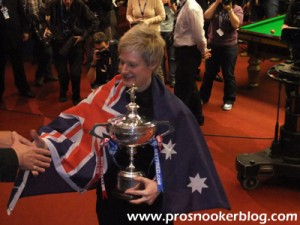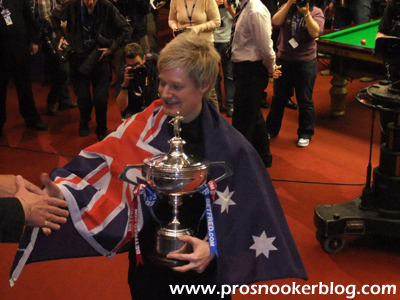 Since then we have had only two first-time winners and both were to lose on the opening day the following year, Graeme Dott to old adversary Ian McCulloch who had also beaten him in 2005, while Neil Robertson in 2011 was to run into Judd Trump, fresh on the back of his first ranking event victory at the China Open and on his way to the final, where he would lose out to John Higgins.
And so following Ronnie O'Sullivan's victories in 2012 and 2013, as well as Mark Selby's victory almost a year ago, we are now under three weeks away from seeing just how close the Leicester man can get to breaking the curse and becoming the first ever first-time Crucible winner to successfully defend his title.
How far do you think he will get?