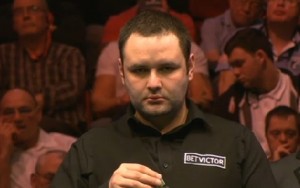 After months of battling, the race for Crucible places in two weeks time has now finally resolved following defeat for Robert Milkins at the hands of Mark Selby in Beijing this morning.
Coming into the China Open, which is the final event prior to the all-important seedings cut-off for the 2015 World Championship, there remained one place up for grabs, with no fewer than seven players still in with a mathematical chance of overtaking Scotland's Stephen Maguire for the final qualifying spot.
Following the last 16 yesterday however, the race became somewhat simpler as defeat for Maguire at the hands of Barry Hawkins, meant that sole remaining chaser Robert Milkins needed to make it through to the final in Beijing, if he was to leap ahead of Maguire at the last opportunity.
At times today it looked as though the battle was turning Robert's way, as he led Mark Selby four times in their quarter-final match, while potential semi-final opponent Shaun Murphy was sent home by Kurt Maflin on the outside table.
As Milkins though missed both a relatively easy blue and a red in the eighth frame of his match, he was to be taken to a deciding frame in which Selby would ultimately give him no chance, the world number one winning the frame in three scoring visits and confirming that Robert will have to win three qualifying matches if he is to return to the Crucible for the first time since his last 16 run back in 2013.
The result also confirms that Mark Selby will retain the world number one ranking at the end of the tournament, having needed to make the semi-finals to prevent Ronnie O'Sullivan from taking it for the first time in five years.
As far as the World Championship is concerned however, Selby was always going to be top seed as defending champion and now the top 16 are confirmed, but at the time of writing there do remain a couple of matters to be resolved in terms of the placement of the seeds in the draw.
Firstly, with a win against John Higgins later today, Ding Junhui would move above Neil Robertson in the seedings list, which would see the pair swap halves in the potential World Championship draw that I looked at prior to the tournament here.
If Higgins were to win however, he would retain a chance of himself climbing up the provisional seedings list, although he would still need to win the tournament to move up from 14th place to 10th, which would mix up the potential draw in a few places…