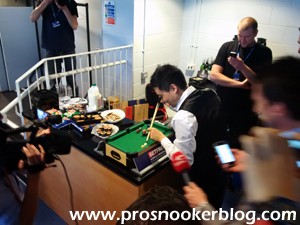 Away from the sensible action at the Crucible on Tuesday, there was a worrying amount of excitement caused by a table considerably smaller than 12×6, with the introduction of a mini-pool table next to the fridge here in the media room.
With regular MC Rob Walker in particular taking a liking to the table, the likes of Ding Junhui and Mark Allen have also participated in what appears to have become a 'pot as many balls in a minute as you can' challenge, much to the amusement of bloggers such as myself looking for something a little unusual.
Probably the most amusing moment came as Ding felt it necessary to apologise for any flukes, whilst Allen was lightning around the table, clearly using his visit as practice for next season's Shoot Out.
More photos below…
Mark Allen takes on the pool challenge after his win against Ryan Day
As does Rob Walker, who can't be kept off the table so far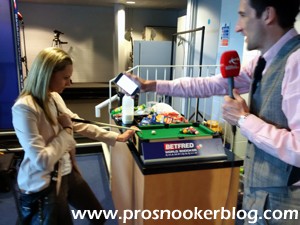 On Wednesday morning ten times ladies world champion Reanne Evans gives the table a go