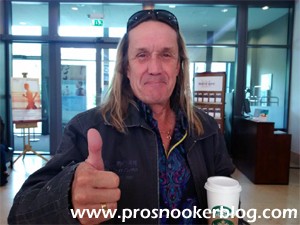 As ever this year at the World Championship, we have seen more than a few celebrities come along to savour the unique Crucible atmosphere and I have been fortunate enough to have met a couple of them. Click below for a round-up of the notable faces to have made the trip to Sheffield so far this week…
Back in 2014, one of the most memorable moments of the tournament for me actually came long after the final ball had been potted, as newly crowned world champion Mark Selby participated in one of the most surreal duets that any snooker fan could wish to witness.
Not only was Mark up singing a few classics, but on the drums was Iron Maiden's drummer Nicko McBrain and a year on he has been back for more.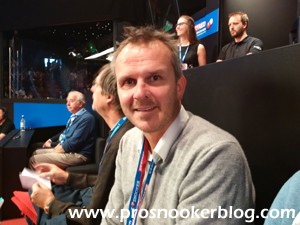 Seeing him chatting with former world champion Cliff Thorburn on Friday, I decided that I could not resist the opportunity for a photo and we soon became engaged in a long chat about the tournament so far, during which it became very evident that Nicko is not only a nice guy, but also he properly knows the game.
I was subsequently lucky enough to sit close to him during the epic final session of the semi-final between Stuart Bingham and Judd Trump, an experience that we both enjoyed.
Another big name who seemed to be very much clued up was former Liverpool midfielder and German international Didi Hamann, who arrived on the second day of the semi-finals to catch a session of each match before returning to Germany as part of his work with Sky there. A friend of Ricky Walden, he said that he enjoyed his experience and would hope to make it back again in the future.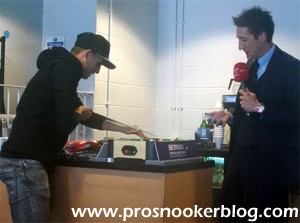 Other celebrities to have made the journey here from the football world this tournament include former Manchester United captain Roy Keane, currently in the crowd during the first session of the final, while current United starlet Adnan Januzaj was also here earlier in the week and rather bizarrely was coerced into having a go on the mini-pool table in the media centre.
From closer to home, Leeds United's Billy Sharp was also in attendance, not for the first time here at the World Championship, while former Leicester City and Aston Villa manager Martin O'Neill also made an appearance.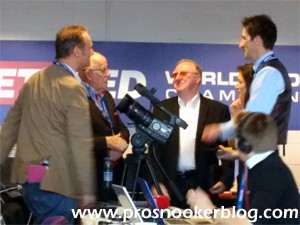 Away from football, on the tournament's opening day, Scottish actor and star of 'One Foot In the Grave' Richard Wilson was given a tour around the venue, as I noticed after I had unknowingly held open a door for him.
Also visiting was Jon McClure, lead singer of band Reverend and The Makers, who inadvertently supped Paul Collier's drink during one of the sessions that he attended, while Matt Bellamy of Muse also made an appearance early in the event.
Finally, here on final Sunday, Jarvis Cocker is entertaining in the Winter Gardens as part of a show for BBC Radio 6.
One more day to go, who might we still see on final day?