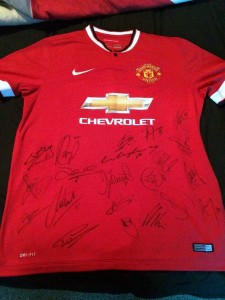 Followers of his on Twitter will know that Northern Ireland's Mark Allen is currently involved in various charity events to support six-year-old Ronan Elliott, who is a young boy in Northern Ireland who was born with cerebal palsy.
Mark has been involved in charity events such as snooker and golf marathons to help raise money for '#teamronan' (read more here), and is now looking to raise more money by auctioning several autographed items, details of which you can find on this page, including the current bids as of today's date.
If you are interested in making a bid for any of the items, please get in touch with Mark on Twitter @pistol147 or alternatively by leaving a comment on this page and I will make sure that it is passed onto Mark. The bidding for all items finishes at midnight on 24th July 2015.
The first Item is the signed Manchester United football shirt from the 2014/15 season pictured at the top of this page, the current leading bid standing at £310.00.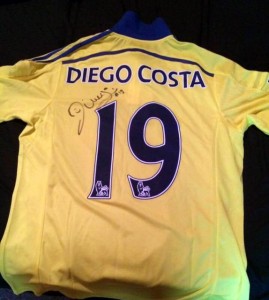 Alternatively, if you are more of a Chelsea fan, Mark also has available two away kits signed by Diego Costa and Oscar respectively, complete with printed names and numbers on the reverse as pictured. The bidding for the Costa shirt currently stands at £130.00, while the Oscar kit sits at £80.00.
Finally for the football fans out there, Mark also has a signed Northern Ireland shirt available with a current leading bid of £180.00.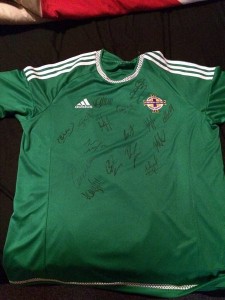 On the snooker front, Mark is also auctioning his shirt from this year's Shoot Out event, which he has had signed by several of the sport's leading players including Neil Robertson, Judd Trump and Mark Selby. The leading bid for this currently stands at just £110.00 so grab yourself a nice piece of memorabilia fast.
From one Northern Ireland star to another, also available is the flag from the 18th hole of the Royal Liverpool Golf Club from last year's Open Championship, signed by world number one golfer Rory McIlroy, who of course won the event a year ago. The current highest bid is £600.00 and will surely continue to rise as the month progresses.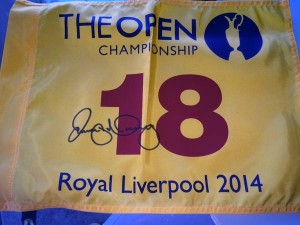 On a similar theme we have a flag from the previous year's Open, signed by 2013 US Open champion Justin Rose and Northern Ireland's Gareth Maybin, the bidding currently at £150.00.
The final golfing item is a signed t-shirt and print by another former US Open champion, Northern Ireland's Graeme McDowell. Mark has just been able to get hold of this, so the bidding is just getting underway.
Next up is a boxing glove signed by current IBF World Super Bantamweight champion Carl Frampton, with a bid of £500.00 currently leading the way.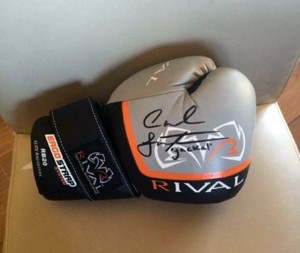 Finally from the world of sport are a pair of boots signed by Irish rugby union player Tommy Bowe, the bidding for these now up to £150.00 and again bound to rise.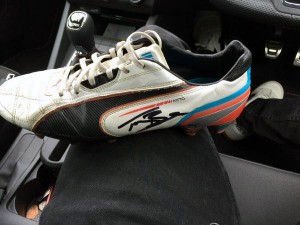 Finally, Mark also has available a shirt worn and signed by comedian Jon Richardson for one of his Channel 4 shows, which has also been signed by the likes of Countdown's Rachel Riley and more. The bidding for this one currently stands at £50.00.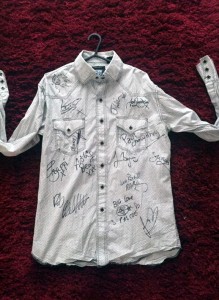 If you have any questions about the items, again please drop either Mark or myself a line.