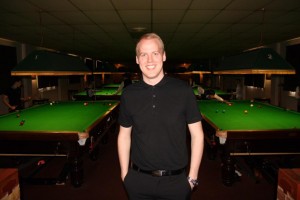 Allan Taylor turned professional at the start of the 2013/14 season and initially found results hard to come by, but with the help of the late Vic Harris showed improvement during his second year, eventually earning a fresh two-year tour card thanks to his position on the European Order of Merit.
With the resumption of the new campaign fast approaching, I spoke to Allan to talk about his first two years on tour, his bond with Vic Harris and his new outlook on his snooker career…
PSB: Hi Allan, it has been a great start to the new season for you, reaching the last 48 of a full ranking event for the first time in your career, before losing narrowly to Mark King…
Allan Taylor: I enjoyed the tournament, I had a new outlook at the start of the season. The two years experience and the two year tour card were massive. Someone said to me that I wouldn't really know how much that I would gain in terms of the information and the experience until I had virtually finished.
When I played Jack Lisowski in the World Championship I felt that I played ok. Obviously not my very best, but the match itself was a good all-round game. But I basically took that form and I worked over the summer in continuing that into Crawley for the Australian.
It is all just changing my targets. I didn't want to go down there and think about beating four people and winning four matches. I just took it frame by frame. Obviously you are looking at the end goal, you heighten your targets and then you aim higher and plan to hit them.
With the passing of Vic Harris as well, it was tough for me, but I had the honour of speaking at his funeral which was massive for me, a bit of closure. It was a great honour from the family and especially from his wife to ask me.
All I was thankful for was that she enjoyed my speech so literally after that, working on the table, hard graft. It became a little bit easier, relaxed my shoulders. I'd regained my tour card and yeah just continued that approach. He is now officially my snooker God! He's always in my ear.
So yeah the Australian was just an accumulation of hard work and fresh thoughts, just keeping the good habits up and the positive thinking. Everyone can play, it is just when you are under the cosh, who can handle the pressure the most.
The first game was a bit of a rocky start for me against the amateur Simon Dent, but it's just one of those games that you have to battle through no matter how ugly or flamboyant it may be.
But I got to five, had the chance to play better and I did that against Stuart [Carrington] and Li Hang, from being 4-3 behind and winning two deciders. That was a big thing really because during the last couple of seasons, obviously being the stat man you would know that I'd lost a lot of deciders, 5-4, 4-3. It was just in the back of my mind that as soon as they start turning around and going my way then anything can happen.
I think that my new approach to the qualifying format of looking to qualify, to just go in there and relax. You are there all week and you have got a job to do. All you are doing is potting balls, that sort of thing. So when I was 4-1 down against Kingy I thought well it's not over yet, I'm only four frames away from Australia. Unless he gets to the magic number, I'm no further away from my target.
So yeah, the last 48 of a major ranking event was a great start, alongside my professional highest break of 132 against Kingy as well and just the fashion that I won the matches really. It instilled a lot of confidence in that what I have been doing on the practice table is right and it was nice to see it in action.
We both had a chance in the decider, there are no qualms. I've been practising a bit with Ali Carter lately and he was watching the match. We had a chat and it's just pure experience, being in those situations and the percentage side of the game of which shot to take as and when. First frame, last frame, do they differ, do they not? It's just practising away and gaining experience.
Obviously chatting to top players is always going to help so I'm quite lucky to be surrounded by them.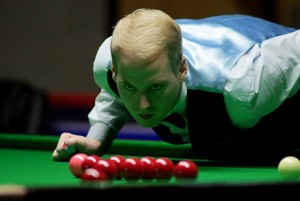 PSB: Turning back to last season, obviously it was quite close on the European Tour in terms of staying on. How did you approach that challenge at the time, did you focus any more on those events?
AT: Not really, I didn't. I think the first season was a bit on excitement, thinking 'wow I've finally done it' and trying a little bit too hard.
Everyone is asking you what you do for a living, how is the snooker going and I would tell them that I was pro now. But then the next question is 'what are you ranked?' and I never looked because I didn't want to distract myself. It was just a matter of keep working on the table, watching the balls go in the holes and everything else will take care of itself.
So the last season I sort of switched off a little bit in regards to being desperate for results and potentially that might have been my destiny in staying on. I wasn't going to the European Tours and thinking that I had to knuckle down as this was the only way that I was going to stay on tour.
But when I got there I just seemed to enjoy the tournaments, quick fire best of sevens. A lot of the top lads will say anything can happen, that you can lose to a lower ranked player. But everyone can play. The majority of the favourites do win the majority of the time.
I had a few tough draws and I was beating good players. For example in Fuerth I beat Tom Ford and I lost to Ricky Walden in the next round, but even the performance I had to put in, he had to play really well to beat me. I was just coming away from each one of them thinking that I'm in good shape, just keep pushing forward and the results will start happening.
In a sense the season last year wasn't long enough for me. I know that sounds silly because people talk about burn out, but when it got to the World Championship I couldn't wait until the start of the new season.
That's why I really didn't put my cue down, only the odd weekend here and there to relax with family and friends, but I was never, ever away from it so I think that set me in good stead to start the new season well.
PSB: And now that you are on, you have a new two-year card and a clean slate to go again…
AT: Yeah, you can almost sense everyone saying that you can start afresh and I am doing that with a good mixture of it being my third consecutive season, I haven't dropped off.
It's like I've got a free year now to push as high as I can and take the pressure off next season. But obviously that experience and that thought process wouldn't have come without the first two-year tour card as it has proven by the first year of my professional status, me just trying too hard and over-thinking things.
Number one and number 128 are trying to do the same thing, trying to put the ball in the hole and if they go in then everything else takes care of itself.
PSB: Obviously you have been around for a few years on the amateur scene and playing in PTC events before turning professional. How did you find the step up once you had?
AT: It was a slow realisation for me, it wasn't until mid-season when the deciding frames were going against me. At the time I probably wasn't experienced enough to take a lot of them because you learn from defeats and that's how the top people become champions. The quicker you can learn, you lose, you learn, you move on and you win.
I think that playing in the PTCs prior to that as an amateur, they were a massive, massive tool to improve my game and be as prepared as possible to make the step up.
But I think one of the early years, I might have been eligible for qualification but at that time they weren't taking on amateurs. So from early on in the PTCs I knew that I was definitely capable of mixing it. That was massive for me because I'd quit my job and as soon as I went in there I think I finished possibly 57th overall, so I was thinking 'wow I'm in the top 64 of these PTC rankings.'
I didn't notice much of a change, but I suppose I didn't know what I was looking for as obviously the two years experience is to notify you of the adaptations and the fine tuning that you have to make within yourself and your game to progress.
But again, all of the other players began in the same boat. Nobody ever came to the tour and became world number one overnight so it's all a learning curve and I think that's where I've sort of reborn the love for the game, the learning of it.
I have moved down to Essex and practising with Stuart Bingham and he said that even he is still learning – and he knows loads! Even as the world champion you are still learning to this day, even if it is just one shot a day. No two frames are ever the same and that's the beauty of the game I think.
PSB: You talk about what you learned during those first two years, how much of that is on-table in terms of the game and how much of it is off-table, preparation, practice and knowledge really?
AT: Yes, you have hit the nail on the head there, preparation is key. I think a lot of people can get a bit disheartened with preparing correctly, or what they see to be correctly and then coming away defeated, just chucking the towel in and not preparing the same for the next one.
It's a slow process, or it can be, depending on results. It's just about doing the right things constantly because it's never going to change overnight. The preparation, the experience and the knowledge. All these little one percents that you keep picking up. Learning from other people's mistakes and being honest with yourself about what you may be doing right or wrong.
It's pointless preparing well right up to the event and then the night before a match going for a few drinks. Obviously that's common sense but it's about practice, travel, hotel, anything taking the pressure out of match day.
All players are different but you only have to watch what the champions do, how they prepare and follow in their footsteps with your own sort of spin on it.
PSB: What are you short-term goals for the season coming up?
AT: Just to keep climbing, breaking through the next band. If by mid-season I am qualifying in the top 80 I've got one less match to play then I'm going in the right direction.
But I'm aiming higher, I'm looking at picking up trophies. Maybe not this season, maybe next. A lot of snooker players or snooker fans might look at your ranking of 94 in the world and ask if you believe that you can win a trophy. Of course we can, that's what we do it for, that's why we enter the tournament, that's why we prepare and that's why we turn up for the match. It's not out of my reach, definitely not and that's the belief I've started to get back through working with Vic over the last couple of years and all of the knowledge and experience that I have picked up.
But I'm also not shy to the fact that people say you might not be ready yet because you need to be more experienced, more composed under pressure. Because I've never tasted that type of pressure before on a professional level then it's all about developing comfort zones I think. Once I get used to it, get through to a couple of venues…but just trying to let it happen rather than forcing it.
I haven't been out to China yet so that is one of my goals.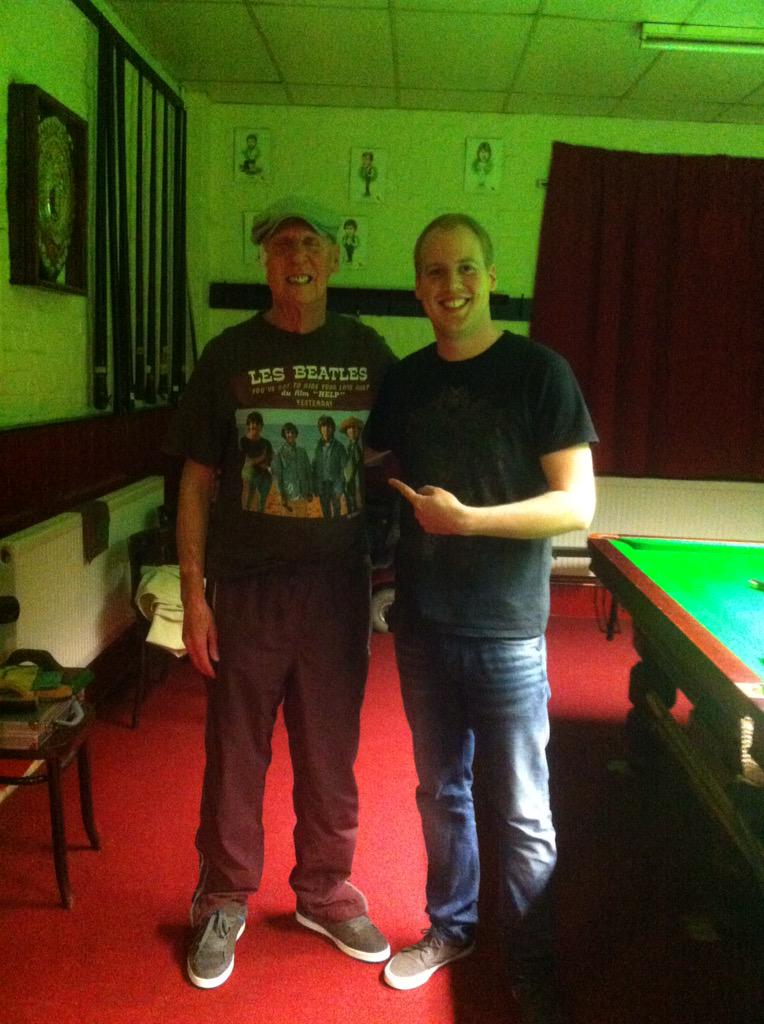 PSB: Coming onto Vic, how did you first come across him and how did that relationship start?
AT: I moved down to Essex about three years ago, my girlfriend is a teacher and she got a job in Basildon school. I was debating the move down anyway but didn't actually have a clue how I was going to do it, who I was going to stay with, how I was going to set up. You have just got a circumference of players around the M25, you can probably put the top 32 in there.
Stuart Bingham sort of took me under his wing and looked after me, so I've got a lot of praise for him and to thank him for. And then we moved flats, our landlord wanted his flat back so ended up moving towards Southend and literally over the road is a little Church Guild Hall with five tables in and a kettle, that's all you need!
So I've walked in there and Shaun Cannon, who is a good friend of mine in the club introduced me to Vic Harris. I thought that I had heard that name, why does it ring a bell? He came over and instantly we just clicked, he was like the older version of me, always having a laugh and snooker was his passion, his love.
He saw me hit the ball and said that we had to work together, if I didn't mind, but said that he wasn't a coach and he wouldn't like to try to tell me what to do because I had obviously got to this standard on my own.
He said as long as I was willing to listen to an old fart (laughs). One of the first things he said to me actually was that before he said anything – 'I'm old.' And old people talk a load of cobblers, so try not to listen to all of it.
From that day on we were just in and out of each other's pockets, in the club and off the table, just a great working relationship. I was really lucky to meet him, especially being the last couple of years of his life.
I was told that I had sort of given him his passion back and given him something to get out of bed for. He struggled every day and that made playing all day long a lot easier because you knew what he had to go through just to leave the house.
So for me to dig a little deeper and work a little harder was next to nothing. The fact that he was there with me was great. He gave me everything that he had left in the tank and I'll be forever thankful to him.
PSB: As best as you can, how would you summarise what you learned from him? Again was it on table, off table or a combination of everything?
AT: A combination of everything really, obviously his experience. His lungs failed when he was shortly into his professional career so he didn't have the chance to fulfil his potential. But even up to his last days he could still hit the ball as sweet as a nut. It was something to behold, the balls didn't even make a sound. He just whispered them into the pocket!
It was just all of his relaxed approach. He used to put things in place and slowly feed me what I needed to know over a period of time. It was never do this, do that because it was always find out for yourself and once it is natural you are good to go. Little shots here and there, little comments and just keeping me in the right frame of mind.
He was great for a pep talk, like last season as soon as I had a defeat he was the first person that I would ring. You must be aware of a snooker player's half hour after a defeat, you can't talk to them, but I could talk to him straight away and he would just kill of those emotions. He would say if it didn't happen today, it will happen tomorrow, lets get back in the club, have a chat, go through the match and learn from it instantly.
That's what he has instilled in me, that passion to learn even from defeat. You get to the point that you don't feel defeat. Obviously everyone is gutted when they don't win because we are sports people, we want to win, that's the competitive side of us.
The biggest chance you have got of winning next time is learning instantly and moving forwards and he was great for that.
PSB: And what would he have made of Stuart winning this year at the Crucible?
AT: Oh mate he's bang out of form! He always used to praise players because he knew how hard it was to turn pro, stay there and achieve when you are there. And Stuart is a great advert for snooker itself, let alone locally in Essex.
In a sense he was classed as possibly a journeyman (to the onlooker), but behind closed doors he has worked hard and that experience being next to him in the club is a great reward for me and I'm forever thankful for that.
But Vic was always praising him, always, because he knew how much Stuart wanted it and how hard he worked. He said you will win the World Championship, it's not a matter of if, it's when.
Obviously he has passed away and Stuart has won it and everyone said they are absolutely gutted that Vic wasn't able to see it, but it was nice that Joe Lazarus, who was a close pal with Vic, was there to share it with him.
He's up there and he's in my head, he chats to me most days when I'm on the table and he is my snooker God. I've just got to remember the good times and all of the stuff that he told me and hopefully I can achieve the same as Stuart. That's the plan anyway!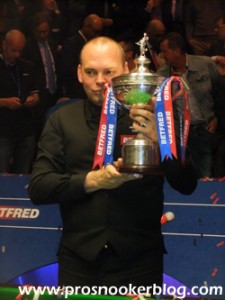 PSB: Moving on, obviously online we have known you for a number of years now, but you have turned pro relatively late on. How did you first get into snooker and who were your heroes growing up?
AT: I was seven when I started playing on a little foldaway table that my brother got for Christmas actually. He was two years older than me, he had the attic room and I was always in there, but by the second week of January he was bored, so we ended up swapping toys.
That was it, I don't know what it was, the colours, the sound of the balls maybe. So when I was eight I went to a little Conservative Club, standing on a beer crate and all that.
It was around that time that Ronnie [O'Sullivan] was peppering everyone at 100mph so I used to be really quick when I was younger, probably copying like everyone else did. But I sort of developed my own style of game over the years.
My two favourite players were probably Ronnie and [Stephen] Hendry. If you could mix the both of them they would be unstoppable, Hendry was almost a born winner and Ronnie was the Alex Higgins and all that, fizzing the balls everywhere, the flamboyance of it.
I still love it to this day the same, it's crazy.
PSB: I think that most snooker players have that in them, look at Steve Davis…
AT: Oh! If I'm still loving it as much as him at his age and playing to his standard, you have had it right off haven't you? You've lived the life, you have lived the dream and all of a sudden, you are still living it!
You would think any other job he would be retired by now, at home watching on the TV bored but when you see him commentating or in the studio for a big final and the excitement and the passion he has got by just watching, you can feed off that. They are all of the little pieces that you can pick up about the passion of a past champion. He still loves it!
PSB: When did you first think growing up that snooker was what you wanted to do, as a profession and not just a hobby?
AT: Probably almost straight away to be honest. When I went on a full-size table, I made my first hundred when I was nine on the line-up and I look back now with it being so long ago and think was I that good? You can almost doubt yourself when people question you.
I'm coaching a young lad and he's only eight and he's great. I'm just looking at him and thinking that I must have been as good or better than him. You just think of all these Chinese kids who are three, so of course it's possible.
So yeah when I started making little breaks here and there, watching the game and I just loved it, you couldn't get me to bed. I couldn't get up for school in the mornings, yet Saturday, Sunday mornings for snooker, I was first one up in the house and obviously that love has never changed.
If you look back at all of my school work, all of my English literature projects and creative writing were all about snooker!
You look at it and think how sad! But that's the sacrifice, but as a player you don't feel like you are making sacrifices because it's something you love, while if you look at every other normal human just enjoying their life and going through the motions, you have given up a lot for your sport. But you don't get anywhere unless you do that.
I've turned pro later on in life but I was at that stage where I left school and I had to get a job to pay for snooker, so that spiralled into normal life. Obviously you need a car to get to tournaments, you need petrol, you need insurance, you need money to survive and I sort of relaxed on the snooker tournaments, picked and chose my events, to go to the ones that I could afford to go to.
PSB: Were you around in the PIOS days?
AT: I was yes and I was lucky because Prestatyn was down the road from me, about half an hour's drive so I could go up and down without a cost. They were tournaments that were massive to me to gain experience. I think I finished in the teens, early 20's a few times. I just kept knocking on the door and you can have doubts and think 'am I ever going to make it?'
But if you look back now, I was close enough considering I was working full-time Monday-Friday and putting the hours in alongside a day job. I wasn't doing too bad. And then as soon as I'd had enough of that, I thought listen I owe it to myself really to resign from my office job and give it 100%.
Within 18 months I'd turned pro off the PTCs which proved myself right really, that I was good enough to get there.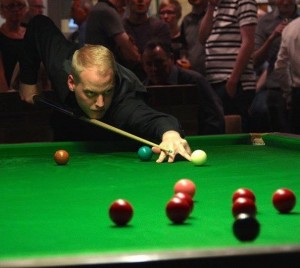 PSB: Off-table, have you got any particular hobbies or passions away from snooker?
AT: Just trying to get back up north and see friends and family as much as I can really. The travelling with the sport is great for me so I'm not much of a holiday goer because you are living outside of a suitcase anyway.
I've just joined the local tennis club, there are a few tennis courts at the park at the bottom of our road. I'm no Andy Murray don't get me wrong and I can't move as quick as Rafael Nadal! But it's just something to get outside because snooker is an indoor sport. That's the beauty of being a self-employed professional, if it's a sunny day then you can pick and choose and work a bit harder on a night or over a weekend!
I play the guitar, am a bit of a musician so like to pick that up every so often, to hear the six string tinkle away and serenade the ladies!
I don't know about that, I haven't got the voice of Michael Bublé but I was best man a couple of weeks ago for one of my best mates and for my best man's speech I got the guitar out and re-wrote a Johnny Cash tune! I thought if I've had a few drinks I would get too emotional if I started speaking, so I might as well sing and let everyone join in, takes the pressure off you there!
PSB: How about your closest friends on tour? I think you are good friends with Martin O'Donnell?
AT: Yeah, I had an interview with Ivan [for worldsnooker.com] at Crawley, quickfire questions and he said best mates on tour. I said Mark Selby and Stuart Bingham, because I am good mates with them, they were just the first two that came to my mind.
But I forgot to mention O'Donnell and Robbie Williams so I've come off and went 'oh I feel really bad there!' But I literally said the first thing that came into my head because you are bang under pressure on those things.
So yeah friends and practice partners, O'Donnell and Williams are my best mates and practice partners still Selby, Bingham, Carter and Zak Surety. Martin Gould and Sean O'Sullivan, anyone who is local really.
PSB: Generally in terms of your view of the tour, the structure and how it is at the moment, how is it from your perspective?
AT: I love it mate and the reason I love it is because I love snooker and I've wanted to be a pro for years and years and now I'm here. You know there is a lot of moaning that goes on, but that's only to be expected I suppose because you can't please all of the people, all of the time.
I get told when the tournaments are, when to enter and I just turn up and I play. You can waste a lot of energy griping about tournament structures and so on, but at the end of the day If you turn up with your cue, you pot balls and you win, you aint going to be moaning for long.
Obviously Barry Hearn has done a lot for the game, Jason Ferguson is working hard on getting more people in and sponsorships. I think it has grown in the right manner. A lot more tournaments which are great for everyone, a lot more prize money, obviously a lot more lower down so after your first match you get your expenses paid and if you get deep in the tournament it is top heavy so you are getting rewarded for success which is fine.
It's almost a case of taking it with a pinch of salt. It's going to change and it's only going to be for the better in my eyes because if there are more events, more money – just keep it coming! I would play 53 weeks a year if I could, it would save you practising every day and you could turn up with your dickie bow and earn a few quid.
I used to practice a bit with Craig Steadman when I was up north and he was on the tour when there were only six or seven events. Obviously he can see a massive change.
I was witness to it as I was very close to Stephen Croft who was an old pro, a left hander from Liverpool who was on the Challenge Tour and the main tour when there were only a handful of comps. I could see the frustration of wanting to play and not being able to for a few months.
I was speaking to him a little while ago and Q School is a massive thing for the older players now, you can see them dusting their cues off and coming out of the woodwork now because they are thinking aye aye, I could have a crack at this because there are a lot of tournaments.
If they have other commitments such as families and jobs, then they can afford maybe not to be as dedicated because there are that many comps and you can nick a few quid.
But obviously I am aiming higher than that. For that purpose, winning tournaments, earning a living and being a professional snooker player travelling the world playing the game you love, it's great.
PSB: And finally, now that you have a new tour card, presumably the goal has to be to get into the top 64 after the first two seasons and from there you can make strides?
AT: Push on yeah definitely, the short term goals are just to keep moving up the bands and up the draw and so on. It's a long term goal but it's always in sight. Set your goals higher, so definitely to get into the top 64.
With the amount of tournaments it's possible with a good few runs this season that you could have a sniff but again I'm at the relaxed approach that it'll come, it's just a matter of time and not for want of trying.
Keep working hard, doing what I'm doing and yeah, that is the end goal at the end of the two years. You don't want to keep getting reset every couple of years.
But again I can see myself improving, in practice and in matches and just getting mentally strong really, preparing for those big matches, learning and getting experience. Let's have it as they say!
Thanks to Allan for his time and best of luck to him for the rest of the season. He will next be in action at next week's Riga Open when he takes on Welshman Ryan Day on Friday 31st July 2015.