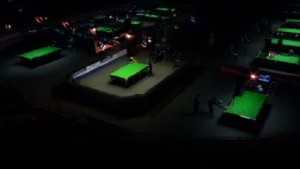 Two days down in Riga at the first European Tour event of the 2015/16 season and we are now down to just 16 players heading into the final day.
Click below for a round-up of the action so far…
Click here to view all of the results so far from ET1
Click here to view the latest projected seedings
A year ago it was newly crowned world champion Mark Selby who walked away from Riga with the title, but there will be no repeat in 2015 after he was sent home by Ireland's Ken Doherty on the opening day.
Though Selby was clearly off his game, rusty perhaps after a few weeks off, Doherty looked to be playing as well as I have seen him for a while in front of the television cameras and he told World Snooker's YouTube channel of how he is perhaps looking to make more of an effort this season than he has for the last couple.
His reward is a meeting with Ryan Day, the Welshman having hit back from 3-1 down against Luca Brecel with breaks of 80, 82 and 53 to seal his passage into the last 16.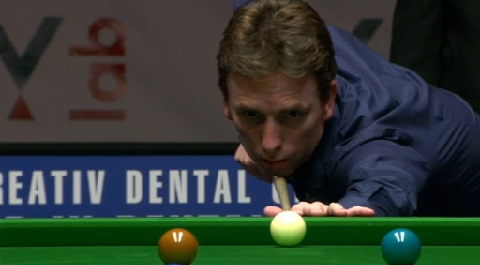 Also through on the opening day were Graeme Dott and Mark Allen, the latter hoping to go one better having made it through to the final in Riga a year ago.
Judd Trump survived an early scare against Syd Wilson, before defeating Chris Wakelin and Sean O'Sullivan to make it through to the last 16 of another European Tour event. His match with Wakelin was notable for a running argument between Chris and the referee, who repeatedly told him to tuck his shirt in, something that was clearly a distraction for the 23-year-old.
Regardless, it was Trump who won through and will now meet veteran Alan McManus, who defeated fellow scots Eden Sharav and Stephen Maguire on his way to the last 16.
As well as the top seeded Selby, there was also a last 32 defeat for second seed Stuart Bingham today after the world champion lost out to China's Liang Wenbo this evening.
There was better luck for the man who he defeated in that Crucible final however, as Shaun Murphy defeated Peter Ebdon in the final round of the day to make it through to Sunday. A word for Ebdon though, who won a marathon match with Nigel Bond earlier in the day, the duration of which was in excess of five hours.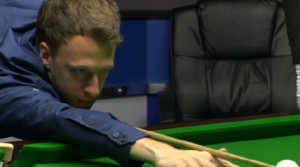 Next up for Murphy will be a match with Matt Selt, who picked up from where he left off last season with a good opening day in Riga, finishing his match with Robert Milkins with a century break in the deciding frame.
The winner will play either Tom Ford or Rory McLeod, who meet in a battle of two the former SightRight coached players, while Ben Woollaston and Mark Williams also made it through to the final day.
For Williams it is some effort, the two-time world champion having barely been able to play in recent weeks following his shoulder operation and by his own admission in real discomfort throughout the day.
At the foot of the draw, Bingham's conqueror Liang Wenbo will meet Oliver Lines, who saw off Ali Carter to make a strong start to this season's European Tour, something that could prove handy later in the season as he looks to stay on tour at the end of the campaign.
In terms of other stories from Riga, there was a shock defeat for Australian Goldfields Open champion John Higgins, who lost to teenage amateur Joe Roberts this morning, while the usually reliable Rod Lawler lost out to Estonia's Andres Petrov yesterday.
Germany's Lukas Kleckers also impressed with a 4-0 win against the struggling Anthony Hamilton, while Belgium's Tomasz Skalski recorded a 4-2 win against Liam Highfield. There was also a first professional win for Chaun Leong who defeated Stuart Carrington 4-1 before losing a decider with Hammad Miah.
The action continues tomorrow as 16 play down to one…