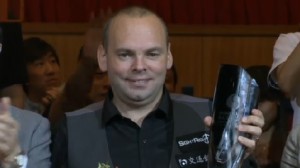 Following my rankings preview of the Shanghai Masters event, today I turn to the draw itself as I pick out some of the most interesting matches in prospect and with a bit of luck, try to pick out a winner…
Click here to view the draw for the venue stages of the Shanghai Masters
Click here to view the latest projected seedings
Following European Tour events held in Riga and Fuerth, full-ranking event snooker returns this week with the venue stages of the Shanghai Masters, won last season by Stuart Bingham.
Since the event was first held back in 2007, the event has gone on to establish itself as perhaps the most popular of the many events now staged in China and for many marks the real start of the snooker season after what has been a stop-start few months since the World Championship.
A look back at the roll of honour tells us that not only has no player so far been able to successfully defend this title, but nobody has yet won the event twice at all. Will anybody be able to break this run or will we see another first-time Shanghai Master in 2015?
To the draw…
The Top Quarter
Heading up the draw is top seed and defending champion Stuart Bingham, who will be looking to kickstart his season in Shanghai after suffering opening round defeats in two of the three events played so far carrying ranking points, albeit both in deciding frames.
His first opponent will be either a resurgent Jamie Jones, who looks to be getting back to somewhere near his best after a couple of difficult years after his initial breakthrough in 2012, or wildcard Fang Xiongman, who took David Gilbert to a decider as a wildcard here back in 2013 but otherwise has not threatened too many professionals at Asian Tour events.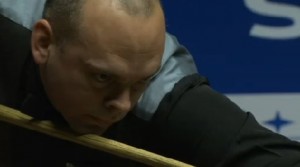 Assuming then that it is Jones who comes through the extra match unscathed, he will face Bingham in their first meeting away from the Shoot Out, where oddly enough they have met twice before with Jones winning on both occasions.
For the winner will be a match with either Marco Fu or Mike Dunn, assuming that the latter is able to come through against another wildcard Niu Zhuang.
Looking at Niu's previous results he has failed to make an impression as a wildcard previously, losing here 5-1 to Michael White a year ago and 6-1 to Mitchell Mann at last season's International Championship, though he does have wins against the likes of Matt Selt, Cao Yupeng and Kurt Maflin to his name at Asian Tour events.
Coming off the back of a quarter-final run at the Six Red World Championship, Marco will be looking for his first victory against Mike, with the pair having met only once before in a 5-4 win for Dunn at the Malta Cup a decade ago.
Mike meanwhile played well to qualify, notably defeating 2013 runner-up Xiao Guodong in Barnsley and makes his second appearance in the last three years in Shanghai.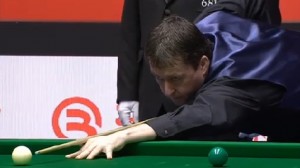 In the other half of this section is the man who last defeated Mike in Shanghai, Scotland's John Higgins who of course won the last full-ranking event in Australia back in July.
He takes on 2009 Shanghai runner-up Liang Wenbo, who has a quick turnaround of barely two days now having made it to the final of the Six Red World Championship in Thailand yesterday.
Looking at the head to head record does not make good reading for Liang, who has lost all six of his previous meetings with Higgins, most recently at the Welsh Open in February this year where of course Higgins eventually left with the title.
Awaiting the winner will be either Riga Open winner Barry Hawkins or the man who Higgins beat in the final of the Australian Goldfields Open in dramatic circumstances, Martin Gould.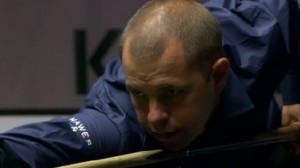 With both players having enjoyed success already this season, this should be a good match on paper and they have a close head to head record, with Gould having come out on top at the last 48 stage of this event back in 2010.
Martin has been suffering from ear infections, possibly as a result of flying during the last few months but he seems to have made it to the venue without any reported problems so far and hopefully this will not hamper his chances in Shanghai this week.
Second Quarter
Turning to the second quarter of the draw we find 2012 runner-up Judd Trump, who will face either Robert Milkins or wildcard Chen Zifan in his opener. As it happens, Trump has played Chen before at this stage of a ranking event when the wildcard was able to defeat Sanderson Lam at the 2014 Haikou World Open, Judd winning their match 5-0.
While Chen has taken a few professional scalps in recent seasons, he has usually found the going tough against players of Milkins' calibre and so I would expect Rob to come through that one.
If he does, it is interesting to note that Milkins has had the better of previous meetings with Trump, although taking out invitational events and a match from 2006 when Trump was very much a rookie, their only major meeting was a 5-3 win for Rob at the Wuxi Classic three years ago.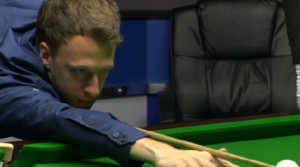 Notwithstanding that match however, I think that Judd is a much improved all-round player these days and fancy him to go well in Shanghai. Only Ronnie O'Sullivan has made it to the final of this event on more than one occasion but Judd is one of a few with the potential to match that record this year.
Awaiting the winner of the match in the last 16 will be either 2008 champion Ricky Walden or the ever-improving Matt Selt, who is fast becoming a regular face at the latter stages of events at the moment.
A difficult match to call, not least because Walden is both often underrated and particularly excels in China, I would not be surprised to see this one going all the way.
Elsewhere in this quarter is another former Shanghai runner-up in Mark Williams, who will face either Tom Ford or first time wildcard Han Bin in the opening round.
From a look at his history, Han has neither played a wildcard match, nor an Asian Tour match before so I can't offer a lot of insight there, but he did win a regional event to earn his place in the draw.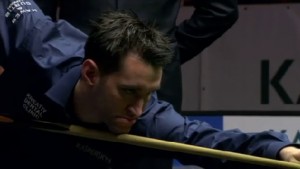 Tom meanwhile has started the season strongly with a run to the final in Riga after a torrid couple of years and would be expected to prevail, but his record with Williams does not make for good reading, Mark having won all five meetings with three whitewashes along the way, winning 27 frames for the loss of just eight.
Completing the section are Neil Robertson and wildcard permitting Jamie Cope, both players with previous semi-final experience in Shanghai. These days of course the players can be found at opposite ends of the world ranking list, but it is good to see that Jamie now looks to be rediscovering a bit of confidence and a win against Robertson would be his best win for some time.
As regular readers will know, Neil is a player who I always think will be there or thereabouts at most of the big events, but it is hard to gauge his form at the moment as we have not seen him since his opening round defeat to Matt Selt in Bendigo back in June and it will be interesting to see how he gets on.
Third Quarter
Moving to the bottom half of the draw we find 2013 winner Ding Junhui, who from this point in 2015/16 will be defending a considerable amount of ranking points as he looks to rediscover the form that took him to five ranking event titles a couple of seasons ago.
Like Robertson, we have not seen him in action for a while, the World Cup marking his last professional action with 15 reds on the table and it remains to be seen whether he will be able to hit the ground running in Shanghai.
His first opponent is likely to be part-time blogger Alan McManus, who must first negotiate the wildcard round and a match against Yao Pengcheng whose previous results should not give Alan too much to worry about.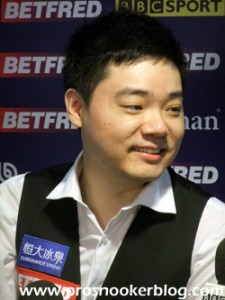 A couple of years ago Ding would have been a hot favourite for this one, but on the evidence of last season it is hard not to fancy Alan's chances. Will be an interesting one to follow and an early gauge of where Ding is currently at.
Awaiting the winner will be either Graeme Dott or 2007 runner-up Ryan Day, who meet in what on paper looks to be a very difficult clash to call between two evenly matched players. That said, when the pair last met in Riga last month it was Graeme who was able to run out a comfortable 4-0 winner with a top break of 132.
Next up come Stephen Maguire and Michael Holt, the former looking to make certain of his top 16 place at the next seedings revision, while Holt will be looking to better his career-best semi-final result at this event a couple of years ago.
While Maguire is always a formidable opponent and capable of going on a run, under the guidance of Terry Griffiths, Holt has made a strong start to the new season with a semi-final run at the Paul Hunter Classic last month and I can see him going well again this week.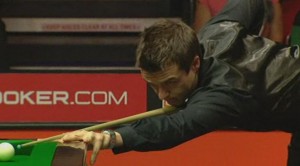 Finally in this section we have a potential match between Joe Perry and Kyren Wilson, the latter like Holt having enjoyed a career-best run at this event two years ago and hoping to rebound after a testing 2014/15 season.
Perry is though currently at a career-high ranking of ninth and enjoying the most-productive spell of his long career to date so will be a justified favourite to progress.
Bottom Quarter
In the bottom quarter of the draw we have three former world champions including Shaun Murphy, whose best results in Shanghai to date have been a couple of semi-final runs 2009 and 2012.
First up for him will most likely be Peter Ebdon (again wildcard permitting), who of course has a strong record in China and has enjoyed something of a resurgence during the past 12 months.
So far in 2015 they have met on two occasions with one victory apiece, so expect another close match between the pair this time out.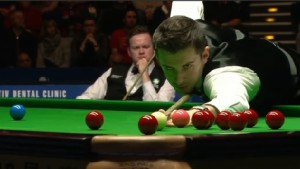 The victor will be rewarded with a match against either Michael White or Mark Davis, who meet in what looks to be the tie of the opening round on paper, both either side of the top 16 mark. That said, their head to head record is surprisingly one-sided, with Davis having won all three previous meetings in ranking events, seven overall.
Approaching the bottom of the draw we find last season's runner-up Mark Allen, who will be looking to get his season going against Luca Brecel, while the man who he beat in dramatic circumstances at the semi-finals last year Mark Selby faces David Grace.
On paper both the Marks will be expected to come through to set up a repeat of their 2014 meeting and from there will both fancy their chances of a good run in the tournament.
Predictions
Semi-finals: Trump def Gould, Murphy def Holt

Final: Trump def Murphy