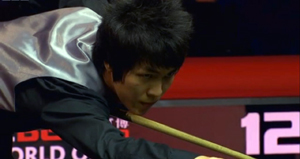 Congratulations to Thepchaiya Un-Nooh, who has this morning defeated Liang Wenbo 8-2 to become the first Thai player to win the Sangsom Six Red World Championship on home soil in Bangkok.
Having dropped two of the opening three frames, Un-Nooh reeled off seven consecutive frames with a top break of 55 to win his first title as a professional and a career-best top prize of £45,000.
Thepchaiya also moves into the running for a place at November's Champion of Champions event in Coventry, now holding the 15th qualifying place with four counting events still to be played. Certainly he would be an excellent addition to that tournament as for those who have no seen him play, he is very fluent around the table and always high on my list of players that I like to watch attending non-televised qualifying event.
While it is always dangerous to draw too many conclusions from the six red format, Un-Nooh has seen his ranking rise in recent seasons to the point that he is now ranked inside the top 48 and this win will certainly not do any harm to his confidence going forwards.
Runner-up Liang Wenbo meanwhile takes home £18,000 and must now prepare for a clash with John Higgins at the Shanghai Masters early next week.
You can view the results in full from the Six Red World Championship at snookerorg.