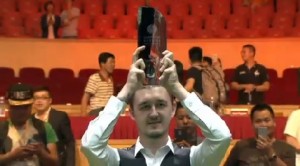 Just a few days ago 23-year-old Kyren Wilson was the last man standing at the Shanghai Masters as he defeated Judd Trump 10-9 to win his first ranking event title.
On Tuesday I caught up with the new world number 22 as he looked back at a memorable week that incredibly might never have been, with a visa scare at one stage threatening his participation at the venue stages.
Kyren also discusses how he has rediscovered his form after a difficult 2014/15, as well as thanking some of those who have helped him most along the way…
PSB: Congratulations Kyren, has it sunk in yet?
Kyren Wilson: I don't think it quite has. I've just turned the TV on and caught the last two frames of my match so watching that back now it's made me think it's real!
My family are away at the minute, they are out in Tenerife but my fiancé and my son are back tonight so once they all get back and we all start reminiscing and celebrating it will probably sink in then.
PSB: Did you see the videos online of your family and friends celebrating?
KW: Yeah I've got Snapchat. It was my auntie who was actually filming it, she sent it to me so I saw it just after I had played. I think that was against Ding [Junhui], so I had to sort of put that to one side because that was only the quarter-finals. I had to keep focused.
PSB: What does it mean to win such a big event first up? Most players maybe start with a European Tour event, but you have come in and won one of the big ones straight away.
KW: It's unbelievable. It's nice to win a big one like you say and I think Shanghai is one of the prestigious ones. I think all of the players enjoy going out there. It's a really unique, individual tournament and I just feel really comfortable when I go out there for some reason, I don't know what it is. I love it in Shanghai and to announce myself by winning that one to start with is just unbelievable.
And then there are the bonuses that come with it. I wasn't thinking of anything, I just wanted to get my name on the trophy and be Shanghai Masters champion. I wasn't thinking of the money, the rankings, nothing. So everything that has come with that is just a bonus.
PSB: In terms of the final, obviously you came out with a 6-3 lead after the opening session, how were you feeling mentally at that point?
KW: I had a few people tell me that I was going to win, I was going to win and I thought 'no no, don't say that to me' because I had a long way to go yet. Judd [Trump] is a class player and can reel off a number of frames in next to no time, so I knew I wasn't over the line and had a lot of hard work still to do.
I just had to stay in the present, not think about what it meant and what was at the end of it. I had to take it frame by frame, shot by shot and get on with it.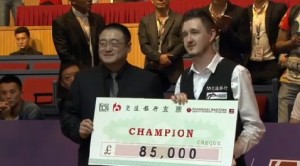 PSB: You then split the first four frames of the evening session and got to 9-7, before he came back to take the match to a decider. How were you feeling at that stage?
KW: I was thinking at 9-7, I've got at least three frames and my chance is going to come at one point so I have got to be ready for it and take it.
And it just didn't seem to come at 9-7. It was like Judd was potting long balls off safety shots. I didn't miss anything easy or silly, the chance just never presented itself to me and I just had to keep focused.
At 9-9 I was still thinking the same, my chance is going to come and I just had to think that it's another frame, I can't possibly think of what it means and when my chance comes, be ready for it.
My half-chance came with the red to the middle and I thought that this is my time, I have got to take it, I am going to take it and I did.
PSB: Then after the match you had the presentation, which you must have seen a number of times on television with other players and then suddenly it is yourself in the middle of it!
KW: It was weird, it felt quite natural actually, lifting the trophy and kissing it and all that sort of stuff. I think it's just born in me to play snooker. I have been playing since such a young age and it is what I was born to do.
To do it on the biggest stage in one of the biggest tournaments was just unreal and walking in to the champions dinner afterwards and getting a round of applause, it was really moving and I still don't think it has quite sunk in yet.
PSB: And you must have had a lot of messages since, people like Barry Hearn and so on?
KW: Yeah just through Twitter, saying congratulations on a good week and welcome to the Champion of Champions.
I've had a few messages from the top players but especially I would like to say a massive thank you to Mark Selby because he has had a tough week off the table and he still had the time to message me and say well done. That shows the class of the man.
And also just to Peter Ebdon who has been messaging me all week. We had a chat just before the quarter-finals before I played Ding, after he had just lost to Shaun Murphy and it shows his class as well. He had just lost and he still had time for me, so when he just had a chat with me and told me that I was ready to do this, get focused, you can do it and so on, that spurred me on and really helped.
PSB: You have known Peter for a while haven't you?
KW: Since I was about six-years-old, we have just started sharing my table at the club in Barratts, Northampton and been practising a lot together. So that has certainly helped my game.
PSB: Looking back briefly over the whole tournament, you had to win nine matches to take the title which is quite unusual these days, Ding did the same when he won the UK Championship in 2005 but were there any stand out moments from the run as a whole?
KW: Yeah, you tend to just forget about the qualifiers when you get out there because it is such a long journey. Even at the tournament I had to play a wildcard as well, so there are so many matches. I didn't realise that there were nine altogether. You just take it one match at a time, you don't think of the past, today is a new day sort of thing.
I would probably say that the stand out match would obviously have to be the final and then probably the 5-4 win against Ding, in front of his home fans, live on the Chinese TV. To win 5-4 on the black and clear up the way I did. That was awesome, I was under so much pressure so it was nice to do it on the big stage.
PSB: Was that Ding match perhaps where you first thought that it might be your week, though you always believe that you can win of course?
KW: Not really, that only put me into the semi-finals and I still had a class player in Mark Allen to play in the semi-finals. People were starting to say that sort of thing to me but like I said before, I had to put that to one side and not sort of listen.
You can easily get caught off guard if you relax. I had to stay in the moment, stay in the present and do the job in hand which was to win the next match.
PSB: I also saw you tweet about some problems with your visa at the start of the tournament. How close were you to not going to the tournament?
KW: It was crazy. It was stupid really, I applied for a visa quite a while before the tournament because I'm not one of them who leaves everything to the last minute.
But my visa got declined because my passport had got wet about three or four years ago and the pages had crinkled at the bottom of the passport, so they declined it just for that and said that my passport was void.
That gave me literally about a week and a half before I was due to fly to the tournament and I had to quickly get to Peterborough to do an interview for a new passport. That turned up about four days later and then I had to get my visa sent off to Manchester and that took another three or four days and it actually turned up the morning that I was flying.
It was crazy but yeah, if that hadn't have come then all this wouldn't have happened so it was sort of like a fairytale.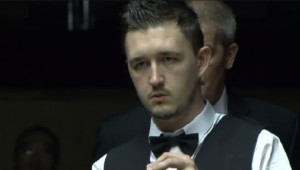 PSB: It's a bit like when Barry Hawkins got into the Players Championship and ending up winning the event – but you look back and say that but probably were not thinking that at the time.
KW: Yeah you don't think of anything like that but when you are reminiscing and thinking about it, it all comes together and you think wow. What a touch really!
PSB: Have you got any celebrations planned now before Barnsley at the end of the month?
KW: My fiancé is back tonight with my son so I'm going to have a nice night tonight with them and probably have a few drinks to celebrate, just a quiet night in. But I'm sure that when my family are back, we will probably have a little celebration or something.
PSB: Like you said before, your win opens up a lot of doors now, the Champion of Champions place, World Grand Prix spot, a big ranking rise…but the big thing is that this has to be the start, not the end for you now.
KW: I was just watching the end of my match and the commentators were saying how Judd did the same thing, had his breakthrough when he won in China in Beijing at a young age so hopefully, I'd love to do the same as Judd. He's a great player and he has done well in the game so who knows.
But as I said I can't get too far ahead of myself. I have got to keep practising, keep grounded and keep doing the right things.
PSB: It's exciting to think about the Champion of Champions event now isn't it, looks like a great event on TV.
KW: Yeah it looks fantastic on TV and luckily for me Coventry is only 40 minutes down the road so hopefully I'll get good support down there and I can't wait to get there and play now.
PSB: Some of us bloggers have obviously followed you for a few years now and always seen that you have had the talent, but is it a surprise how suddenly the breakthrough has come?
KW: It is quite frightening. It's mad how it is Shanghai as well, where I had the breakthrough when I got to the quarters two years ago…
PSB: It's weird that you played Michael Holt again too!
KW: Yeah that's true as well, he beat me two years ago so it was nice to get that win. I wanted to get over the line in the end because I didn't want to look back and think I could have won that and be chasing a ranking title then after that, at least I had it under my belt at a young age.
PSB: You had your breakthrough year in 2013/14 but then you seemed to struggle a bit last year. Is there anything that you would put that down to?
KW: To be honest I just think I was a bit immature. I was doing the wrong things. I'm quite bad with [changing my] technique and I'm very happy now with what I'm doing, I'm settled and I'm not bothered about what people think or they think is right or wrong. I do what works for me and what I think holds me in good stead under pressure.
I just wasn't happy last year with how I was playing, I knew I was going to struggle just because things weren't right. After the World Championship this year I was just absolutely gutted. I knew I had to go away and work hard and stop messing around, do the right things.
I started doing that and as soon as this season started, I knew that I was going to come good because I was happy in my game, with how everything is going in life off the table with my family and it's all in the right place at the right time.
But I have got to say a massive thank you to my coach Barry Stark who has worked with me for so long and must be pulling out what hair he has got left every time I ring him saying this is wrong, this needs changing and so on. He's stuck with me and we have worked very hard for the last 2-3 years especially and it seems to have all come together.
PSB: You played well in Germany too at the Paul Hunter Classic…
KW: That certainly helped. It was nice to get the win against Barry Hawkins on TV as well. It was a bit of a crazy match that was but I finished it off really well in the end. That seemed to help me a lot and who knows, subconsciously that's probably why I have gone into Shanghai very confident.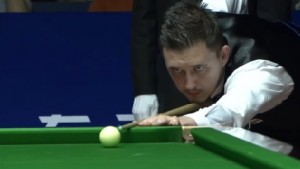 PSB: And now you are going from the hunter to the hunted to some degree. Is that a role that you feel confident and comfortable with?
KW: Yeah I can't wait. It's a great situation to be in. I think I find it more appealing being the hunted like you said because that means you are doing well for yourself. I know the standard is so good these days that anybody can beat anyone, so I can't get complacent and I've got to keep doing the right things to progress.
PSB: And finally in terms of targets before Shanghai, what goals did you have and how have those changed given your success?
KW: You know what, I think I was actually looking at being quite close to the 64 cut-off at the end of the season if I had a poor year again.
I was fairly aware of that, but I don't like to look at it [the ranking list] so much because they can change suddenly like mine has done now.
I knew I just had to have one good run at least in one big tournament and I would be ok.
The main goal was just to stay in the tour and the top 64 for this year, but otherwise my goals are just the same, to win every match I play in and win every tournament.
Finally, I would also like to thank my sponsors for the tournament, Cue Craft and especially to Barry Stark who has stuck by me. I had a good friend called Eddie Mok who has been looking after me out in China, he and his friends took good care of me out there so yeah that certainly helped my attitude to the game, being nice and relaxed and comfortable.
Just thanks to everyone who has supported me along the way, especially my family and friends.
Well done to Kyren again, he will next be in action against Chuan Thor Leong at the International Championship qualifiers, which get underway on 30th September 2015.