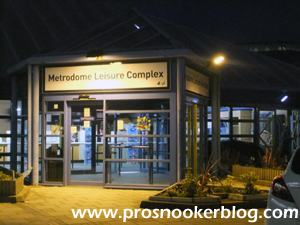 Saturday evening saw the conclusion of the recent qualifying event for this year's International Championship and it was not without a real shock as 2012 winner Judd Trump suffered a 6-0 whitewash at the hands of 34-year-old Michael Wild.
Click below for a round-up of the scorelines that caught my eye during the event…
Yesterday I spent some time looking back at past results for the world's current top 16 since the introduction of 128 man flat draws at full-ranking events for an article over at my WPBSA.com blog which you can read here. Whilst doing so I noted that Judd Trump had lost just one of his qualifying matches to make it to a venue, winning six with a whitewash himself, which made his defeat to Michael Wild all the more surprising on Saturday.
Speaking to professionals, many will tell you that the standard is so high that no result is surprisingly these days. Anyone can beat anyone and there are few real shocks now in snooker.
Whilst that may be true to some extent, you would be hard pressed to find anyone who would not label Wild's win as a big shock, not just because it was only his second match since he regained a main tour card in the summer (having lost his other 5-0), but because of who it came against.
A recent finalist in Shanghai, Judd Trump is probably the most efficient player at the early rounds of all tournaments, be it European Tour events or qualifiers such as this. For whatever reason he looked to be out of sorts from an early stage against Wild, who himself played very well and made breaks of 63, 82 and 62 on his way to victory.
The Englishman will now travel to China for the first time where he will play Sanderson Lam at the venue stages, himself a 6-3 winner against the higher seeded Irishman David Morris in Barnsley.
Aside from Trump, the majority of the top 16 players in action were able to progress to what will be a new venue for the tournament in Daqing. Former runner-up Neil Robertson came back from 3-1 down early on against Kuldesh Johal to win 6-3, while Mark Allen and Michael White were also given scares before both winning in deciding frames.
There was however a surprise defeat for Stephen Maguire at the hands of Thailand's Noppon Saengkham, the same player who had defeated the Scot at the last 64 stage of the same event last season at the venue. Like Wild, he will be rewarded by a significant rise up the world ranking list after the tournament, regardless of how he gets on in the next round.
Other notable players who won't be making the trip to Daqing include Mark Davis and Robert Milkins, who lost out to Lee Walker (the latest player to join Steve Feeney's SightRight camp), and Darryl Hill, snooker's only professional from the Isle of Man.
Indeed it was a good week for some of snooker's younger players, the only man born more recently than Hill being China's Zhou Yuelong, who edged out Sam Baird 6-4, while highly-rated amateur Zhao Xintong was a 6-0 winner against Grimsby's Stuart Carrington.
Another Chinese player to progress was Cao Yupeng, who won something of a 'six-pointer' to borrow the football slang against Liam Highfield to make it to the venue. Either side of the all-important top 64 mark in the rankings, it was an important result for Cao to maintain his place ahead of one of his direct rivals, for the time being at least.
The longest match of the week was contested between two Scots, as Ross Muir and Alan McManus battled for over six hours on Wednesday, the 2:30pm start finishing as the 7:30pm matches were at their intervals. It was a match that went one way and then the other, with one re-spotted black and more than half of the frames going to the final ball, before Muir was able to get over the line.
Perhaps one of the most interesting performances of the week was that of Jack Lisowski, who I paid close attention to when I was at the venue myself for a while last Thursday. Though he is a player who I have always been a fan of, it is fair to say that his career has stalled to some degree during the past couple of seasons and therefore I was fascinated by the announcement over the summer that he was to start working with renowned coach and former world champion Terry Griffiths this season.
Watching him in action, already his influence looked to be clearly apparent, with Jack looking to be more in control of his emotions (externally at least), and more ready to battle in the safety exchanges than perhaps he has been in the past.
A real highlight was a clearance to win the second frame having seen opponent Hossein Vafaei Ayouri already take the opener and eventually Lisowski was able to win 6-3 to set up a match with Ali Carter in Daqing.
The venue stages of the event take place between 25 October – 1 November 2015, while the tour will be in action again beforehand at the Ruhr Open this coming weekend.