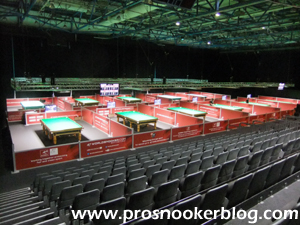 Following a week of downtime after Kyren Wilson's victory at the Shanghai Masters, snooker is back as the International Championship qualifiers get underway at the Barnsley Metrodome tomorrow.
As ever, the all-important quicklinks to the draw and schedule can be found at the top of the sidebar to the right, while you can also click here to read my first look at this season's tour survival battle.
In terms of entries, Ronnie O'Sullivan is the only player in the top 64, indeed the top 81 who has elected not to play in the event, while Tony Drago, Steve Davis, Duane Jones and Igor Figueiredo are amongst the other most notable absentees.
The event marks the first 'flat draw' event of the season, after the Australian Goldfields Open and Shanghai Masters were played under the traditional tiered system. The tournament will also mark the first time since the introduction of the format that matches will be held over in accordance with new rules announced last season.
For this event, the change means that Ding Junhui, Liang Wenbo (the two highest ranked players from the host nation), Ricky Walden (defending champion) and Stuart Bingham (world champion), will not be in action in Barnsley, with their qualifying matches held over to the venues stages in October.
This is a topic that has seen some debate on Twitter this morning, critics pointing out that the changes goes against the message of fairness that was put out by the governing body and in particular Barry Hearn when the move towards flat draw events was first announced.
It is something that I blogged about when the change was announced last November and several months on my view remains unchanged.
On one hand I can see their point, that it is unfair that certain players will play their opening match at the venue and not others. That said, those four players are still required to win the same amount of matches in total to lift the trophy, unlike at the tiered events where Kyren Wilson for example had to win three extra qualifying matches at the Shanghai Masters, compared to those ranked inside the top 16. Is that any more fair than having matches held over?
In truth, the only truly fair way to operate the event would be to have all 128 players at the venue in China, but financially this would be a step too far at this moment in time and many lower ranked players would be unable to enter this and other overseas events.
What is your view on these held over matches?