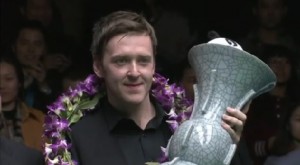 Ranking event snooker returns tomorrow for the start of the International Championship, which moves from its previous home in Chengdu to a new venue in Daqing.
Continue reading for my tournament preview and customary look through the draw and some of the most eye-catching matches…
Click here to view the draw for the International Championship
Click here to view the latest projected seedings
The tournament represents the first full-ranking event to be played under the flat 128 system so far this season, with 64 players at the venue (plus wildcards), rather than the 32 that we have seen already at the Shanghai Masters and Australian Goldfields Open.
There has been some debate in recent seasons as to whether that number is too high, particularly given the knock-on effect on the availability of practice tables. From a fan perspective, I would probably prefer 32 as I find that it makes the tournament easier to follow, as we saw at the German Masters last season for example which saw two qualifying rounds played in England rather than just one, but on the other hand I can understand they they want to take any many out to the venue as possible.
Of course the tournament also marks a return to a slightly longer format with the best of 11's, always a welcome prospect given the plethora of best of sevens these days and something that combined with the impressive prize fund, makes this tournament the biggest of the season so far.
Ricky Walden, Stuart Bingham, Ding Junhui and Liang Wenbo of course have an extra match to play, having had their last 128 matches held over to the venue, while there will also be four wildcard matches to be played early in the event.
Notable absentees include Judd Trump and Stephen Maguire, while from a ranking perspective, the tournament also marks the pre-UK Championship seedings revision, so as the week progresses expect to see some speculation as to who may play who early on in York.
To the draw…
Top Quarter
As top seed, Ricky Walden could have been forgiven for expecting an easier draw in Daqing but up against Tian Pengfei, who has recently made it to the final of the Ruhr Open and the last 16 of the Haining Open, the defending champion will have to be on his game from the word go. That said, Ricky did win their last meeting 4-0 at the Indian Open earlier this year and following his run to the final of the Haining Open last week (and strong record in China generally), will be hoping to run deep in the tournament again.
With either Cao Yupeng awaiting in the last 64 and likely Liang Wenbo or Andrew Higginson in the following round, I would be surprised not to see him reach the last 16. There he would potentially face Kyren Wilson, Jamie Cope, Mark Allen or Joe Swail, in what is a very tricky section of the draw to call.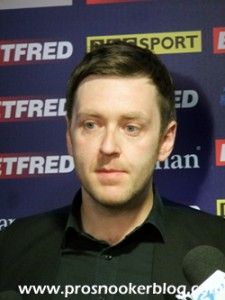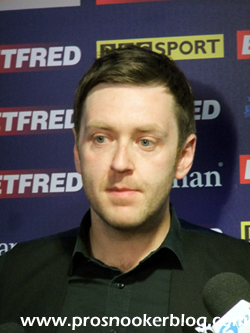 The match in prospect between Kyren Wilson and Jamie Cope in fact promises to be one of the ties of the round in China, Kyren looking to kick on from his breakthrough victory in Shanghai, while Jamie Cope has started the season strongly after dropping out of the top 64 following the World Championship. Their only previous meeting in fact came at the last 128 stage of this event back in 2013 when Wilson ran out a comfortable 6-1 winner, but I would expect a much closer contest this time around.
For Joe Swail and Mark Allen meanwhile there will no doubt be frustration on the part of both that they have been drawn against each other, both being good friends. When I interviewed Mark last year, he touched on how he finds it difficult to play against Joe because of that, although that has not stopped him from winning their last three encounters for the loss of just two frames and so he will be favourite to come through once again.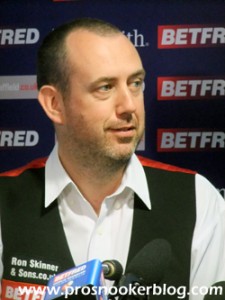 The bottom section of this quarter meanwhile would have been the 'Judd Trump' section, but instead his shock 6-0 defeat to Michael Wild in qualifying looks to have opened up the draw significantly. Wild's reward is a match with fellow tour newcomer Sanderson Lam, a great opportunity for both of them to reach the last 32 of a ranking event and importantly, get some prize money in the bank early in their respective two-year quests to break into the top 64.
They are not the only lower ranked players to make it to the venue in this section either, with Ian Burns, Zhou Yuelong and Ross Muir also hoping to make the most of a great opportunity to do well this week. The biggest fish around looks to be 2014 semi-finalist Mark Williams, joined by Australian Goldfields Open finalist Martin Gould and Six Red World Champion Thepchaiya Un-Nooh.
On paper either Williams or Gould would look to be a good bet to perhaps set up a quarter-final with either Ricky Walden or Mark Allen, but snooker has rarely been that predictable in recent seasons.
Second Quarter
Hoping to repeat his victory at this event two seasons ago will be Ding Junhui, who finds himself in the second quarter of the draw and with a winning feeling following his victory at the Haining Open yesterday.
While he was able to win that event without meeting a top 32 player before the final however, he will likely have a far tougher run this time around with the likes of former nemesis Ryan Day a potential last 32 opponent and another player who has enjoyed success against him in Barry Hawkins a potential quarter-final opponent.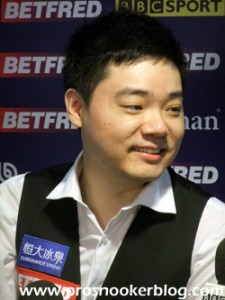 That said although there are capable players in Ding's section, Ryan Day aside I would be surprised to see him slip up in the early rounds. Hawkins on the other hand looks to have found himself in a particularly dangerous section, with the likes of Ali Carter, Marco Fu and Matthew Stevens in particular also present.
Of the lower ranked qualifiers to have progressed against higher ranked opposition in Barnsley, it will be a particularly good experience for 19-year-old Darryl Hill, who defeated Robert Milkins 6-4 to make to to Daqing, while Chris Wakelin, Oliver Lines and Noppon Saengkham will be amongst the others hoping to give their respective rankings a boost.
Third Quarter
A year or two ago, any quarter with both Mark Selby and Neil Robertson present would have been marked out as a quarter of death and of course any match between two such evenly matched players remains one to be savoured. At present however, neither has recently demonstrated the level of form that saw them trade places at the top of the rankings not too long ago and both will be hoping to kickstart their seasons with a strong showing in Daqing.
For Selby, he begins with a match against Mike Dunn and will of course begin as a strong favourite, but the same could have been said when the pair met at the quarter-final stage of the 2014 China Open when Mike was able to emerge a 5-3 winner to reach his first semi-final. Next up could be a match with Anthony McGill, the man who ended his world title defence at the Crucible earlier this year, before a possible last 16 match against Michael White.
Robertson on the other hand will begin with a match against Martin O'Donnell, with Fergal O'Brien or Tom Ford awaiting in the last 32. Next up would most likely be a match against a former world champion with Ken Doherty, Graeme Dott and Peter Ebdon all present, the latter of course having defeated Robertson in a dramatic match at this tournament back in 2013.
In terms of players to keep an eye on, Lee Walker has shown noticeably improved form so far this season, having defeated Mark Davis to make it to the venue in Daqing, while Tom Ford was of course a finalist at the first European Tour event of the season in Riga.
Sean O'Sullivan is another who has started the season well on his return to the professional ranks and will be hoping to avenge a 5-3 defeat to Anthony McGill at the German Masters earlier this year.
Fourth Quarter
Turning to the bottom section of the draw and we both of this year's World Championship finalists Shaun Murphy and Stuart Bingham, as well as fellow top 16 players John Higgins and Joe Perry.
Unlike the first two sections, each of which saw a number of upsets in qualifying, the bottom of the draw saw just one as amateur Zhao Xintong upset Stuart Carrington to make it to his home tournament.
This means that we have a number of difficult matches to call between players in similar sections of the rankings, for example between those seeded 30 v 38, 26 v 34, 25 v 36 and 32 v 49. For me, any of these matches could quite easily go either way, while even some of the higher seeds are unlikely to have it all their own way.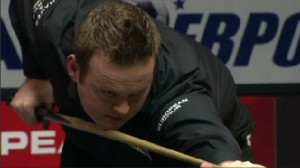 Most intriguing is the opening match awaiting John Higgins against Zhao Xintong, who has a good claim to being the best amateur player in the world at present and has defeated a string of professional players already at ranking events while competing as a wildcard.
Of course even at 40, John Higgins is on another level to many of those players and so will be favourite to progress to the last 32, but at the same time I would not be absolutely shocked to see a surprise in that match.
Joe Perry meanwhile faces Aditya Mehta, who seems to be slowly regaining some form after a tough 2014/15 season, while Shaun Murphy begins his campaign against the unpredictable Luca Brecel.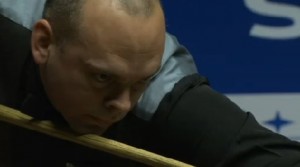 Talking of Murphy, I read an article the other day describing him as a player for whom 'every match is a struggle' at the moment, a curious interpretation of a player perhaps enjoying the best calendar year of his entire career. Indeed while he might have lost relatively early on in the first two ranking events of the season and finds himself in a tricky section of the draw, I would expect him to go well this week.
Stuart Bingham too will be hoping to build upon a good run at the Shanghai Masters and on paper at least, looks to have a relatively inviting section of the draw.
Away from the big names, Jamie Jones and Kurt Maflin meet for the first time in competition since their PIOS days and Ben Woollaston will be targeting a third win from three meetings against Robbie Williams.
Predictions
SF: Ding def Walden, Selby def Murphy
F: Selby def Ding
(Sorry Mark)