Name: Alan McManus
DOB: January 21st, 1971
Nationality: Scottish
Turned Pro: 1990
Highest Ranking: #6 (1993-7)
Highest Break: 143 (1994 World Championship)
Career Highlights: 1994 Masters Champion, 1994 Dubai Duty Free Classic Champion, 1996 Thailand Open Champion, 1990 Masters Qualifying Event Champion, 1992 & 1993 World Championship semi-finalist
Twitter: @alan_mcmanus
In short
Alan 'Angles' McManus was one of snooker's consistent players for well over 15 years, though in recent years his results have not been as strong as they might have been, resulting in him losing his top 16 place in 2006.
At the time of writing Alan is 10th on the all-time list of semi-final appearances with 26, as well as having 48 quarter-finals behind him which shows just how strong he was during his peak years. John Higgins said recently that at one point he felt that it would be Alan who would take over from Stephen Hendry at the top of the game, but for whatever reason that never quite happened.
After a couple of less successful seasons which have seen him slip down out of the top 32, Alan finally changed his cue for the first time though he has not been able to improve his results significantly in the years since.
As well as his playing career we have also seen Alan involved with both Eurosport and the BBC in a media role recently so perhaps we will see (or hear) from him for a while yet…
Early career
Following victory in the 1990 Scottish Amateur Championship and the pro-ticket qualifiers of the same year, Alan turned professional at the start of the 1990/1 season.
By anybody's standards, Alan's début season was to prove a resounding success. He was not only consistent, only twice failing to make the last 64 of a ranking event, but he also managed to make a name for himself at the UK Championship where he progressed to the semi-finals before losing to countryman Stephen Hendry.
In addition he also reached the last 16 of the Mercantile Credit Classic, before qualifying for the final stages of the World Championship at the Crucible. Once there he defeated Willie Thorne in the first round before narrowly losing out to former world champion Terry Griffiths 13-12 in his next match. Still, he had done enough to move straight into the rankings at 41st and be voted as the WPBSA Young Player of the Year.
Top 16
1991/2 was to be even better for Alan as he built on his previous success by reaching his first ranking event final at the Asian Open, although he ultimately lost out to Steve Davis. He also reached the semi-finals of two of snooker's biggest tournaments, the Grand Prix and the World Championship, losing out to Jimmy White in the latter. These performances ensured that he moved into the elite top 16 of the rankings for the first time after just two seasons, a phenomenal achievement that few others have matched.
Alan at the Northern Snooker Centre in 2009
Once there he showed no signs of letting up, though that elusive first ranking event title would still have to wait a little longer as Ireland's Ken Doherty defeated him in the final of the Regal Welsh Open.
Nonetheless, a further four ranking event semi-finals including a second at the World Championship where he lost out to Hendry took him up to a career high of 6th in the rankins, a position he would retain for a total of four years.
Masters glory
1993/4 was to bring more of the same for Alan on the ranking circuit, another final defeat and three more semis, but it was in the invitational B&H Masters where he was to make his big breakthrough. Not only did he make the final, but once there he then ended the long winning run of Stephen Hendry who had dominated the event since 1989, winning the final 9-8.
He built on this run the following season as he finally won his first ranking event title, the 1994 Dubai Classic where he defeated Peter Ebdon 9-6 in the final. The rest of his season was not quite as strong though as he was able to progress beyond the last 16 stage of just one other ranking event. In addition, the defence of his Masters title was to end at the last 16 stage in 1995 as he lost out to fellow Scot John Higgins.
The next season saw his consistency return as he took his second ranking title at the 1996 Thailand Open as well as reaching another three semi-finals. With fellow Scots Stephen Hendry and John Higgins he was also part of the successful World Cup winning team and again ended the season at 6th in the rankings.
Tough competition
By this time the standard in the game was improving all the time and Alan could not add a third ranking title to his CV during 1996/7. Although he continued to make quarter and semi-finals, this was not enough to remain ranked inside the top six as he dropped four places to 10th. Alan did recover though and with a few further semi-final appearances managed to improve to 8th position for 1998/9, where he would remain for the next three seasons.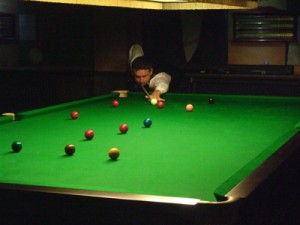 Alan at the Northern Snooker Centre in 2009
Despite that consistency, Alan never truly looked well placed to win another event and in 2002/3 came close to losing his top 16 place as he dropped to 15th in the rankings. He did recover during the following season, improving to 10th position, but a 10-3 defeat to Marco Fu at the 2006 World Championship finally saw his run end as he dropped down to 19th.
Life at Pontin's
Following relegation from the top 16, Alan showed few signs of making an immediate return to that bracket, a situation not uncommon for the established players when they eventually drop down the rankings.
During 2006/7 he was to lose four of his opening round matches and as a result was to drop out of the top 32 for the first time since his debut season. The following year was to be little better as he made it to the last 32 of just one ranking event and fell just short of reclaiming a top 32 place.
2008/9
A change of cue for the 2008/9 season however brought about fresh optimism and the early signs were positive as he defeated Andy Hicks and Matthew Stevens to reach the last 32 of the Northern Ireland Trophy. He then beat Mark King to go even further and looked set to move past fellow Scot Stephen Maguire in the last 16 as he led 4-2, only to lose out in a deciding frame.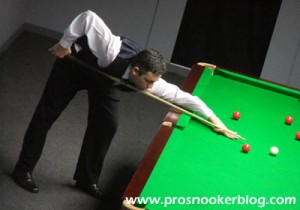 Alan during the 2011 World Championship qualifiers
This result though proved to be something of a one-off as during the rest of the season while he often won his opening match, he often fell short during the final qualifying round and therefore failed to progress to venues. This proved to be the case at the season-ending World Championship, where he recorded a terrific victory against Stuart Pettman, having at one staged trailed 8-5, before losing in the next round. He had at least secured a place inside the top 48 for the following campaign.
2009/10
After that consistent season however, Alan was to endure a nightmare start to 2009/10 as he lost his opening three matches to leave himself well down the provisional rankings.
Importantly though, a 5-4 victory against Irishman David Morris at the Welsh Open qualifiers helped to get his season off the ground before further opening match wins at the China Open and World Championship tournaments limited the early season damage. Although his season was ended in Sheffield by a resurgent Fergal O'Brien, he had again done enough to retain his top 48 status for the start of the 2010/11 season.
2010/11
Alan made a reasonable start to the 2010/11 campaign as he regularly won early matches during the Players Tour Championship, but his best run was to come on home soil at the World Open in Glasgow where he managed to progress to the last 16 stage with a 3-2 victory over Matthew Stevens before losing out to compatriot Stephen Maguire.
Alan during the 2011 World Championship qualifiers
His best results thereafter were to be runs to the final qualifying rounds of the German Masters and World Championship but defeat to Stuart Bingham in the latter meant that he would end the season ranked outside the top 48 in 51st.
2011/12
Alan's results during the early stages of the 2011/12 season proved to be inconsistent, early exits from the Australian Goldfields Open and UK Championship events being off-set by quarter-final runs at PTC3 and PTC8, enough to move him back up into the top 48 of the rankings.
The second half of his season was to prove a similar story as he lost his opening qualifiers at the Haikou World Open, Welsh Open and World Championship tournaments, meaning that he would finish the season ranked one place lower than he had started it in 52nd.
2012/13
Alan was to enjoy his most consistent run of results for some time during 2012/13, as he began the campaign with a run to the venue stages of the Australian Goldfields Open, defeating Tony Drago and Robert Milkins, before losing out to Ding Junhui in Australia.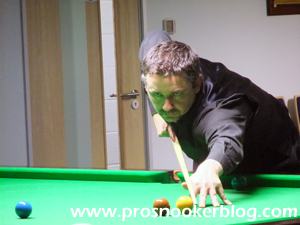 Alan in action at the South West Snooker Academy
Successive quarter-final runs were to follow at the first two UKPTC events of the campaign in Gloucester to secure a useful haul of ranking points, before he successfully qualified for further venues at the German Masters and Haikou World Open tournaments.
Alan was to remain consistent in 2013, successfully qualifying for the final stages of the Welsh Open in Newport, before there defeating Barry Hawkins and Joe Perry to reach the quarter-finals, losing to countryman Stephen Maguire.
Another strong run was to come at the World Championship qualifiers, as he defeated Aditya Mehta, Nigel Bond and Tom Ford to make it back to the Crucible for the first time since 2006, where he performed well early on against Ding Junhui, before eventually losing 10-5.
Click here to hear Alan's thoughts ahead of his Crucible return
Tournament Victories:
Ranking Event wins (2)
| | |
| --- | --- |
| Event | Year |
| Dubai Duty Free Classic | 1994 |
| Thailand Open | 1996 |
Non-Ranking Event wins (2)
| | |
| --- | --- |
| Event | Year |
| B&H Masters | 1994 |
| B&H Championship | 1990 |
Other wins (2)
| | |
| --- | --- |
| Event | Year |
| World Cup | 1996 |
| Nations Cup | 2001 |