After a seven-year absence from the Crucible following his relegation from the top 16 in 2006, Scotland's Alan McManus made it back to snooker's biggest stage last weekend with a 10-5 victory over Tom Ford at the final qualifying round.
Shortly after his victory, Alan spoke to a few of us backstage as he spoke of his delight to make it back to the Crucible and the ongoing challenge of life on snooker's professional tour, as well as his hopes for fellow Scot Anthony McGill…
On his return to the Crucible after seven years:
"It has been a few years. I've not counted them, I just know it has been a few."
"When I went out of the top 16 and wasn't playing at Sheffield every year, I said that I wouldn't go back there until I was going to play and it has been seven years. I've not been back, I've not physically been in the Crucible since playing."
"I don't know if ambition is the right word but it's a goal to be back there and playing. It's a big old thing, mentally. If you actually look at it from a point of view of ranking points and a bit of money it's not really that big, but to play there on what we know is the big stage, that's the big thrill for all of the players."
On not being able to practice with his fellow Scottish players, knowing that he will be playing at the Crucible:
"I'll probably go back and have a few balls with John [Higgins] and Stephen [Maguire], Graeme [Dott], all of the lads that are going to be playing next week and I'll enjoy that."
"I'm not one to take things to heart too much in the game. I try to keep things on an even keel and I am probably a bit like Steve Davis in a sense that I treat it as a challenge to try and keep my head above water in this game."
"But it's tough out there for everyone with the standard. You can look at matches and think 'he's favourite' but you have got to pot balls out there, otherwise it ain't going to happen."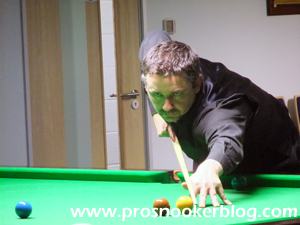 On his memories of his previous World Championship semi-finals:
"It was about 20 years ago. I remember, I think I broke off and Stephen [Hendry] potted a frightening long red and made 120-something, as he always did back then. And I remember getting piped in because it was the two Scots, but no I don't really remember too much. It would be nice to take one or two more memories going back to the Crucible and playing."
"I feel like the heat is off a little bit. I am going to go there and regardless of who I play, I will be big second favourite. That suits me down to the ground. I try to have the right attitude towards it and just try to pot some balls out there. I'm very fortunate just to be playing this game so any chance to go to the Crucible again is massive."
"I was going to maybe do Eurosport this week so I'll need to email them and say I'll be busy, so that will be nice."
On his season so far:
"It's been alright. What I tend to have done this season, which has happened quite a lot for me is when I have won a match, I seem to have won a few. It's either that or lose first round and obviously the way the rankings work if you lose first round, you get punished pretty badly and that's why I've not been able to make a little jump in the rankings, which is a shame."
On his attitude to snooker at this stage of his career:
"I try to have the right attitude towards whatever in the game. First and foremost, us guys are lucky to be professional snooker players, I do regard myself as very fortunate to play this game."
"There is a great set of lads and we've now got a great set of tournaments as well. The game is good. I've been a pro for more than half my life, quite a bit more than half of my life, it's all I really know."
"I think mentally you have ups and downs with your game, but as the Nugget has always said, you have got to try and move with the times in this game. You can't play like you used to play because it ain't going to get the job done."
"By nature I'm not the most aggressive player out there, but you have to try and bring that into your game which is difficult. I'm glad game is the way it is with so many great players, I like it tough."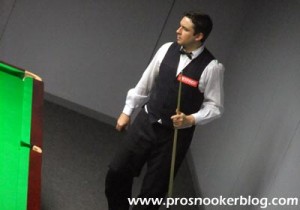 On Steve Davis and how long he sees his career continuing:
"The guy is God isn't he? Just on and off the table, especially on. I played him when he was doing some real damage and it was not pretty to play against. It was like playing PlayStation."
"I've no idea [how long I will continue]. I couldn't put a number on something like that. While I'm still really enjoying it, and I do enjoy it and I do practice hard, I've practised hard for this…"
"One thing I have enjoyed being back home in the last year or two is that we've now got two or three younger players coming through. There's obviously Anthony [McGill] who has now been on tour two or three years, as well as Scott [Donaldson] and Michael [Leslie], so you kinda try and become one of them mentally and feed off them."
"They are all excitement and 'I'm a professional snooker player.' That's all I've ever known, so you try to feed off that and have the right attitude, I think that's important. I still feel 22, but we all do don't we?
On his fellow Scot Anthony McGill:
"I think he's a fantastic player Anthony, obviously I practice with him."
"The thing I like about him, there's nothing I don't like about him in snooker terms, but the thing I really do like is that he is very studious in technique. Everything is right, he thinks well and he has the heart of a lion as he showed the other night there. To be 8-3 down to Rod [Lawler] who is not going to give anything for nothing."
"I would love to see him make it and I'm sure he will. I've seen an improvement in him since he turned pro, which is three years now. I've seen a couple of things in him and he is really maturing as a player."
"I think when he first came on, it was excitement and he was playing Stephen Hendry and he beat him 4-0 and it was easy and he was knocking in tons everywhere."
"Then you get a couple of knocks, you lose 5-4 on the black and lose 10-8 at the World Championship and you think it's not quite the bed of roses that It was when he was hammering everyone, and then you change your mentality and your game."
"But he's maturing with that and I think he's a really, really good player."