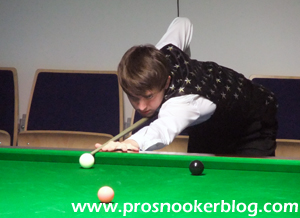 Congratulations to Stuart Carrington, Jak Jones and Patrick Einsle, who each today regained a place on snooker's main tour by winning two matches at the 2013 EBSA play-offs at the EIS in Sheffield.
Having qualified for today's play-offs courtesy of their performances at a series of four amateur events staged alongside a number of the professional European Tour events this season, the trio will now join snooker's main tour for the next two seasons and you can read quotes from them here at World Snooker.
Welsh youngster Jones first turned professional following his victory at the 2010 European U-19's Championship, while Carrington earned a main tour card through the Q School in 2011, perhaps most notably defeating Matthew Stevens at a PTC event during last season.