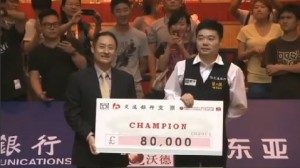 For those of us who like to keep an eye on all things rankings related, during each season there are usually a number of themes to follow just from a look at the various ranking lists.
For example a couple of seasons ago, it was only a matter of time before Judd Trump became number one, given the relative lack of points that he was defending compared to those above him, while last season it was the likes of Neil Robertson and Ding Junhui who were well placed to climb to the top of the list due to lesser performances two years previously.
This year has of course seen a change to a prize-money based ranking list, but the premise of a two-year rolling system remains the same and so below I take a look at a few themes that I will be following as the season progresses.
To assist, @joanneballantyn has also helped to put together the usual 'money to defend' lists (available here), which show which points will be coming off at each cut-off point.
Click below for more…