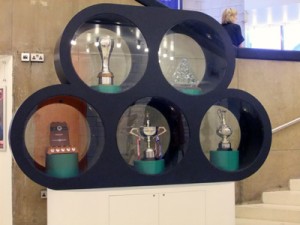 As 2008 draws to a close it is time to follow up my recent season review with a few unofficial awards, as chosen by me. Click below to see whether you agree or not…
Player of the Year: Ronnie O'Sullivan
Although it has been probably the most open season that I can ever remember seeing in snooker, one player has almost always been a factor at the business end of tournaments, 2008 World Champion and world number one, Ronnie O'Sullivan.
In 2008 O'Sullivan has won two ranking event titles including the World Championship at the Crucible, as well as reaching two other finals in Newport and Shanghai which has really consolidated his position at the top of the rankings. Although he has not played quite to his best towards the end of the year, he still managed to add his fifth Premier League title in a row to his trophy haul in December and he very much remains the favourite for every event he enters.
That said it will be interesting to see how he does in 2009 because he has been quite open in saying that his form is not as good as it could be and indeed it has been his much improved temperament that has got him through a lot of matches rather than his dazzling break building. On paper his draw at the 2009 World Championship appears to be quite a tough one, so a fourth Crucible victory won't be easy…
Young Player of the Year: Judd Trump
Having been on the tour since 2005, Judd's potential has been common knowledge for a good while now as he managed to break record after record as a young junior. What was lacking until this year however was consistency in the qualifiers and real confidence in front of the TV cameras however, both of which appear to have been solved now.
This year he has won at least one match in seven out of the eight tournaments he has attempted to qualify for, excelling in 2008/9 season in particular as he has reached the TV venue at each of the five events so far. Furthermore he managed to go on a terrific run at the Grand Prix, reaching his first semi-final by defeating Joe Perry and then Ronnie O'Sullivan only to lose out in a close match with eventual winner John Higgins.
Since then he has continued to qualify for events and took his first professional title by winning the Masters qualifying event in December at the EISS. He really seems to be maturing into a top player now and with an outside chance of making the top 16 for next season, I think it is only a matter of time before he is winning tournaments.
A special mention here for Liang Wenbo though who initially I was going to give the award on the back of a terrific year which saw the 21 year-old reach the quarter-finals of the World Championship as well as make his first competitive 147 break in qualifying for the Bahrain Championship. Eventually though it was Trump's victory in the Masters qualifiers that I think made the difference and hopefully he will be able to push on further next year.
Unsung Hero of the Year: Joe Perry
At 33 years of age at the start of the year and having not really done much during his career to suggest that he could become anything other than a good solid player who would always be scrapping for his top 16 place, Joe Perry changed everything with a terrific 12 months in 2008.
It all began to come together for Joe when he took victory in the inaugural Championship League, qualifying for the glitzy Premier League in the process. He also managed to go all the way to the semi-finals of the World Championship for the first time in his career, just coming unstuck against Ali Carter when the match looked as if it might go his way.
Ending last season on this high note, he has managed to carry his good form over into the new campaign, even if at times this has not been reflected in his results. Part of the reason for this has been a succession of tough draws, seeing him paired with Ronnie O'Sullivan in the last 16 of three events, plus Stephen Maguire and Judd Trump in the others. He did at least finally break his duck against the world number one in ranking events as he defeated him in the UK Championship earlier this month with probably the best performance I have ever seen from him.
Furthermore his Premier League campaign was a resounding success, finishing second in the league stage behind fellow debutant Mark Selby and being unlucky to lose out 5-4 to O'Sullivan once again in the semi-finals in East Anglia.
Hopefully his good performances will see him move nicely up the rankings, possibly into the top eight and perhaps he will finally get a good draw or two!
Surprise of the Year: Ricky Walden wins Shanghai Masters
In many ways it has been a year of surprises, for example Simon Bedford defeating Mark Williams to qualify for the Grand Prix, Liang Wenbo and Judd Trump both making the business end of big BBC events and Dave Harold reaching his first ranking event final since 1994! The biggest surprise though had to be Ricky Walden's week to remember in Shanghai.
With only one ranking event quarter-final to his name before the Shanghai Masters, world number 35 Ricky Walden can't have been too many people's tip to win his first title, but that is exactly what he did.
He qualified for the event with Lee Spick and Ian McCulloch, before defeating wildcard Anda Zhang at the venue to earn a clash with seven-times world champion Stephen Hendry. Despite a spirited fightback from the Scot to level it at 4-4, Walden took a notable win by taking the next frame and went on to defeat Neil Robertson, Steve Davis and Mark Selby to remarkably reach the final.
There though he would come up against the world number one Ronnie O'Sullivan who at the time was bidding to become only the third player ever to win three consecutive ranking event titles. Not many expected him to win early on, particularly when O'Sullivan came out of the first session with a 5-4 lead, but Ricky hung right in there and turned it right around, winning the match 10-8 and sealing it with a well-taken break of 105.
Though he has not quite managed to build on that success since, his victory in Shanghai has earned him a debut at the Wembley Masters next month as he has been awarded the wildcard spot by the WSA and he now looks certain to break into the top 32 for the first time in his career. One to watch…
Comeback of the Year: Mark Selby's defeat of Ronnie O'Sullivan at the Welsh Open
As ever there were a few good comebacks this year such as Robert Milkins' fightback from 4-0 down to defeat Michael Holt 5-4 in Bahrain and Joe Swail's doomed effort against Liang Wenbo at the Crucible from 12-8 down to 12-12, only to lose out in the decider.
Ultimately though I think the best comeback was that of Mark Selby against Ronnie O'Sullivan in the final of the Welsh Open. Not only because of who he was playing, but for a player who had never previously won a ranking event to have the self-belief to win four frames in a row at 8-5 down to take the title, that is a real achievement.
Qualifying Win of the Year: Liang Wenbo defeats Martin Gould in Bahrain Qualifiers

While there were a number of good wins for players this year, some comprehensive, some tense and some bizarre, there could only be one winner of this award.
When Martin Gould edged past Jamie Jones in the second round to earn a tie with Liang Wenbo he must have known what a tough match he had in store against Liang Wenbo in the next round, but he can't have prepared himself for what was to come.
A break of 115 in the opening frame was good enough but to follow it with runs of 139, 139 and a remarkable 147, all better than anything he had done before in professional competition was just absolutely incredible and it is just a shame that more people were able to watch it.
Perhaps typically after such a special performance, Liang could not keep it up the next day and lost out to Michael Judge in the final qualifying round.
Break of the Year: Ali Carter's 147 at the Crucible
While there are probably hundreds of frames from this year and thousands that I haven't seen, I doubt that there are too many which contained a break quite like this one from Ali Carter.
Given that rightly or wrongly Ali has a reputation amongst snooker fans for being something of a 'choker', to make a maximum break at the Crucible containing as many difficult shots as this one did was an outstanding achievement and you only have to look at his celebrations afterwards to see just what it meant to him.
In particular to pot that tricky final black off the cushion with all the pressure on it must make it one of the shots of they year, as well as really sending out a message to his critics that he can hold his nerve and that he can handle the pressure when he needs to. Perhaps it will be this break that sees him go on to take an overdue first title in 2009…
Most Disappointing Player of the Year: Ding Junhui
A tough one this year given that almost every player seems to have had at least one really good event in 2008, indeed Shaun Murphy saved himself somewhat by taking the UK Championship last week!
This unwanted award has to go to Ding Junhui however as despite the huge talent that he obviously possesses, he again struggled for results in the ranking events and managed just one quarter-final this year. What must have been particularly disappointing was his performance at the World Championship in April when he went down heavily against Stephen Hendry as he attempted to become the youngest-ever world champion, succeeding Hendry with that honour.
There were at least signs of a recovery towards the end of the year as he ended it on a strong note with victory in the Warsaw leg of the World Series and a 147 in Telford, but a player like him should really be winning some of snooker's biggest prizes now…
Check back tomorrow for my final nine awards including final of the year, new venue of the year, innovation of the year and session of the year…