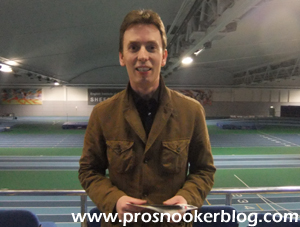 Saturday evening saw the first six players book their places at the Crucible, with a further ten to follow this Sunday. Click below for a round-up of the day's action with quotes from three of the qualifiers…
Click here to view the latest tour survival updates
Click here to view the latest drawsheet
Click here to view the latest projected seedings
Having missed out on a return to the Crucible during two of the past three years, a delighted Ken Doherty booked his place there in 2012 with a dramatic 10-9 victory against Anthony Hamilton.
In what was by all accounts a high-quality match in which Ken made three century breaks, it was the Irishman who led 6-3 after the opening session, only for Anthony to win the first two frames of the evening session and stay close thereafter.
In the decider it was Hamilton who made the stronger start, capitalising on a loose break-off from which Ken caught the green with the cue ball, only to break down with a lead of around 50 points. Doherty then closed the gap, aided by a fluke into the green pocket, before running into problems himself.
The key moment however came when Hamilton won the ensuing safety battle, potting a good red cueing from under the side-cushion before seeing the cue ball come up and finish close to the baulk cushion. From there he attempted to roll up behind the brown only to crucially leave the cue ball agonisingly short, leaving himself in a horrible position.
Ultimately his escape would prove to be his last shot as Ken produced a brilliant pressure clearance of 62, notably containing an excellent final red down the cushion under the circumstances, to get over the line.
Ken told us afterwards:
"He played so well tonight, he was like a bad cold that I couldn't shake and so tough, he played really, really well. Every time I have played him it has always been a tough game. I knew from the draw it was like the toughest match, he was [ranked] 33 or 34, I'm 32, so I couldn't have asked for a tougher match, but at least I knew what I was up against."
"In the last frame I had more or less resigned myself to losing because he was on that break after he had knocked in the long red and I thought that he was going to win the frame at that visit. He played superbly well. Even when he was under pressure he was cueing really well and hitting big breaks but you are always going to miss one or two, but overall I think that the match was of a really high quality."
"I've made some good clearances in my time but that is up there with the top ones. It was all to do, I ran out of position a couple of times. The last red I just had to go for it full-blooded, if it goes in it goes in, if it doesn't, it might be over but thankfully it went in. I potted a black that I missed for the 147, it was exactly the same shot and I'm thinking I'm not going to miss this please!"
"It was a real pressure clearance because there is so much at stake, to be in the mix up at the Crucible. For the qualifiers this is the biggest match in the year so to come through with a great clearance against a really great player in a high-quality match is fantastic and I'm over the moon."
"It was very difficult last year, I was in the same situation, 6-3 up and Jimmy Robertson came out and played probably the best he has ever played. But that can happen, you can get on a roll. There were so many highs and lows during that match, during the last few frames I thought that it was just not going to be but I got my chance in the last and thought keep your head down, cue straight, this is your last chance saloon."
Joining Ken at the Crucible will be Chinese duo Liu Chuang and Cao Yupeng, who both impressed in their respective victories against their higher ranked opponents Jamie Cope and Tom Ford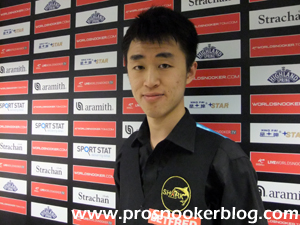 Liu began the session 5-4 down against Cope but from the off produced some fabulous snooker highlighted by a total clearance of 138 on his way to moving 8-5 ahead before eventually getting over the line a 10-7 winner. While he had impressed me two days previously with a display of stunning long potting to defeat Jimmy White on the livestream, his performance last night was even better and in truth there was little more that Cope could have done.
While Liu has played there before, Cao Yupeng will be making his debut following a last-gasp win over Tom Ford. It was a close match throughout, but Cao was always in control of the decider, earning the first couple of scoring chances with long pots and all but shutting his opponent out of the frame.
The talking point from the match however will be the frame that Tom was docked following the mid-session interval for arriving late. While I do not know what happened in this case, I understand that generally the players are given a 15 minute break, however they must be at a particular meeting point after 12 minutes to allow three minutes to walk back to the table.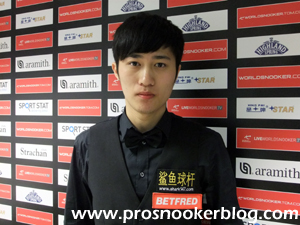 Whatever happened here, Tom reportedly left the arena for a good seven minutes following the subsequent frame and in the outcome of the match, that one frame proved to be the difference.
Elsewhere, a second Crucible debutant will be Welshman Jamie Jones, who completed a stunning 10-2 victory against Ricky Walden to progress. Against an opponent provisionally ranked inside the top 16 as well as having reached the semi-finals of the UK Championship earlier in the year, victory alone would have been impressive, but to come through by that margin, having led 8-1 after the opening session, is some achievement.
Following the match a remarkably composed Jones told us:
"I knew I was playing Ricky and that I was going to have such a tough game, but even after this morning's session I couldn't believe I was 8-1 up. I played well enough to be 8-1 up but just flattering really and I knew then that it was mine to lose in the evening session. I was a little nervous and shaky going into it but I managed to scrape some frames which was all I needed really."
"I'm just over the moon now, it will sink in now over the week when the draw comes out. I went to watch in the Crucible about 10 year ago and I remember sitting there and I was looking at the games but I don't think I was actually watching them, I was just dreaming about playing there and now all of a sudden I am actually going to be doing that. It's just crazy really, I can't get my head around it!"
"I've got plenty of momentum, I lost over in China but I qualified for this event and I qualified for the last event, I did pretty well in the PTC Finals, I've got a lot of momentum going into the World Championship so hopefully I can just keep playing as confidently as I am and see what happens."
"[The win against Higgins in Galway] has really helped me to be honest, playing against him over there, it was a packed crowd and I had never experienced anything like that. I remember playing here in the Badminton Hall with a crowd it was a big thing for me but now coming here with that experience and going to China I feel a lot more at home and can settle down a lot more easier in the matches. I'm not so nervous and I feel like I'm going to play well wherever I am playing."
"I wouldn't mind getting Ronnie to be honest because I know it's going to be absolutely packed at the Crucible. I've nothing to lose now, I've got my ranking points, nobody will be expecting me to do a great deal there so I can just go out there and enjoy it."
"I looked on the blog and I was 33 coming into this so I was thinking if I can win this one I will have half a chance of getting into the top 32 which is fantastic."
Elsewhere, joining his fellow Welshman in the Crucible draw was Ryan Day, who recovered from a poor run of results and 6-3 down yesterday to defeat Gerard Greene 10-8 to progress. The result also keeps Ryan in contention to retain his place in the top 32 at the end of the season, depending on the outcome of other results.
The final man to progress was Mark Davis who defeated fellow On Q Promotions player Robert Milkins to book a place at the Crucible for the first time since 2010. By all accounts however the match was a closer one than it had appeared on paper, Milkins particularly unfortunate to suffer a kick at a crucial stage in the second frame, however Davis also produced some important breaks when he needed to.
Mark told us:
"I started off really nervy the first couple of frames, he won the first fairly easily and he's got a kick on the red on a break in the second. I managed to clear from there and felt a lot better because I should have been 2-0 down really, he was a bit unlucky Rob. I wasn't feeling that great either but I felt alright after that."

"I felt similar to last year to be honest, unfortunately things didn't turn last year and before I knew it I was 7-0 down and couldn't settle. But I learned a bit from last year and Rob was unfortunate to get the kick and I felt a lot better after that frame."
"Rob is a very tough draw to start with the way he can reel off frames, but I'm over the moon. I had a fair bit of run in the match it has got to be said and it makes a difference, but I played pretty good as well."
"I know what I can do, it's just doing it consistently but I'm in a better frame of mind than I used to be. I've been working with Terry and that has helped unbelievably. It has only been a short period of time at the moment so it is still working, before that I always lacked self-belief and didn't fancy beating anyone really!"
"A couple of years ago I beat Ryan and then Mark Allen played unbelievably well but we'll see what happens. If I can play as well as I can, I fancy beating anyone and I'll give it a go."
In the afternoon sessions, Stephen Hendry finished well with back-to-back century breaks to lead Yu Delu 6-3 overnight, though the socreline could have been closer had Yu been more clinical in both frames either side of the interval. Liang Wenbo secured a commanding 7-2 lead over Marcus Campbell with a dominant performance, while Marco Fu also leads Joe Jogia 6-3 overnight. In the final match, Mark King leads Belgian youngster Luca Brecel 5-4 as the 17-year-old looks to become the youngest player ever to play at the Crucible.
Those matches will resume at 2:30pm Sunday.