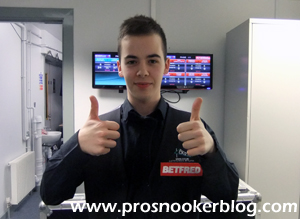 Belgian youngster Luca Brecel today created history by defeating Mark King 10-8 and in the process ensuring that he will soon become the youngest ever player to play at the Crucible Theatre in a World Championship match. Though he has taken that record from Stephen Hendry, it has not been all bad for the Scot today as he too secured his place at the venue for a 27th successive season…
It was a match that I had felt had decider written all over it from an early stage, but Luca Brecel had other ideas as he won the last two frames against Mark King at the EIS in Sheffield to qualify for the Crucible for the first time with a 10-8 win.
Having started his campaign in the opening round last Saturday, it has been some journey for Luca during which he has played every day having been selected for the afternoon sessions each round, but with wins against Ian McCulloch, Barry Pinches, Michael Holt and now King, he has shown everybody just what he is made of.
More than his talent however, what has really impressed this week is his temperament which when I had seen him earlier on in the season during PTC events had looked questionable, but even in such a short period of time is now clearly much improved. Against experienced professionals such as McCulloch and King, he never looked overawed and at barely 17 years of age is only going to get better.
After the match he spoke to a few of us in the media centre via his coach Chris Henry and he came across as a lovely lad, describing his wins as 'unbelievable' and telling us how he was looking forward to playing in a packed Crucible Theatre.
I had met both Luca and Chris a couple of days ago after Friday's Snooker Legends event and I am really pleased for them both – it was great to see what today's result meant for them both. It was a very popular result as evident by the amount of people wanting to shake his hand afterwards and by the amount of calls that Luca was fielding on his mobile phone later on!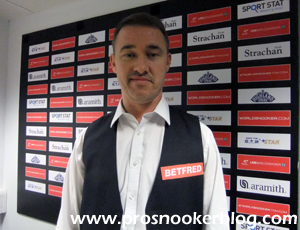 I also managed to catch a word with his father Carlo who told me that Belgium was 'going crazy' with the match being streamed across the country and making the news, which can also only be positive for the popularity of the sport in that area and indeed as a whole.
Elsewhere, Stephen Hendry also booked his place at the Crucible for a 27th successive year with a 10-6 victory against Chinese talent Yu Delu today. Resuming 6-3 up, Hendry never really looked troubled and as was the case during their first session, always looked the more clinical of the pair when in amongst the balls. It was telling that I can only remember one frame during the match that Yu was able to win in one visit, while from memory Stephen won at least six with a single scoring visit which is what is required at the very highest level.
As is to be expected, Stephen was very pleased to qualify, commenting that there was a little extra pressure on players like himself, Ken Doherty and Peter Ebdon who are used to playing in the top 16, while adding that he played 'quite nicely.'
I asked Stephen firstly whether playing in the cubicles during the PTCs during the past couple of seasons has helped his during qualifying matches, as well as whether he was happy with his concentration during the match having spoken about that recently:
"Absolutely yeah, if I had come here just cold it would have been difficult but I have played qualifiers all year so I am well used to it."
"I thought I played really solid in the match, Yu Delu is a capable player and he has had some good results this season so while a lot of people might not recognise the name, I wasn't taking it for granted at any stage."
Interestingly, Stephen now heads to China tomorrow as a result of sponsor commitments and will not get back in the country until Thursday afternoon, so will be hoping to avoid being drawn to play too early in the tournament which begins barely a day and a half afterwards.
Another former champion to progress was Peter Ebdon, who recorded a stunning 10-0 whitewash against Alfie Burden today to keep his strong run going having won the China Open earlier in the month.
Peter told me after the match:
"I got off to a very good start, I knew that I was going to be in for a very tough game today because Alfie is a very, very good player and had a very good win in the previous round. My practice didn't go very well these last couple of days and I was certainly very nervous going into today's game."
"It was a big match for me, qualifying for the World Championship again and I just knew it was going to be tough, but the first couple of frames where I played well just settled me whereas my practice form has not been fantastic coming into this having had a little bit of time off after China. It is very different practising on a 10-12 day old cloth and then coming to the main venue and playing on a cloth which has just gone on the day before. The conditions were beautiful, really lovely, very fast and the balls played very light and it just really suits me, similar conditions to China. If the cloths are anywhere near as nice as the Crucible then I'll be delighted."
"It has to be said that I did get an awful lot of run today and the run that I have had so far this season has been horrendous, you just wonder when it is going to change. I was fortunate on a few occasions in the final against Stephen [Maguire] in China and the few mistakes that I made today, I certainly got away with them. I have been in that position before and I know how difficult it is and Alfie did well to hold himself together and try to compete because there wasn't a lot going right for him at all. While the is a part of you that feels sorry for your opponent when that is happening, you really need to try to take advantage of it because the game can change so quickly."
"It was a bit of a shock to the system having to qualify for Sheffield having not had to qualify for the last 16-17 years, but I am absolutely delighted because I think that I am right in saying that it will be my 21st consecutive appearance at the Crucible and I set myself a goal many, many years ago to beat Steve Davis' record which at the time was 20 years. Of course that has been superseded by Stephen Hendry who this year will be his 27th consecutive appearance which is just absolutely amazing, he has been at the top of the sport for three decades, he has been the greatest player we have ever seen and quite simply one of the greatest sportsmen of all time, so I am very proud to be second on that list outright and gone one in front of Steve Davis who was my idol. My close friends and family will know how much this wins to me."
"I'm just delighted to get back to the Crucible, there will be nobody trying harder I can guarantee you that and I hope that I will be tough to beat this year. I can't stress enough for me personally what a huge achievement it is to be there for what will be my 21st consecutive season and that fact that I set that as my personal goal to beat Steve Davis' record and I thought that would be fantastic. Longevity is a big part of the game and it certainly means a lot to me, we can't break records all the time and we have all got different styles, but to be there or thereabouts at the top of the game for a long period, that's what really motivates me to keep going and hopefully keep winning tournaments.
I spoke to Peter at length about other topics as well and will post the full interview later in the week when time permits.
Meanwhile, another dramatic match was that involving Liang Wenbo and Marcus Campbell, during which Marcus recovered from 8-2 and 9-5 down to force a 19th and deciding frame, only for Liang to eventually win it when the match resumed having been pulled off due to the overrun.
Another Asian player to progress was Marco Fu, who completed a comfortable 10-4 victory against Joe Jogia and told me that he was happy with the result, but that he still needed to improve for the Crucible. He added that he has not quite been playing to the standard that he really wants to recently, but that it is coming and that he is just taking time to adjust to new techniques at the moment.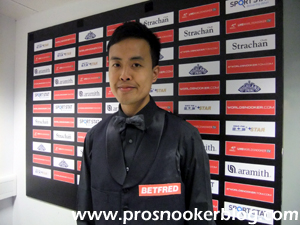 Ben Woollaston was denied a place at the Crucible for the first time today as he lost out 10-3 to Dominic Dale following a topsy turvy opening session in particular. Having trailed 4-0 at the interval Ben fought back well to close to 3-4 with a career-best break of 145, but then could do little as Dale re-established his lead with what I understand was an outstanding clearance in frame eight, before adding the next to lead 6-3 at the end of the session.
David Gilbert and Andrew Higginson both secured their second Crucible appearances meanwhile with convincing 10-4 victories against Fergal O'Brien and Peter Lines respectively, the latter result meaning that Fergal will fall out of the top 32 at the end of the season with Ryan Day currently holding on to 32nd place in the latest projected seedings.
Finally, On Q Promotions duo Barry Hawkins and Joe Perry also secured their places at the Crucible at the expense of David Morris and Jamie Burnett.