Day five at the Crucible as the last of the first round matches get underway, while already the first of the morning matches has been concluded with Joe Perry easing past an out of sorts Graeme Dott…
Before moving on to today, a final word on last night and a good night that was had by the snooker blogging community as we descended upon an Indian called the 'Shapla' as recommended by World Snooker. While the reputation of the governing body was at stake, it is safe to say that they have come out unscathed as both the food and the service was excellent. Anyone looking for an Indian while in Sheffield for the snooker would be well advised to give it a go.
Back on the baize however, Joe Perry wasted little time in dispatching 2006 world champion Graeme Dott, winning the first two frames of the day to set up a tie with Stephen Maguire in the next round. A few had wondered whether Graeme might be able to put up any sort of resistance today, but as he missed a black early on in the opening frame of the day, it was evident that defeat was only a matter of time.
For a player usually so reliable at the venue, it was strange to see him playing quite as badly as he did and as always with Graeme, he gave a typically honest assessment of his own performance following the match:
"I played terrible. I don't think that I've played worse, not just at the Crucible but as a professional. I just couldn't pot a ball."
"I've played bad all year, but normally when I come here I play pretty well, but you can't rely on playing well here all the time, eventually you are due a stinker but to play as bad as that is hard to understand. It's demoralising."
"I couldn't care less to be honest about a whitewash. I genuinely couldn't care less, what difference would it have made, 10-0 or 10-1? It's still a drubbing. I lost 10-7 here once to Joe Perry and he played fantastic, I couldn't give him any more high praise, but he has beat me 10-1 there and he has played rubbish. Joe has not played well at all there and I'm sure he'll come in and say that he'll need to play a lot better to win his next match. It's hard to believe how bad I have actually played."
"I'm not trying to play like that but even if I was trying I still would have struggled. Nothing went right either but any time he did miss, not that it would have made any difference because I played that badly anyway, but any time he did miss he got away with it in the first session. I just couldn't get anything going, if ever there was a nightmare in snooker that was it."
"I just wanted out, I couldn't pot a ball, I couldn't hit the white. If you had told me to hit the white to win a frame I would have probably missed it. I just couldn't do anything. It was actually more demoralising that Joe was playing so bad. You can sometimes take it if somebody plays well because everybody gets beat, but Joe was missing and even at 5-0 I felt that Joe hadn't really settled and he was missing and leaving me in. It was just a nightmare, I couldn't pot a ball."
"You still come out trying to play, I got in right away in the first frame but once I missed the black, if I wouldn't have got fined I would have given up. I just wanted Joe to keep potting, I didn't want a shot, it's not a nice feeling."
Shortly afterwards, Joe came in and told us:
"It was a strange game, very difficult circumstances yesterday. I could see Graeme was struggling and that started to affect me in the end. I know what it is like to feel like that in the end there, I have been there myself and I felt for him to be honest. I just lost concentration and I was just happy to get out there with such a big lead because it could have gone either way."
"If I had lost that match I would have been fuming with the way that I had played but it was just one of those games. It was just a case of doing enough at the right times to keep knocking the frames on the board and to keep trying not to feel sorry for your opponent because in a professional sport you can't really do that, but it did get tough out there yesterday."
"Graeme is such a trier, he's not a person to throw the towel in at four or five nil, he's going to keep trying but we all know that the harder you try, the worse it gets and that was what happened yesterday. I just felt for him really. Just happy to get through and hope that Graeme bounces back and gets back to the player that he is."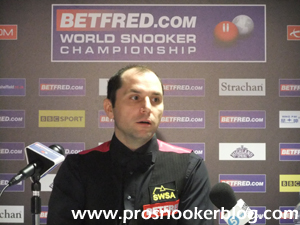 "I was pleased with the way that the second half of the season has gone. I've knocked up a few good results, I've beat a few good players again, started to be more consistent with my own game so I was quietly confident that I could go on a little run here. First one is out of the way, see what happens next."
"I've had a couple of matches with Stephen Maguire here, the first time he took me to the cleaners easily and the next time it went all the way in the quarter-finals. Hopefully it won't go all the way but hopefully we will have that sort of tussle again."
"Stephen is always in good form, he's such a great player. I think one of the other form players coming into the tournament, he has had a good second half, very consistent. Stephen is always tough, in or out of form but it's going to be especially hard as he has been playing well lately."
By completing victory, Joe becomes the sixth qualifier through to the last 16 and with Mark Selby trailing overnight, the record of eight set in 1992 looks in danger of being matched. Surely this owes something to the fact that the qualifiers were concluded barely a week ago, while the top seeds have now not played since the end of March?
Over on table two, Ryan Day started well by taking the opening frame of the day against Ding Junhui to extend his lead to 6-4, but since then has seen his much-fancied opponent take the next three frames to move 7-6 up at the mid-session interval.
There was however to be a remarkable turnaround as Ryan hit back to take the next three frames, before taking a 10-9 victory with a clearance of 64 to the pink in the decider. As Ryan had earlier missed a red close to the corner pocket from distance, it had appeared as though he had thrown the match away, only for Ding to surprisingly miss a red with the rest on 48.
As has been widely reported, Ding cut a frustrated figure following the defeat and told the press:
"All rubbish. I don't think I played well, I don't think the table was right, I don't think the fans were right. All rubbish. Rubbish fans."
"I couldn't concentrate on the game, like shouting you know, how can they do that? People say Chinese fans are no good, I come here, what do they do?"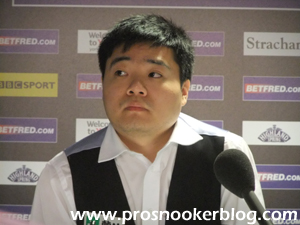 Ryan meanwhile explained:
"I am hoping it [that win] is going to be huge, it has been a bit of a struggle the last couple of years.Likewise in qualifying to get here I was way down and showed a bit of fight and determination and managed to get back into the game and held myself together well at the end to clear up."
"I didn't think that there was any calling out at the wrong time. Obviously with a match like that everyone who is watching gets right behind whoever they want to win. I didn't notice that there was any calling out at the wrong time when the player was on the shot. Calling out after someone has left an opportunity or has come back into the arena, that's fair enough."
"The pressure was really high. I was just concentrating on breathing properly. From 9-6 down the inspiration I used really was my daughters so all the way through clearing up I was thinking don't miss, don't miss."
"I've been playing quite well in practice for a while now but I had got myself into such a rut. The PTCs, especially the first season, I never tried an inch really, I just didn't want to be there. I have realised how important they are with the ranking situation and tried a lot harder, but I have really struggled to play well in those and they are so key for a player's ranking. It spread then from those into ranking tournaments and for the last three or four before coming here I really struggled."
"I think last week it helped me when I was behind that this was the World Championship. It's the tournament that everyone wants to be involved in, to finish the season at the Crucible. It really helped me with motivation, determination and fight really."
"I think that was a definite help to the qualifiers. Obviously you have just come off the back of a proper tough match with lots of pressure and it gives you a lot of belief. It sets you up perfectly for coming here this week but I think in the past there has been far too long from the qualifying to coming to the Crucible."
It is hard for me to really judge as I was only in the arena during the deciding frame, however during that frame and in particular during Ding's 48 break which ended with the missed red with the rest, I heard nothing untoward from the audience. As Ryan says, there was a lot of shouting as players re-entered the arena for the decider, but ahead of any decider that is always going to be the case and I cannot see a problem with that.
Regardless, the result is a fantastic win for Ryan who having struggled in recent months since his whitewash at the hands of Mark Selby at the UK Championship, will now be looking to match his Crucible best run to the quarter-finals, which he reached previously in both 2008 and 2009. While his match against Cao Yupeng will not be an easy one if he can reproduce the form that he showed to defeat Mark Allen in the first round, I imagine that Ryan will be pleased not to be facing Mark on Friday.
Back in the arena for the afternoon session, Mark Williams made his eagerly anticipated Crucible bow in 2012 and somewhat predictably was jeered by the Crucible crowd following his controversial comments about the venue on the eve of the tournament. I have seen it reported that 'hundreds' of people were booing him, though in reality I think that would be stretching the point. Nevertheless it was more than a handful and was noticeable.
Also resuming were Judd Trump and Dominic Dale, the 2011 finalist starting 5-4 up after yesterday's opening session. Looking a little better than he did then following his bout of food poisoning on Monday evening, on the table he continued to struggle and dropped the first couple of frames, before drawing level with a ton.
As Dale took the final frame before the interval to lead 7-6, it looked as if yet another upset might be on the cards, but as it happened the Welshman would not win another frame as Judd took four on the spin for victory. Dale had his chances, particularly in the last as he bungled position from yellow to green, snookering himself with the brown, before then getting green to brown wrong by snookering himself with the pink.
Judd told the press:
"Yesterday I felt worse but today I am more drained, I haven't eaten properly for two days now. I had to have some soup last night but other than that it has just been bread really. Struggling today so just glad to get out of there."
"It was just tiring, I never really had control of the cue ball throughout the whole match, one minute I was hitting it too hard and the next too soft. Just glad to win, a lot of the seeds have gone out so considering what has happened I am just glad to be in the next round."
"I felt a lot worse yesterday, I felt 100 times better today but still nowhere near my best. I have got a couple of days off now so just glad to get away and have a day in bed now and hopefully get better for Friday and start practising again."
"I was the closest I have ever been [to pulling out] in a professional tournament. If it had been a smaller event like a PTC then maybe I probably wouldn't have played, but I knew I had to go out there, even if I was 7-2 behind or 6-3, just to give myself a chance. Towards the end of the match, I found something yesterday, I managed to get a lead so it was pleasing going into today."
"I was delighted, when it was four-all I was more than happy with that and when I won the last frame it was a bonus so I knew I had to go back and get some rest for today and I did feel slightly better, but as I say nowhere near my best. Dominic made it hard, I got a fluke at 8-7 which could have been 8-8 and I think the longer he had pushed me, the more chance he had of beating me."
"Early on in my career if I had started playing like that I might have got down on myself because obviously I wasn't putting on a show for the crowd. Today and yesterday I just had to get through it. I wasn't bothered how I played at all, I just had to get through to the next round. This tournament is so important that if you do lose first round it ruins your whole season."
Prior to Judd, Dominic Dale had also spoken to the press and spoken of health problems of his own, revealing that he has been suffering from carpal tunnel syndrome, something that had affected his grip hand and meant that it was hurting when he was gripping the cue to play a shot. While he said that he didn't particularly feel the pain due to the adrenalin and the pressure in the arena, his hand felt huge and before the session he had worried that it would be a problem.
Otherwise, the most interesting part of Dominic's press conference was his verdict on whether Judd Trump is a justified favourite for the tournament.
"No. I understand he is favourite because it is one of these betting things, people are going to put a lot of money on it so you have got to be careful what odds you give him. But I think that if you speak to most of the players, they'll look at Judd as a guy who is a devastating potter and break-builder, but if you can put pressure on him… I always think that you need more to your game than Judd has at the minute."
"But the thing about Judd is that he is always willing to learn and he is learning. It takes years to learn the right shots and when to play them. In Paul Hunter mode really, Paul was a great potter and a great break-builder, fantastic bravery and courage under pressure, but he had the whole game and Judd is heading that way for me."
"Give Judd another couple of years and he will be a bit of a Paul Hunter in terms of what other players think of him, as a deadly player and very dangerous."
Following a brief  45 minute McDonalds trip between sessions, the evening began with the resumption of the clash between world number one Mark Selby and qualifier Barry Hawkins, the latter holding a 6-3 lead overnight. While under normal circumstances you would never rule Selby out in that position, it became clear from an early stage that Mark's neck problems were every bit as serious as had been reported and he was in no position to play to his best. Following a swift 10-3 defeat, Mark told the press:
"It was always going to be tough coming here, as far as preparation goes I have not really had the chance to put that many hours in as well and obviously with what has happened in China, I don't know the main reason for it but I ended up getting a disc pulled which has stopped me from playing. i was trying my best out there but there were certain shots that I couldn't physically play because of the pain and I didn't have the strength and power to play them.It was difficult."
"It's never a good time to come down with something like this but if it had been earlier in the season then I would definitely have taken that rather than it being at this particular time for the World Championship. It's the tournament that everyone wants to do well in and everyone wants to win so it's disappointing. But take nothing away from Barry, he played well."
"I think coming here from the start of the tournament it's difficult because every tournament that I go to I believe that I can win and try to win and here it was totally different with being a long format over two weeks, I thought that it was going to be very difficult for me to maintain and play well with what I am suffering with."
"Luckily I'm happy that I managed to play in the tournament, ten days ago I was looking at pulling out."
"I've still been getting treatment from a sports physio so I'll carry on doing that but I think a lot of the reason for it to get better is rest and obviously I've not been able to do that for the past few days trying to prepare for this. Hopefully now I can put my cue away for a little while and come back fresh for next season."
"Shots with the rest I just can't possibly play at all, when I lift my arm up I just get excruciating pain down my arm. I've got no feeling in my arm when I play shots, even my thumb since since probably two weeks, I've got no feeling. It's just one of those things, there are a lot of people out there suffering some problems so I aint just going to go on about it but it's just disappointing because if it had been the other side I could have just got on and played with no problems so it's just one of those things."
"In the end it will get better but I think a lot of the time it's just rest and the body just heals himself, have just got to grin and bear it, rest and fortunately enough now there are no tournaments for a little while and by the time I'm better the season will have started."
"I'll go straight from here, go and see a sports physio, keep getting treatment and keep doing the right things."
Shortly afterwards, Barry Hawkins came in and told us:
"It was tough, before I come up here I had a few people say that he's got a bad neck and that he might be pulling out so it's hard you know. He's probably the best player in the world at the moment and if you start listening to people too much it's hard and it can put you off what you are here to do, so I tried to just concentrate on my game. I thought that I played well in patches, obviously I have done some silly things in between but overall I think I played ok."
"I think the best session of the match was the best that I had played, the first four frames I didn't really miss a ball and it was nice to get off to a good start. Once you go behind things start getting to you a little more if you are ill and it seems to come on a bit more."
"I was quietly confident actually, I've been playing pretty well now for the last few months, winning the Shoot Out helped, I know it's a one frame thing but there is still pressure and a big occasion. It's just nice to be in the second round again and hopefully I can go better this time."
"It's nice that the tables are getting re-covered tonight and I think that you will see a lot better snooker because they have started getting a bit heavy, a few kicks so I am sure you will see a few more centuries now."
Meanwhile Ali Carter was producing his best snooker for a good few months as he moved into an 8-1 lead against qualifier Mark Davis. That said, the bloggers in the press room did not see a huge amount of that as following Selby's exit and the arrival of Snooker Scene's Dave Hendon at the venue, we headed to a local pub for an impromptu bloggers AGM, in which I courted controversy with the revelation that I have never seen a 'Carry On' film.