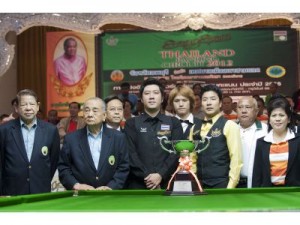 Issara Kachaiwong lifted his second Thai ranking trophy of the season with a 5-0 victory over Atthasit Mahitti in the final of the Lopburi Cup.
With Thepchaiya Un-Nooh and Noppol Saengkham absent on Asian Championship duty, and with James Wattana making a surprise 4-2 exit in the wildcard round to qualifier Sarawut Kanchananurak, the field was sufficiently depeleted for the experienced duo of Atthasit and Issara to make their way to a final showdown with few alarms.
Issara overcame Rom Surin 4-3 in a tight quarter final encounter, before seeing off Kobkit Palajin 4-2 in the semi. Kobkit didn't leave empty handed however, having compiled a break of 137 to collect the highest break prize of 15000 baht.
In the top half of the draw, Atthasit also survived a decider in the last eight, scraping past Sarawut, whose reward for beating Wattana was a walkover against Noppol Saengkham. Atthasit then demolished Thanawat Tirapongpaiboon 4-0 in the semi final – the youngster's first appearance at that stage. 
The fifth tournament of seven will be staged on Ko Samui next month, with the qualifying stages taking place  in Bangkok