Well what about that for an afternoon session? Just as the drama of the opening round was beginning to wear off, today brought us another Crucible classic as Ali Carter recovered from 12-9 down to defeat pre-tournament favourite Judd Trump in an absolute thriller. Matthew Stevens is also through to his first quarter-final since 2006, a 13-11 winner against Barry Hawkins. Click below for my perspective of the action as viewed from the media seats in the Crucible…
Having made the trip home last night, today I made my way back to Sheffield nice and early for the start of the 1pm session and was astounded to be greeted with a (mostly) blue sky and even a bit of sun for the first time during the tournament.
Following the usual hellos I headed to the media centre to set up ahead of what promised to be a dramatic afternoon session, with Judd Trump resuming 9-7 up against Ali Carter, while Matthew Stevens was level with Barry Hawkins, having seemingly been on the back foot throughout the opening two sessions.
Taking up my usual seat for the Trump/Carter match, there was an amusing moment pre-match as with MC Rob Walker geeing up the crowd as only he can, there was a terrific reception in particular for referee Olivier Marteel, with a group of fans who had travelled over from Belgium taking up the front two rows on table one giving their countryman a standing ovation! Indeed there was very much an international flavour to the Crucible crowd today with spectators from Iceland and Finland also present.
The serious stuff however was shortly underway and it was to be Judd who picked up from where he left off yesterday, moving three clear with breaks of 16 and 59. Ali did have a chance to counter following an early miss from Judd, he made 38 before missing a red while stretching.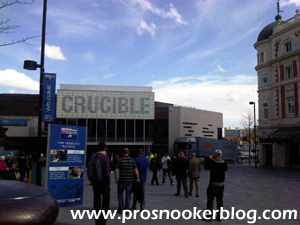 As had been a pattern of the first two sessions however, Ali responded in fine style to the set-back by immediately closing the gap with an excellent break of 70 in the next, from a position where at least six reds had previously been safe following a missed red to the left-centre from his opponent.
Frame 19 was to see the first of two maximum attempts during the session as Trump pounced upon a missed long-red from Carter, the double-kiss sticking the red up and paving the way for Judd to move into an 11-8 lead. Unfortunately however he was to be denied the maximum following an unfortunate kiss on the reds following the 12th black which left him on nothing.
The final frame before the mid-session interval became a must-win one for Ali and the Captain duly delivered with a break of 94 to keep in touch.
As they resumed, frame 21 became a tactical duel which was won by Judd, who made a break of 53 before running out of position and choosing to put the green safe. While Ali had a chance to counter, there were signs that his frustration was beginning to get the better of him as he stamped the floor following a shot which saw him finish in behind the blue and though he pulled out a terrific shot to pot it up into the yellow pocket, the chance was to get away from him as he snookered himself on the final red with the black.
Trailing 12-9, just one away from defeat, Ali chose the next frame to embark upon the pursuit of a second Crucible maximum, though like Judd he was to run out of position halfway there on 80. Joking to the crowd that 'if this goes in it will be a miracle' as he attempted to fluke the black, he had at least served notice on Judd that he was still very much in the match.
Arguably the most significant frame of the match was frame 23, as Judd tried a crazy attempted plant, moving balls everywhere and leaving the cue ball in behind the yellow. As Ali shrugged in his chair before sarcastically applauding when up on his feet, I wondered whether this might be the frame where Judd would seal victory, but a missed blue from the 2011 finalist was to prove costly. Following a long wait to take his opening red, a bout of coughing from one spectator in the crowd proving a distraction for Ali, he produced a good pot and would eventually go on to close to 12-11.
It was at around this point that I began to notice that Judd was visibly tightening up, a miss to the left-centre seeing him leap up almost immediately and allowing Carter to the table. though Ali was to miss a black (following a superb red with the spider also), Judd soon broke down again and Carter dished to force the first decider of this year's second round.
As is often the case with a deciding frame, the early exchanges proved cagey, Carter to me noticeably playing the player, not the table and keeping things as tight as possible. The first chance actually fell to Judd, but immediately it became evident that he was struggling to get through the cue ball and it was evident that a miss was coming sooner rather than later and so it proved, though he left nothing on for Ali immediately.
Having run out of position on 20 when he did get a chance, Ali played a good safety from the brown, adding 47 following a bad miss with the rest from Judd, who at this stage looked to have completely gone.
Celebrating with a fist-pump as he left Trump  needing four snookers, Ali looked to be home and dry only for there to be a final twist as Judd actually got three back, at one stage coming within an inch of obtaining a free ball. With the match threatening to get away from him, Ali was becoming understandably anxious, at one point knocking Olivier Marteel's cloth on the floor from the marker's desk, before picking it up and using it to wipe his forehead!
He was not to be denied however and soon potted the final red, followed by a few colours to secure a deserved 13-12 victory. At 12-9 I thought that Ali had missed his chance, but as the scoreline moved to 12-11, the outcome began to have an air of inevitability about it and I was surprised to see just how much Judd tightened up towards the end of the match.
Take nothing away from Ali though, his long game was excellent and while his opponent weakened, Ali showed few signs of weakness as he fought his way back into the match.
It must have helped Ali to have had 2002 world champion Peter Ebdon in his corner, indeed he was up in his balcony and even though I could not see him from where I was sat, every time Ali played a good shot he could be heard shouting words of encouragement, while his clap has to be the loudest clap I have ever heard! Amusingly, while Ali was giving a post-match interview to the BBC, Peter Ebdon came and gave him a big kiss on the head as you can see at the top of the page!
Shortly afterwards, a disappointed Judd Trump came up into the press area and while I usually just quote the responses, in this case I have also typed up the questions as I feel they are necessary in order to read his replies in the correct context. Understandably with a sense of needle in the air, there was a sense that there was a story to be had here…
Q: "Judd do you feel that was a match which you threw away?"
JT: "Yeah I think that the maximum attempt really summed up the match. It just didn't quite happen, never really felt good out there and no excuses but the food poisoning obviously didn't help first game and I just never really got going in either match. I felt that the longer it went on I was getting better and better, but I felt really nervy towards the end and I missed a lot of good chances."
Q: "The last frame in particular you seemed in to win when you had that red with the rest and I mean nothing is easy when the pressure is that intense, but that was the moment wasn't it?"
JT: "Yeah I finished perfect on the red and I was just trying to make sure that I didn't over-screw it and just decelerated through the ball, just took my eye off it. He still had to clear them up from there which wasn't easy and I tried battling back at the end and just come short."
Q: "My goodness you very nearly recovered that situation didn't you? Four snookers required and he was a quarter of an inch away from leaving you with a free ball at one stage?"
JT: "Yeah it was close to leaving a free ball but it just summed up the match really, millimetres here and there and that was the difference."
Q: "Would it be fair to say that the two of you aren't exactly the best of pals?
JT: "No not really, me and Ali have always got on. There is a lot of pressure out there, it is hard at times, you just want to play your own game, you have just got to try and let yourself not get distracted by anything else and Ali dealt with the pressure better towards the end and he kept it tight whenever he didn't have an easy ball on and that was the difference."
Q: "Were you a bit disappointed though when he ironically clapped the shot where you missed a red and snookered him? Was that a bit frustrating for you to see?"
JT: "I've got no really comment really, if he wants to do it, it's up to him. He's 30-odd years old and it's a bit childish."
Q: "He said after the match I gather that 'there is more to snooker than just potting balls' have you any idea what he is getting at there?"
JT: "I haven't got a clue really. Obviously I'm still a lot younger than him and have done a lot better so lets just let the snooker do the talking."
Q: "So you feel as though any criticism of you in terms of not having certain elements to your game is unjustified?"
JT: "If I was fully fit then I'd have expected to play a lot better but I just tried playing the best I could in the conditions and he played better. He was just more mentally ready, I struggled and the lack of playing well added to putting myself under more pressure, even the little balls were becoming hard, I was taking my time too much and just slowed myself down."
Q: "Was there extra pressure on you coming into this year's tournament after your fantastic run to the final last year and of course you have won the UK since then, expectation so much higher. The food poisoning didn't help but did you did you feel under extra pressure this year?"
JT: "No, I felt coming into my first game that I was going to play really well and then what happened before the match was just unlucky but I just really never got going throughout the whole tournament, I never felt confident. I probably missed more balls in that match than I missed all season to be honest. My concentration levels were low so it's disappointing to go out like that. I'm still young, I've still got a chance next year, the important thing is just to learn from that and just deal with it better next time."
Q: "Do you think that Carter is capable of winning this?"
JT: "Maybe, I don't know."
Q: "Judd do you think that there is a jealousy from Ali towards you? With the way you are playing and how successful you have been in the last year?"
JT: "I think a lot of players enjoy me losing so that's about it really."
Q: "That must be quite hard to take because you have been a breath of fresh air to the game."
JT: "99% of people are generally on my side, I just listen to the good things and take no real notice of it. I never really take any notice of any other players really, if they want to say that then they can. so I just try and play my own game."
Q: "Why do you think that is, you said that a lot of players out there like you losing, why do you think that is?"
JT: "I don't know really. I'm not a bad person so I'm quite quiet off the table, I don't really have any beef with anyone so I don't really know. Even today Peter Ebdon was in the crowd cheering for him really which is a bit strange, for another player to be there cheering him on. But if he wants to be there and get on his side then fair play to him."
Q: "A lot of the older players talk about scars, experiences in that game, do you think that this might be one that you might look back on and certain defeats where you learn what the game is all about, do you think that this might be one of those?"
JT: "Not at all really. In China I was 3-0 up against Mark Allen, in Germany I was 4-2 up against Stephen Maguire and had really good chances. Obviously this is the World Championship, but if this affects me I may as well give up. As soon as I get into the new season it will be completely forgotten and I just go out and play my own game again and hopefully have a better season next year. I was quite consistent this year but I still think that there is more improving to do."
Q: "In terms of physically, how did you feel coming into the last two sessions?"
JT: "Not too bad, it was just my concentration levels, I was missing stupid balls that I would never normally miss and I missed more in that match than I have missed all season to be honest."
Q: "The Twitter exchange between you, did that add a bit of extra spice?"
JT: "Not really, I think that Ali was obviously a bit annoyed and he took it down within an hour or whatever so today there were no hard feelings, I could see him tapping his leg or clapping when I nearly made the max. If he had made the max then I would have gone up and congratulated him so there is nothing to it."
Shortly afterwards, Ali Carter also came into the press area…
Q: "Ali, is that the most nerve-wracking, tense match you have ever been involved in?"
AC: "Yes and no really, I just felt like I hung in there, I just hung on to him the whole time. In the middle session I just had so much bad ball run and Judd had so much form it was unbelievable and I just felt that I have played this game for so many years and I have seen it all and I just felt that when it really, really, really mattered at 12-all it was going to turn for me, and it did."
Q: "At 12-9 down though did you think that the chance had gone?
AC: "No, not at all. I knew that I was hitting the ball well, I just thought, just get to 12-10, he knows I'm there and I think I should have made a max, I was just unlucky not to finish on the black. 12-10 I played some solid match snooker and 12-11 and that's all it was, that's all it takes. Judd just pots them from everywhere but there is more to this game than potting them from everywhere believe me. I've proved that today."
Q: "He's was in to win though in that final frame, he missed an "easy red" though nothing is easy when the pressure is that intense but you must have been thinking when he was at the table then, my chance has gone."
AC: "Well I don't know, he's had three or four lashes in the last frame, like he did the whole match and got away with it. So he just did not stop getting away with it the whole time, some of the shots he played, I mean granted he potted most of them, but you cannot keep potting balls like that, I don't care how good you are, in my opinion you can't and if he carries on going for them like that, I'm glad today that I was strong enough to stand up and beat him, but he will be getting beat in my opinion. It's easy for me to say that now because I have come out the winner, but I am just delighted with myself because I have been on too many wrong ends of matches like that so now he can feel what it feels like to have a nasty scar in your career. It's not easy to get over, he was in here to win it but so am I."
Q: "I get the impression that the two of you aren't exactly bosom pals, was there a bit of aggro out there?"
AC: "No, not at all, unfortunately everyone there is no needle! I don't think he genuinely realises how much luck he gets, some of the shots he gets away with, I really don't, how lucky he was in that match. It's just amazing to get through, to hang in there it's a real credit to myself."
Q: "What about right at the end there as well, he needed four snookers, he nearly got it?"
AC: "Yeah exactly, he's got me in snooker after snooker after snooker, so he knows his way around the table big time. He's a great player, he has achieved more than me in the game already. Maybe it was just a bit of experience from me that made me come through in the end."
Q: "So your view is that as talented as he obviously is, his game is a bit one-dimensional?"
AC: "Very much so, very much so I think. While it's going for you, he's had a great run but you know these last five or six tournaments, since the UK, it has been a little bit different for him I think. Now he's expected to win and blast everyone off the table, well we all know the granite players of the game like Peter Ebdon, Steve Davis and all them, you can't blast them off the table. I'm not comparing myself to them by any means but I know my way around the table as well and I knew how to break him down in the end."
Q: "He said that he felt that there were a lot of players out there who wanted him to lose. Do you think that there is a sense of irritation out amongst you seasoned pros that he has had so much success as he has had with his style of play?"
AC: "It's only the people that haven't achieved what they want to achieve that will want him to lose. The people that haven't been as successful as they want to be, because anyone that has been successful wouldn't wish anyone to lose and get what they deserve. He deserves it, there is no doubt about it. Those people who do want him to lose, they should be looking at their own careers and what they are doing wrong because that is not the way forward in my opinion."
Q: "Do you think he's good for the game?"
AC: "Course he is! He's great for the game, he's the new kid on the block, he's like the young Ronnie really. But he has got to develop a little bit more of a personality, start slagging a few people off and all that and they'll love him even more I suppose! [laughs]"
Q: "At 12-10 he lashed at the red, went round and finished behind the yellow and the brown, obviously the crowd were clapping and you ended up clapping. Obviously that was sarcastic, was that just one shot too far?"
AC: "I was just thinking how can you go for that, it has kissed a hundred balls and somehow it has ended up tight behind…not only to miss it, which he has done, but to not even leave me a shot. The reds are everywhere and I am tight behind the yellow and brown. That's the whole time I have seen him play, like when he won the UK, he has played that shot, playing the long red, screwing off the pack and back into baulk and finishing tight on the top rail, how can you play that shot? I watched him against Ronnie I think in the UK and not only had he missed a red but he finished tight on the top rail, put a red over the right-middle covered by the brown. Maybe I am missing a trick, I don't know."
Q: "Your reaction there, do you think that is something that might come across as slightly sour grapes? I know you had a smile on your face…"
AC: "Sour grapes? I don't think that's the way forward, sour grapes to be honest. If Judd wasn't playing me I'd love to be at home and see him win it. He's great for the game, I just wanted to win the match. I just tried to loosen myself up a bit and show the crowd that I have a bit of personality as well."
Q: "Did he apologise for that shot?"
AC: "He didn't apologise for any shots throughout the whole match to be honest. I don't know whether he doesn't realise that he is getting the form or whether he just doesn't apologise, but that's up to him. There is a bit of etiquette in the game, believe me if you fluke a ball you are glad that it has gone in but although you want to kick on yourself…it's a thing that we all do differently, but as soon as he didn't apologise, I stopped apologising as well for any bit of form I had."
Q: "Should he be doing that?"
AC: "That's up to him, I can't tell him what he should or shouldn't be doing, that's entirely up to him. But I think he had a bit of needle in a match he played with Steve Lee in the World qualifiers a few years ago where he had a lot of ball run. But I'm not worried, bloody hell I'm the winner and that's all that matters."
Q: "Peter Ebdon was in there practising with you, was that for any particular reason?"
AC: "Peter has just come up to support me, give me some words of wisdom. He knows what it's like to be world champion, he's been there and he's done it. I haven't and nor have a lot of players so he has got some invaluable advice for me and I respect Peter. He probably turned my career around a few years ago, helping me to become a tournament winner and to get down the business end of tournaments on a regular basis. It's all very well having all these sports psychologists and all that, but they don't know what it is like to be out there playing under the pressure and Peter does and that's why I respect him."
Q: "Is that quite a recent thing on the practice?"
AC: "No he has just come up and picked a few balls out of the pockets, he's not doing anything. But in the dressing room he has given me some words of advice and words of wisdom and telling me a few things that might help in the tight situations and sometimes any little edge you can get can be enough. Like you saw today at 12-all, Judd has missed a red with the rest by a millimetre, he has just not gone through the ball quite quick enough on it, flicked a bit of side on, missed, I've won. Simple."
Some interesting stuff then, though in light of some of the other comments that we have seen earlier in the week, I don't think that there is anything on that level.
Meanwhile, Ronnie O'Sullivan has since won the two frames that he needed this evening to defeat Mark Williams 13-6 and book his place in the last eight for the third successive year. Quotes from his press conference will follow, the most notable comment though is that he believes that the winner of this tournament will have to defeat Neil Robertson, who of course is his quarter-final opponent.
There is however more drama on table two as Andrew Higginson has taken the first four frames of this evening to draw level with Welshman Jamie Jones at 10-10 with a possible five to play. Can Jamie steady the ship or will Higginson complete a dramatic comeback?
As promised, the highlights from Ronnie's press conference are as follows:
"A lot of credit has to go to Mark. He's a top 3, 4 player in the world, got to the final of the first two ranking events this season and has been one of the most consistent performers of the last two or three years. Over the last 20 years really though he had a dip for four or five years, but he has come back strongly, showed what strong qualities he has got, he has had a good tournament, he's always a danger man so all credit has to go to Mark for having a good season and having a good tournament."
"I felt very confident, I felt quite aggressive with the game and that's the way you need to play, I played like that all the time when I was younger but it happens just every now and again now. It's tough don't get me wrong, 17 days is a long time at Sheffield, a lot of hanging around in between matches and sometimes that's where the tournaments are won and lost. You have got a lot of time to ponder between matches so it is how you deal with that really."
"I've been a lot better over the last 12 months than I probably have over the last 20 years. I don't think that I am playing any better than I always was, I am just giving myself more of a chance, not being so critical of myself if I don't play the perfect game."
"There's no point in getting carried away, I've had two great wins. I've beaten Peter Ebdon who coming into this tournament was the form player having won the China Open, Mark Williams a top three player in the world so I haven't had an easy draw. I think whoever wins is going to have to beat Neil Robertson, obviously I play him in the quarter-finals so it's definitely not easy but I'm a competitor and I will always give it my best and we will have to wait and see what happens."
"Neil has had a brilliant season, won the Masters, World Championship, many tournaments, he's a big time player. He's proved it on the big stage, again he has won three or four tournaments this year and definitely one of the in-form players. If you are going to win these titles then you are going to have to beat people like Neil."
Mark Williams meanwhile commented:
"Awesome he was, 5-3 to 11-3 was just frightening really, nobody else in the game can do that, especially making it look that easy really. you have just got to take your hat off to him and admire the stuff he was doing"

"I knew it was going to be hard, I'd probably have to win the first 4-0, but as soon as he gets any sniff of a chance he just knocks 50's and 60's in a matter of a couple of minutes. Frightening to watch."
When asked whether it was frustrating that he had lost to his bogeyman Ronnie O'Sullivan again, Mark replied:
"Not really that frustrating, I'd much rather have him as a bogeyman than someone like Willie Thorne. He's probably every man's bogey man really.
"There's only probably Mark Selby if they play each other that I'd back someone to beat him. Against any other player I would back Ronnie every time but if he was playing Selby I would be on Selby, I think he would probably beat him, I don't know why, I'd have to ring him up and see what he does differently to everyone else I think."
Meanwhile, Jamie Jones has responded in fine style since the mid-session interval, winning two frames including the 22nd with a majestic total clearance of 135 to move one away from victory at 12-10.
And Jamie has added the next to book his place in the quarter-finals at the Crucible on his debut, just as countryman Matthew Stevens did on his first appearance here funnily enough. Following his victory Jones spoke of his relief to have come through having let slip his overnight lead, as well as how his run has already changed his life with him being recognised at home during the past few days.
Andrew Higginson meanwhile was disappointed to have lost, but pleased with his work and to have made it into the second week of the tournament for the first time.
So then, we have our last eight. Who is your money on?