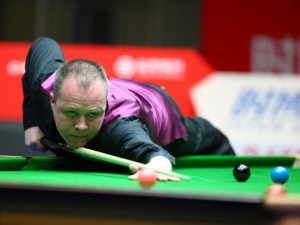 Four days down in Shanghai and we are down to eight, as the fight intensifies for the season's third major trophy, the Shanghai Masters. Click below for a summary of the stories from the tournament so far…
Defending champion out, Trump closing in
Perhaps the biggest story from the tournament so far has been the exit of world number one Mark Selby to Jamie Cope, marking the first time that Mark has lost successive last 32 matches in full-ranking events since the start of the 2009/10 campaign.
It has been a mixed season so far for Selby, highlighted by the successful defence of his Paul Hunter Classic title in Furth recently, but otherwise marred by a few surprising defeats, notably to Jamie Burnett in Australia and now Cope here. While the match was far closer than the 5-1 scoreline might suggest, with Jamie winning several frames on the colours, the fact that Mark was unable to make a break over 50 is indicative that he was far from at his best on Tuesday.
The result is that with victories against Barry Hawkins and Mark Allen, from 3-0 and 2-0 down respectively, second-ranked Judd Trump has closed what was a large gap at the top of the rankings, to a relatively close 2,885 points, with potentially another 3,500 to come should he win the tournament this week. Consistency in the early rounds of tournaments has played a significant part in Mark's rise to number one, so with two successive early exits, it is inevitable that his lead would be eaten into.
Ding Out Again In China
A lot is made of Ding Junhui's record in his native China, often too much given what is a relatively strong record in Beijing in particular, but another last 32 exit here, this time to Mark King, represents the fourth time in the last five full ranking event tournaments in China that he has been unable to progress beyond the first round.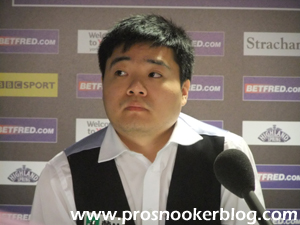 As a result, amazingly enough the Chinese number one finds himself provisionally ranked 12th, with a significantly larger amount of points to be deducted between now and the end of the season, than many of those around him.
Of course Ding's class and ability is beyond question, but his mixed results over the past 12 months, combined with his decision to play the minimum amount of PTC events last season, has left him in real danger of losing his top 16 place at some stage this season. Something to keep an eye on…
Whitewashes
Following a string of deciding frame finishes yesterday, today proved to be somewhat more one-sided, with three quarter-finals requiring just five frames in order to settle. The victors included Joe Perry, who hit top breaks of 75, 67 and 61 in seeing off fellow Cambridgeshire resident Neil Robertson, who once again has not found China to be a happy hunting ground, as well as Ali Carter who repeated his Crucible victory against Stephen Maguire to give his top 16 hopes a boost ahead of the Masters cut-off. Also in Ali's favour is the fact that Martin Gould suffered a potentially damaging opening round defeat to Ryan Day, meaning that he slips to 20th provisionally.
Another comfortable winner was John Higgins, who is through to the quarter-finals of a full-ranking event for just the third time since his last major title win at the 2011 World Championship. Having elected to enjoy an extended break at the start of this season, his victories against Welsh duo Jamie Jones and Ryan Day this week are the first signs that he is finding form this term.
Wildcards
As ever a controversial subject, there were three victories for wildcard players this week, most notably that of 14-year-old IBSF World U-21 champion Lu Haotian, who came back from 3-0 down to record a remarkable 5-4 win against former Grand Prix champion Marco Fu on the opening day.
What particularly impressed was not only his comeback from a seemingly impossible position, but his response to a break of 124 from Marco in the penultimate frame, which was to step up and take the decider in one-visit with 76 of his own. He looks to be one to keep an eye on and will surely be back in action at the International Championship next month.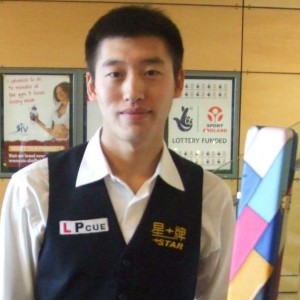 Joining him in the last 32 proper were the experienced former professional Jin Long and Chen Feilong, who defeated Jimmy Robertson and Fergal O'Brien respectively.
Wildcards have increasingly become a sore point, particularly in China now given both the level of interest over there and the ability of the players selected, but if as it would appear they are a necessity in order to secure the funding for major overseas events such as this tournament, then it is hard to imagine that they will be going away in the near future. It is one instance in snooker where what is best for the sport from a commercial view is not necessarily the same as from a sporting point of view, but it is not the fault of the wildcards themselves who will hopefully learn a lot from their experiences.
Runs to Note
Elsewhere, it is good to see Graeme Dott back on song this week, as while he did score particularly heavily today with just two breaks over fifty against Stephen Lee, a 5-1 victory against a player who has impressed as much as Stephen has over the last 12 months is no mean feat at all. Like Ding, Graeme has a reasonable number of points to defend this season after a mixed run of results and armed with a new cue this season, after modifications to his previous model produced a with disastrous result at the Crucible last year, it will be interesting to see how he fares.
Stuart Bingham has played well early this season and with victories against Tom Ford and Jamie Cope so far this week, has moved up into the top ten provisionally for the first time in his career. Next up for him will be Shaun Murphy, who has defeated Mark King and Dominic Dale in close match to reach the last eight.
Finally, 2011 Shanghai runner-up Mark Williams is also through to the quarter-finals, the highlight of his tournament so far surely being this break of 88 against Mark Davis in the opening round. Just look at the position of the reds!
The action continues…