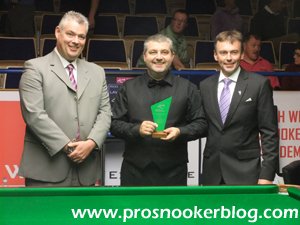 Due to the recent blog downtime commencing during the UKPTC3 event in Gloucester, at the time I was unable to talk about my experience at the penultimate professional event to be staged at the South West Snooker Academy, so without further ado, click below for my belated thoughts from the tournament…
Click here to view the best of my photos from the event
Well Done Rod Lawler
Where else to start, but by congratulating Rod Lawler on a remarkable run, his first tournament victory carrying ranking points at the age of 41.
Rod's story has been well-documented, dare I say it nowhere more so than here at PSB when I spoke to him last month (see here and here), about his relegation and immediate return to the main tour. He had started the season brilliantly, even before this win, but I know that this win would have meant a lot to both him and his father, who came down to hug him at the climax of the match.
Make no mistake too, Rod's victory was no fluke, he has been playing well for some time and during the tournament he played a very solid game, missing very little when in the balls, while playing strong safeties and putting colours safe when out of position. He rarely left his opponents with an easy starter and  ultimately proved to be very difficult to play against.
The highlights from what I saw were his magnificent ton to defeat Stuart Bingham in a decider at the last 16 stage, while his semi-final against Dominic Dale included a tremendous frame in which Dominic got the four snookers that he needed, before a relieved Rod fluked the yellow when attempting to escape from a fifth.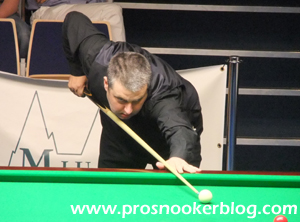 It was an especially good effort from Rod because from 10am in the morning on finals day, he played near-solidly for 12 hours until the final balls were potted against Marco Fu, adrenalin getting him through as he told me after the final.
All in all then, a real feel good victory for one of the nice guys of snooker, and one that was thoroughly deserved.
Early Exit for O'Sullivan
I saw little of Ronnie O'Sullivan's round one exit at the hands of Simon Bedford, but from what I understand, his defeat was not so much down to lack of practice, but rather the fact that he attempted to try and pot anything available. With no other tournament pencilled in his diary before the International Championship at the end of October, I was surprised to see his name in the draw at Gloucester and it was hard to know exactly what to expect from the reigning world champion.
As it panned out, Simon held his nerve with a superb one-visit break to win the decider, but as far as O'Sullivan is concerned, I would not read too much into any claims of rustiness. We will see more of him in the coming months.
Notebook
I have been to a number of professional tournaments at the South West Snooker Academy now, but this was the first where the media area was placed within the confines of the practice room. With all of the players in and out, on a personal level I found it fascinating to see them in practice.
Ok it might not sound like the most exciting thing in the world, but I just found it interesting to see the different routines, the amount of times certain players practised compared to others. Ken Doherty for example concentrated on a few long balls, as he has when I have seen him practice before, while Xiao Guodong as watched by coach Terry Griffiths had the reds spread across the table to work on his trademark break-building.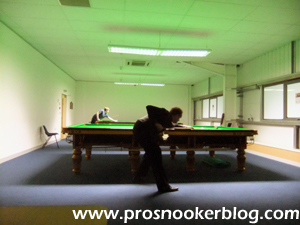 Mark Selby notably had a long practice before his match, though in part this was due to an amusing exchange between himself, Steve Davis and Dominic Dale, as Domini admired Steve's white ferrule. All in all, I found it to be an interesting insight and hope that it is repeated at the final PTC event to be held at the venue next month.
On a similar note, talking to players it was interesting to hear at least three say to me that they are prepared to use the PTC events, particularly the UK ones, as a chance to experiment and to try new things ahead of the larger events. In many ways it makes sense, and is perhaps another reason why these events are just so hard to predict.
Perhaps even more surprising was the fact that on the Friday, play actually finished before midnight a particularly rare occurrence at a PTC and a first for me! Normal service was however resumed the following day, as Ben Woollaston won a battle of two jaded players against Steve Davis, the 'highlight' of which being one frame where both bottom corner pockets were covered by colours.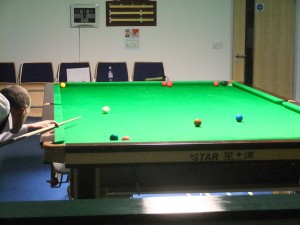 One player who I have heard a lot about in recent times is Chinese youngster Chen Zhe, but prior to this event I had not actually seen him play at a tournament. As he made an impressive break of 115 in the first frame that I had seen him however, it was fair to say that he had made a promising first impression. He eventually lost out to Ali Carter in the last 16, but I suspect we will be seeing a little more of him over the coming months.
Other players to impress were amateur duo Oliver Lines and Zak Surety, winners against professional duo Joe Perry and Jack Lisowski respectively. While I arrived too late to see either result on the opening Friday, every credit to both of them, Oliver now moving on to the Snookerbacker Classic tournament where he will begin his quest to gain free entry into this season's Q School.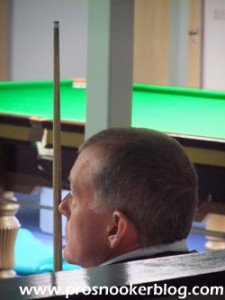 Being at the South West Snooker Academy for the event only seemed to underline just what a shame it will be to no longer have professional events staged at the venue beyond UKPTC4 next month. While the rights and wrongs have already been argued to death, ultimately the fact remains that to have a first-class venue like this and to not find a way to use it, is a terrible waste and a step backwards for a sport which has otherwise seen so much growth in recent years.
And finally a shout out to fellow bloggers @GaryOnCue and @SnookerHQ, who were both in attendance at the venue for the first time. They were a breath of fresh air at the venue as far as the media area was concerned and as I was when I visited the venue for the first time, were obviously impressed.